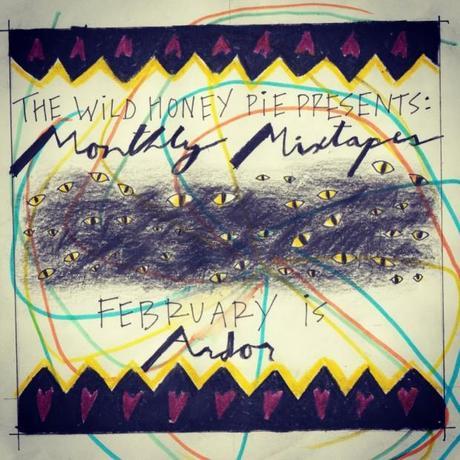 GRAPHIC BY TERRA SCHNEIDER
Well hey there, folks! I can't believe it's already February BUT I'm excited because that means I get to share a new mixtape with you all! This month's has a much different feel than the last couple mixes I've made. In light of the passion associated with Valentine's Day (and in a move to keep myself musically entertained), I wanted to make this mix really groovy, with lots of rhythms and not so many lyrics. Get ready to hear some trip-hop, glitch-hop, and chillwave — I've sort of been into "space music" lately, if that makes sense.
Remember, every month I'll randomly choose a commenter to receive a physical copy of the mixtape as well as a small Wild Honey Pie treat! Alright, that's enough out of me. I hope this mix is one you can really get down to. Happy February!
FEBRUARY IS ARDOR:
SPOTIFY (SOME TRACKS UNAVAILABLE):
TRACKLIST:
2/1 — "Sweetest Touch" – Gross Magic
2/2 — "Left Alone" – Flume
2/3 — "The Once Happy Heart" – Belle Mare // Free Download
2/4 — "Dropla" – Youth Lagoon
2/5 — "Young Hunting" – Ocho
2/6 — "Crystal Ball" – Grimes
2/7 — "Trip" – Vacationer
2/8 — "Love" – Daughter // Free Download
2/9 — "The Wheel" – S O H N
2/10 — "Year of the Tiger" – St. Vincent
2/11 — "Poltergeist" – Blackbird Blackbird
2/12 — "A+E" – Clean Bandit // Free Download
2/13 — "About You" – xxyyxx
2/14 — "Dowry" – Phox // Free Download
2/15 — "Aminals" – Baths
2/16 — "True Affection" – The Blow
2/17 — "I'm God" – Clams Casino
2/18 — "Que Sera" – Wax Tailor
2/19 — "In A Dream" – High Highs
2/20 — "Primadonna [BURNS Remix] – Marina and the Diamonds
2/21 — "Lebanese Blonde" – Thievery Corporation
2/22 — "Baby I'm Yours (feat. Irfane)" – Breakbot
2/23 — "In Tongue" – Thriftworks
2/24 — "Kites" – Geographer
2/25 — "Ffunny Ffrends" – Unknown Mortal Orchestra
2/26 — "Monsters" – Conner Youngblood
2/27 — "Slow Down" – Poolside
2/28 — "Left Side Drive" – Boards of Canada