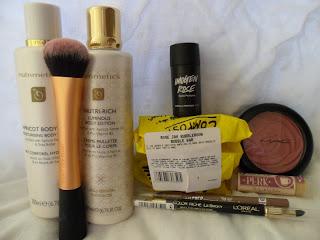 I haven't done a favourites post for a while now, mainly because I haven't been using many products as I've been too sick to bother. Now I'm feeling better I'm starting to get back into a routine, taking care of myself and wearing make-up again. I don't know about everyone else but I always feel better when I am wearing make-up. I'm also loving perfume again now that I can stand fragrances.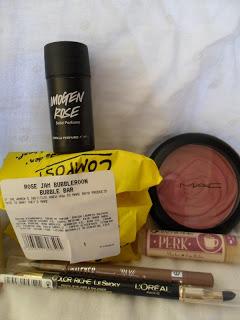 Lush Imogen Rose Perfume - Rose is one of my all time favorite scents and I love anything that smells like roses. I'm still a little sensitive to fragrance at the moment so this is perfect as it has a gorgeous true rose scent. I just apply a little so that it's not too overpowering. 
Lush Rose Jam Bubbleroon Bubble Bar - This smells amazing! I bought two of these and I'm using them as home fragrances. I'm sure they'd be lovely in the bath, however I've found that one of these makes a whole room smell beautiful. I'm planning on buying a few more and stashing them all over the house.
MAC Summer Rose Beauty Powder - I bought this years ago because it was pretty and then didn't use it until my wedding day. After that I put it away and just got it out every now and again to admire. The last few months I've decided to start using it so I now use it every day as a blush. It gives a very light wash of color so is perfect to use when I'm in a rush (which is every day).
Crazy Rumors Mocha Lip Balm - Crazy Rumors lip balms are one of my favorite brands however I haven't used them for a while now (because I have a huge pile of others to get through, I could open a shop with all the balms I own.) I had a craving for coffee a few weeks ago so dug out my Mocha lip balm and remembered why I love this brand so much. I've just discovered that they are available on iHerb too, bonus! (If you are going to place an iHerb order, code YUF175 will get you a discount on your first order).
Rimmel Taupe Scandaleyes Eye Liner - I use this every day. It's the perfect color to create definition under my eyes without looking too overdone. Lately I've only been using eye liner and mascara so I don't want anything that looks too harsh or obvious. Taupe is perfect. Next time Priceline has a sale on Rimmel I'm going to buy a few back-ups.
L'oreal Mystic Grey Color Riche LeSmoky Eyeliner - Along with Rimmel Taupe, this has been my go to eye liner lately. It's soft and easy to smudge into my lash line. I sharpen it to a point and use it to tightline. In the past I haven't had much luck using a pencil to tighline however the soft texture of this makes it perfect. Once my P100P is over I'll be getting a few more colours.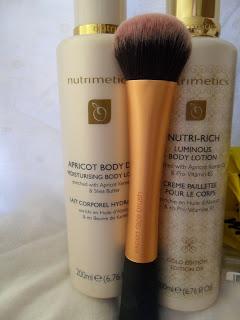 Nutrimetics Apricot Body Dew - An oldie but a goodie. I've been using this since I was a teenager, back when it used to be called Con Stan. Anyone else remember those days. I like to use Apricot Body Dew in summer as it smells lovely and is very light. I've been using it after the shower instead of a body oil.
Nutrimetics Nutri-Rich Luminous Body Lotion - One of my friends gave this to me for christmas years ago. I promptly put it away and totally forgot about it. I found it when I was searching for my Apricot Body Dew so dug it out. I'm not sure if they still make it, I hope they do. The scent is the same as Apricot Body Dew however it's thicker so more hydrating. It gives my skin a lovely radiance and is ideal for summer.
Real Techniques brushes - The hype about these is true. They are cheap and excellent quality. I have three or four but plan on getting the entire range. You an get them from iHerb and Priceline.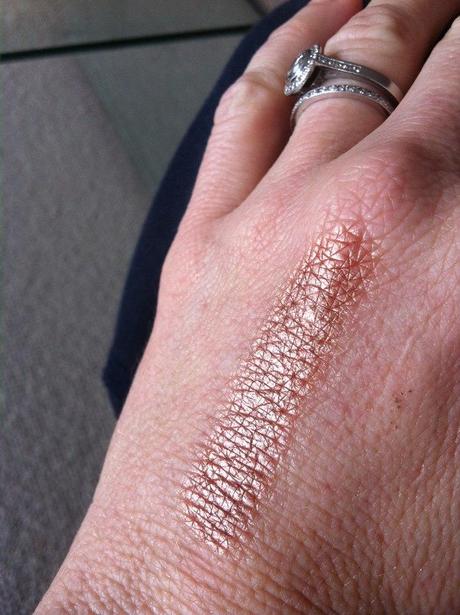 (Photo from Rae Morris' Facebook page)
I saw a great tip from Rae Morris on Twitter. For those of you who are getting older, like me, you may have discovered that some shimmery eye shadows don't work for you anymore. I find there are some shimmery shadows that I can wear and others make my eyelids look really crepey and wrinkly, which is not the look I'm going for. Rae's tip is this: swatch the eye shadow on the back of your hand. If it makes your hand look wrinkly then it's going to do the same thing on your eyelid. I tried this with one of the L'oreal eye shadows and it works! What a great, simple trick.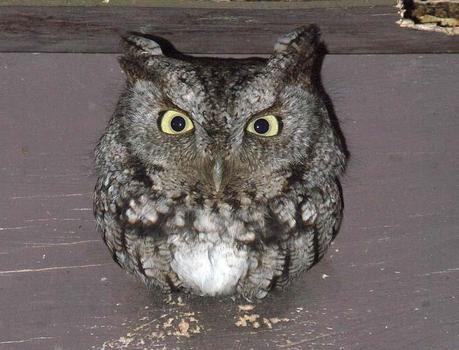 Image Credit
Owls. I'm obsessed with owls at the moment. I love them and see them everywhere.
Isn't this one gorgeous!