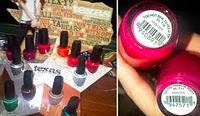 A few Fridays ago, I was so happily enjoying a taste of spring when the thermometer reached a much needed 70 degrees. The weather was so refreshing that I forgot it was still February. I decided to get my nails done rather than my weekly DIY mani.
Just when I thought I couldn't feel any happier, the salon owner told me that he had all of the new spring OPI colors. The spring-like weather and the fresh colors he showed me definitely inspired this week's pick: OPI "Too Hot Pink To Handle"
Although I haven't figured out why OPI was inspired by Texas for the new season's shades, I am happily sporting bright pink nails, which is a nice change from all the dark purples and greys I have been wearing. I had a hard time deciding between several of the colors, but I want to try them all! The polish seemed to be very smooth and glossy going on. It definitely was not a thick consistency, which can lead to a longer dry time.
Now that we're back into our winter weather ways, all I have to do is look down at my hot pink nails to remind me that spring is right around the corner. This color is perfect for anyone lucky enough to be going away during March for spring break, and it would look great on toes too.