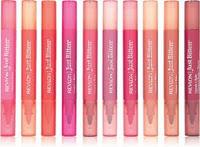 Whether you have a Valentine today, my beauty pick will add some flair to your love-filled day from the moment you put it on. This week's pick is Revlon's Colorstay Just Bitten lip stain with balm.
This is the first lip stain I ever tried and I love it. It is sort of like a marker and glides on really easily and stays on all day and night, but is still light weight. So light weight, it doesn't feel like I have anything on my lips. After eating and drinking, the lip stain still looks like it did when I first applied it. There are a lot of brands with lip stains now, but I like this one the best because it has a lip balm built right in.
Lip stains create a matte look, but if you want a glossy look the balm does that. The color I like the best is "Gothic," which is a deep red color. There are 10 different shades, and the next one I want to try is "Flame."
My tip for applying this stain is to line your lips first with a natural color lip liner. This just helps you by marking where the color should go and prevents bleeding into any fine lines. And wait for the stain to dry first before applying the balm.
There's something about having a shocking red pout that instantly makes me feel a pretty and flirtatious. It's something I don't wear often, so I like the excitement of something new and bold for the night to change things up.
No matter if you're kissing your sweetie all day or sipping wine with good friends to celebrate the Hallmark holiday, this lip stain will stay on, you'll just need to reapply the balm.