Hello my lovely friends...
Remember back in February I decided that I was going to start a "Feature a Fashion Blogger Day". Well believe it or not a whole month has passed since then...So here we are again.
Today our featured fashion blogger is "Maffashion". Julietta's eclectic sense of fashion style appeals to the masses. A Rogue, formidable, savvy fashion in this fashion

collage.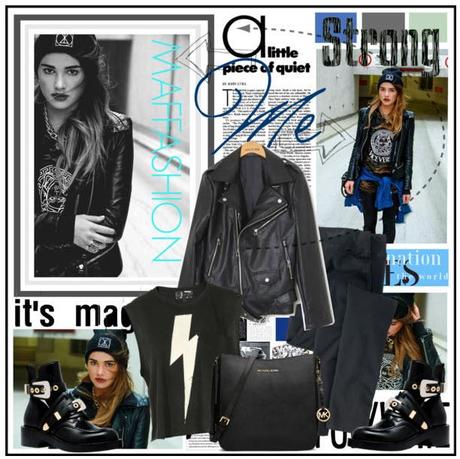 Plaid checker shirts, camo tanks with printage, highwaisted snake skin leggings, zip-up ankle boots give her just the right pop.
We created a fashion collage through Polyvore fashion platform and we simulated a close look of the one in her photo sets.

So let's get started...we found a leather jacket from Voltage, and a pair of women's Holly Spring leggings from Woolrich, then a Wildfox white lightening black t-shirt...now we're going to put a biker twist look with a pair Sharon Stone buckle ankle boots. Last but least a chic Micheal Kor's travel messenger bag.
What do you think?
If you know of someone who is a fashion blogger...give us a shout and we just might feature them...:

))