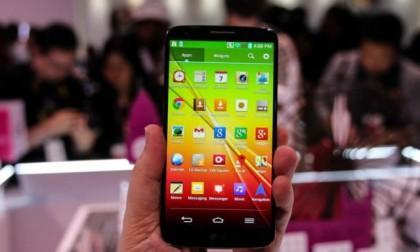 The new LG G2 is no doubt a powerful Android smartphone. But does it pose any threat to Samsung domination in Android mobile market?
Ever since the inception of "Android smartphone era", Samsung has been a dominant figure with a claim over half of the Android smartphones consumer market in the last 12 months.
But with the new LG G2, experts believe that LG will attempt to claim some portions of the smartphone market.
With 5.2″ 1080p HD display that gives stunning visuals, LG G2 proud itself as an innovative design, best in class battery capacity and top notch processor make the LG G2 a very impressive bit of kit.
Features That Make LG G2 A Powerful Android Smartphone
The LG G2 is a pocket powerhouse. With the volume and power keys on the back there's no wasted space around the screen and a state of the art processor ensures you have enough power to blast through all your favorite apps.
---
#1).
Innovative design – power and volume keys on the rear of the phone
With the G2, LG has taken the fashion of tiny bezels to a new level. The volume and power keys have been moved to the back of the new flagship, letting the G2 have a large 5.2″ screen with almost no space around it.
That means it's small enough to hold in one hand so you can get the most out of that full HD display even while on the move. Having the buttons on the back also makes it easier for you to use them whether you're left or right handed.
---
#2).
Best in class battery capacity
LG has used innovative materials in the battery of the G2 that give it 6% more capacity than regular smartphone batteries. This means the LG G2 gets incredible battery life while staying slim and light. Its 3,000mAh SiO+ battery can hold enough juice to keep you going all day, even with fairly heavy use.
---
#3).
Ultra-fast processor
The LG G2 has been equipped with the most powerful mobile processor around, the Qualcomm Snapdragon 800. It's not just blisteringly fast but is also the most energy efficient processor Qualcomm has ever made, meaning you'll get great battery life even when multitasking or playing high quality games.
The incredible power will also help future-proof your G2 as it will be able to keep running new apps and games as their graphics get better.
---
#4).
DSLR-like camera performance
Have you always wanted to take poster-quality photos but didn't want to carry around a huge DSLR? Well the LG G2 has an awesome 13MP camera that has Optical Image Stabilisation (OIS) so you can take bright, blur-free photos in any light.
OIS uses tiny mechanisms to keep the camera's lens and sensors steady, even if you're shaking or moving. This means pictures don't blur and the shutter can stay open for longer when you're shooting in low light without losing picture quality.