I could have sworn I had seen the work of Dezadie at the L.A. Mobile Arts Festival this year.  Maybe it's because subconsciously I believe her work SHOULD have been there.  I asked Dezadie (@Dezadie on Instagram) if she'd like to be featured on my blog and was happy that she agreed.  But I didn't really know much about her beyond the images I viewed on her Instagram gallery.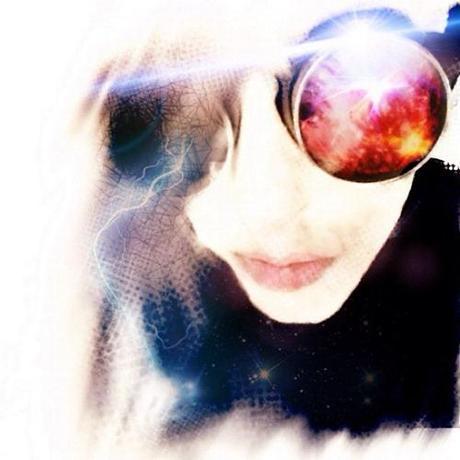 We exchanged some email communication beforehand and here is a bit of the "conversation" I had with Londoner Dezadie.
Geri:  Is Dezadie your real name? 
Dezadie:  How could a name be so complicated? What is real and what is not? It is not just an IG nickname. Dezadie has been my creative name since I was 13, so it is my real name in some sense. I think it is something hard to pin a root to, to quantify, so paradoxically I think it defines something about me.  I suppose it is a little strange. I originally made it up, not only because I was a secret writer/poet and wanted a pen name, but  because I just never felt connected to the name I had.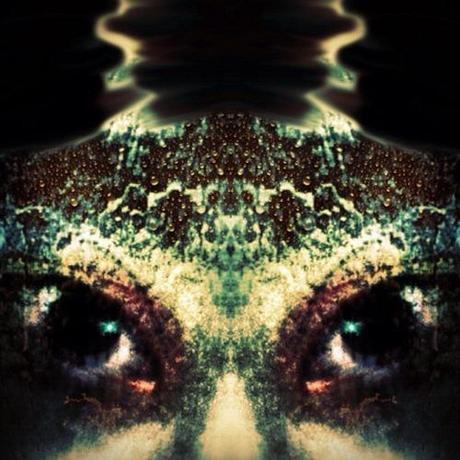 Geri:  Are all the images in your Instagram gallery mobile art?
Dezadie:  I am not a mobile purist in photographic terms.  I enjoy using different mediums so my feed is a bit of a mixture. Having said that the majority of my pictures on my feed have been taken with an iPhone 3GS although I have now upgraded to an iPhone 5. All have been edited on iPhone or iPad using apps.  I have been into amateur photography for quite a while - I used to own a manual OM and upgraded to a digital Olympus. I learnt by doing.  There are a couple of shots especially early on in my feed, which are scanned in 35mm photos, because I wanted to share them and wasn't thinking in terms of what mobile art is or defining myself as a mobile artist at that point - I admit to missing film sometimes, because I went so much on learning the feel of the camera. 
Geri:  How long have you been creating mobile art?
Dezadie:  I have been experimenting and creating for over a year now. You can definitely see a progression in my feed. I think the iPad improved things a lot for me. I created I lot of my early pics just using ArtStudio and Pixlr-o-matic on the 3Gs, with fingers - and it was so fiddly to draw. When I first started I would photograph a quick sketch and then modify this and paint over it using an app. Then I quickly discovered the stylus, because fingers got a bit frustrating. My newest discovery is the Nomad brush, and as the name suggests it looks and feels much more like a brush.  I find this much easier to draw and paint with directly on the iPad or iPhone. The range of apps I use has simply exploded since. At the moment one of my favorite things is to use different patterns and textures on the eraser tool in procreate on the iPad.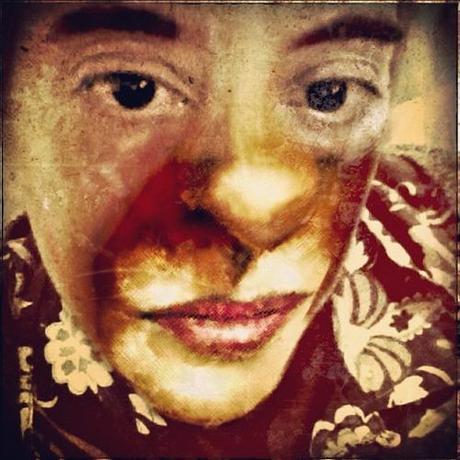 In future I am interested in going through more of my old 35 mm shots - because I travelled a lot in the past and have some interesting stuff. I would like to either scan them in or photograph the prints with my phone and use them to create mobile or probably more correctly termed digital art - this is partly because I have some ideas and because I don't often use other people's stock photos to create my edits, and unless it is a collab I like to use all my own stuff - this means I sometimes create my own grunge backgrounds too - so that I am not relying too much on pre-created textures in apps.  I have one recent edit in which I used an old Ivor Novello photo - taken from a movie.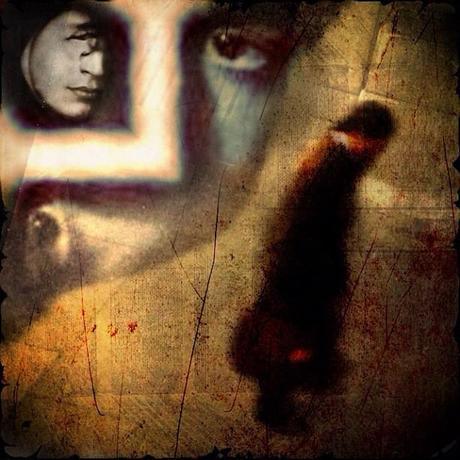 I think it is important to attribute and be honest about where any additional images have come from. I am deliberating about this project, because it might be a bit of a departure from mobile art in terms of what some people think it is or should be. Some would say that working with the limitations of just the iPhone or iPad is what it is all about. I have to admit I do find that the limitation can be useful in helping me to be more creative - I have become a bit more resourceful in terms of recycling my iPhotos to make something new.  The Mirrorgram app - I found out about it from your Instagram feed - allowed me to create a lot of new images out of old images. But also, what am I talking about ? I have London on my doorstep - so of course I have the streets of London as a resource to continuously replenish my stock.  I am lucky to be in such a diverse city.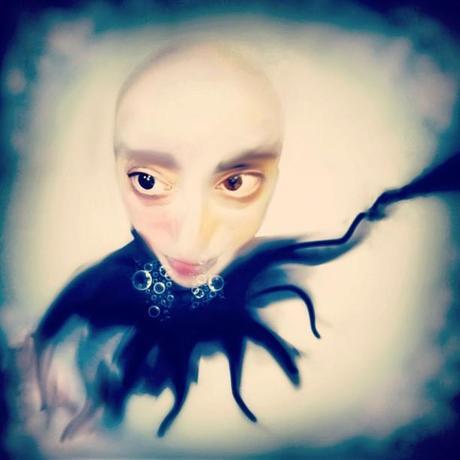 Geri:  When did you first post on Instagram?  Do you have an art background?
Dezadie:  October 2011.  I don't have any formal training or qualifications in art apart from a GCSE - the exams UK students take at 16 - but I don't really think this counts. I have remained a bit of a closet artist and actually consider myself forever the student.  Since teenage years I would stay up late into the night creating what I am sure some of my friends thought of as my weird art. For me mobile art is all about playing with new technology and finding out what we can do with it. That also covers why I love it in an OTT way. I guess it is up to others to judge if they like what it is I play.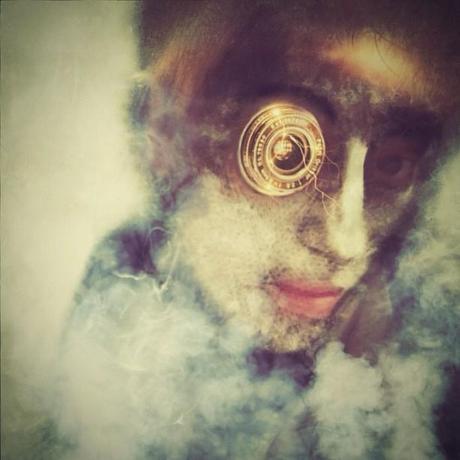 Geri:  Do you have an idea and then create it, or do you get inspired from a photo after viewing it?
Dezadie:  Both and more. Sometimes I have a very definite image in my head of what I want to create and I have to consider how to go about doing it - it feels a bit like solving a problem, because in a sense the picture already exists. I can find myself hunting for an image - taking pictures of bits and pieces - ornaments and whatever.  Sometimes the base photo suggests an idea. I took a picture of a fungus I found growing in one of my plant pots and the light hit it an in interesting way, which made me want to create a fantasy edit - and I then had to find the other elements I wanted to include.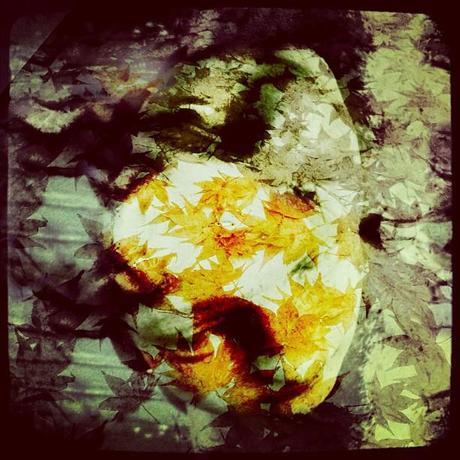 I am continuously inspired by the work of others - learning about other peoples processes helps a lot - I really do feel that Instagram provides an amazing community of artists to learn from. It is very freeing because most people encourage and don't get judgmental or critical - that would spoil the fun of it, and the sense of camaraderie / exploration. I love forums such as #mobileartistry and @unitedbyedit, which provide inspiration and creative challenges.  I also like competitions, which encourage you to think about how to create something along a theme.  Inspiration is everywhere in books, performances, music lyrics, rust on an old bucket.
Sometimes I just play with apps and something pleasing comes out of that, and I feel like I am going with the flow - it just happens.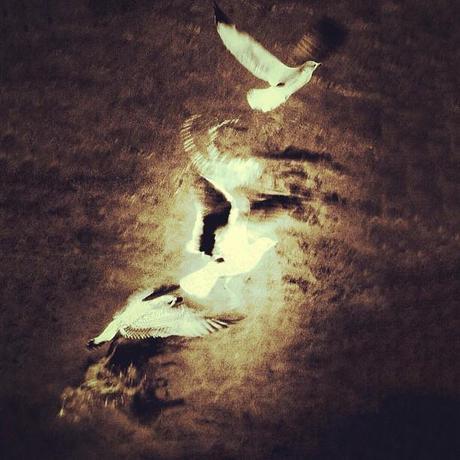 Geri:  Do you have any favorite apps?
Dezadie:  Continuously exploring new ones, but at the moment my favorites are:
Procreate 
Pixlr-o-matic
Mirrorgram 
Photoforge  
ArtStudio 
ScratchCam FX 
Noir Photo - yes I love color but sometimes I take it out and then add it back in
Image Blender 
AntiCrop 
XnView Photo FX  
Big Lens 
I also use add-ons and improvisations  - I have a couple of different lenses I can clip to my phone using magnets including a macro lens. I find shaking a bit of a problem. I sometimes use an LED torch to light up a subject. I can't stand using the flash as it seems to wash out the color - so I would love to find a good flash camera app. I also use a brush stylus as mentioned before.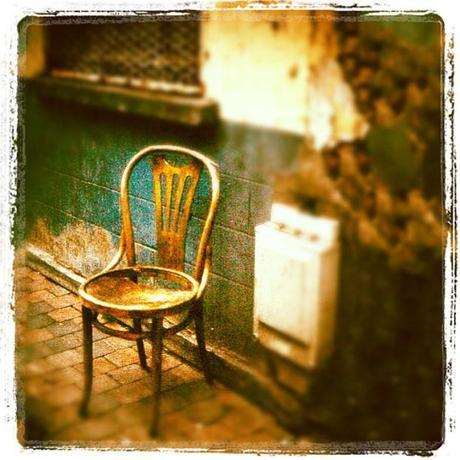 Geri:  Where would you like this journey to take you?
Dezadie:  The journey never ends as such - I keep learning, growing and trying out new things.
I kind of have a dream to create a creative cafe in London - where people - any people can come to express their creativity in what ever form and as part of that I would love to have a  basement exhibition of mobile artistry - projected on the wall - continuously changing to feature different work. It could also be used as a venue for workshops - even better if it could link to other cafes around the world via vc but that is quite a way off and who knows if I  will actually achieve this - it is an idea at the moment.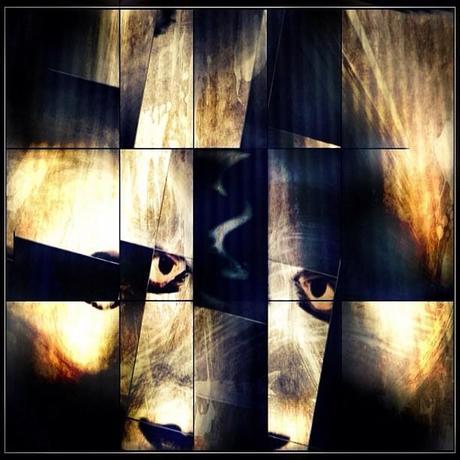 More immediately I would like to combine my music, mobileart and writing to create an e-book - a novel. I am working on something - revising a first draft, which I hope to finish by the end of the year - but it could take me quite a bit longer. I don't want to jinx it by saying too much.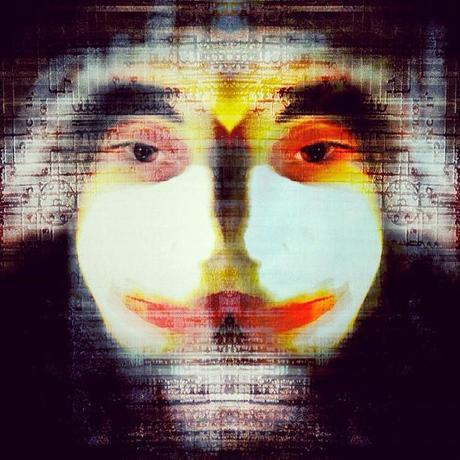 Geri:  Anything else you'd like my readers to know?
Dezadie:  I am keen to start up a texture library  on Instagram - an open source stock library which people can use as a resource for their edits. But as I seem to be juggling quite a few things, at the moment, I think I will need to find some collaborators to make it work.
I would like to thank Dezadie for such a comprehensive interview.  I really enjoyed getting to know her better and learning more about her mobile art journey.