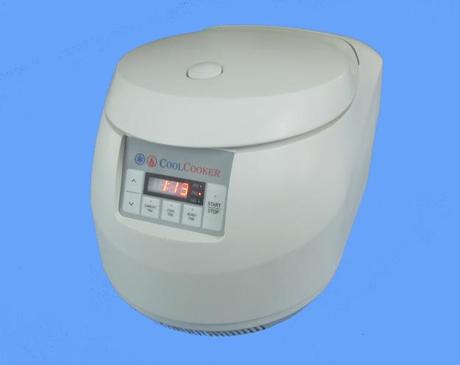 Years ago, Brian and Anne Kennedy discovered that fixing meals with a slow-cooker was an excellent way to still have healthy, homemade food in the midst of their busy schedules. But what happens when your schedules get so busy that neither of you has time to go home and turn the slow-cooker on so your dinner will be ready on time? That is when the concept for the CoolCooker was born.
Brian Kennedy, who has 50 years of building scientific instruments for NASA under his belt and his friend Mike Owens, who learned a lot from 45 years of industrial work, teamed up in 2004 and assembled the very first prototype of what has become the CoolCooker.

This handy little appliance was invented to refrigerate your food until it's time to start cooking. The timer can be programmed with how long each recipe needs to cook and when you'd like your food to be finished. Just mix up the ingredients whenever you have time and pour them into the cookpot. Then enter the current time, the length of time it needs to cook, and the time you want your meal to be ready with the easy-to-use controls, and the CoolCooker will take care of the rest.
I had the opportunity to interview one of the creators, Brian Kennedy. He provided very thorough and interesting answers to all of my questions. Check it out.
Approximately how many different prototypes have there been of the CoolCooker over the years?
It's been about ten years. About a nine basic prototypes, 15 beta prototypes, 4 preproduction prototypes, and now 20 production prototypes.  Each prototype had many variations.
What have you sought to improve with each new model?
I've worked on every aspect and it would take a major effort to recall which prototype did what over the ten years of development. Thermoelectric devices, heat sinks, fans, electronics, power supplies, housing, plastic structures, software, you name it. They are all issues and no one stands out that much more than the others.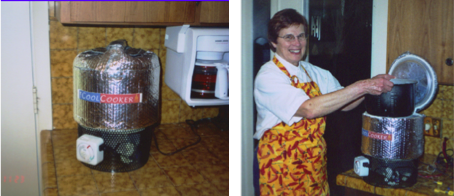 How many different foods have you prepared with the CoolCooker?
Dozens of recipes, I don't have an exact count. You can see many at the website, and my daughter has done dozens as well and has a website in association with her radio program.
Which ones have turned out the best?
Oh boy! We've cooked about 2-3 recipes a week for the last couple of years. I've never eaten so well. Chicken, pork, beef, vegetarian, macaroni and cheese, desserts. All good. Of course, they are mostly slow cooker recipes to start. We've only tried fish once or twice. Not very successful, but we don't eat a lot of fish. Fish is on our to-do list. We can also do Sous Vide cooking. Oh my! The best steak, hamburgers, chicken white meat…
Has your repertoire of recipes expanded thanks to the capabilities of the CoolCooker?
Considerably. We strive to find recipes that take 15-20 minutes, start to finish, including clean up. With the advent of all the chopped vegetables available, the miniature redskin potatoes, and a little judicious packaging of frozen meat (which we can use), we very often meet our 15-20 minute goal. Additionally, we've sent 15 Beta prototype units around the country and recipes are still arriving.
What is your target audience for the CoolCooker?
Anyone with a slow cooker. However, at 3 quarts, it won't feed growing teenagers. But, then you need a dump truck for them anyway. We've talked to hundreds of people. It's rare to find anyone who doesn't think it's a good idea. I would think that the DINKs (Dual Income No Kids) would be high on the list. Busy, probably like to eat well, and can afford this appliance. One sure customer is the lady who said she couldn't face raw chicken in the morning.
I notice you have a YouTube channel dedicated to promoting the CoolCooker, and so far you've seen relative success, with your videos garnering a total of over 15,000 views. How do you come up with the characters that appear in each video?
My renaissance daughter, Meredith. She wrote all the skits, except I think Paul wrote one.
Which characters seem to be the most popular?
Super Doobie Doo, Cowboys and Beans, Star Trek, Pearlene and Bobbi Sue, Julia Wild. These are the more popular skits and there's no easy way to single out characters.
What other tactics beyond your comedy show have you used to gain attention for the CoolCooker?
Google search ads, Google display ads, Amazon Ads, Meredith's CoolCooker Radio Show, business cards, Facebook, etc.
What would you say has been the most challenging step in this project so far?
There are 897 steps in the Washington monument. I climbed them 50 years ago. It' sort of like asking which step was the most challenging. Back then I'd have said the last one. The CoolCooker has had so many steps I couldn't count them. Mostly it's been a lot of fun. I can't really single out any one, but unlike the Washington Monument, I'm still going strong and don't dread the last step if I ever get to it.
If you have any other relevant comments you would like to add that I haven't addressed, feel free.
The CoolCooker adventure has been a hoot. I'm a technical guy, so working on all the many aspects of a device like this has been fun and often rewarding. I've been fortunate to have had the part time help of many good people over the years. I'm my own boss which is definitely a plus (except of course, when my wife tells me what to do). I've enjoyed all the aspects of a project like this. From dealing with attorneys to attending the Home and Housewares Show in Chicago and talking to just about all of the appliance companies. Making the videos with the CoolCooker Comedy team was a blast. I was the camera man, video editor and shared directing some time as well as doing a little (bad) acting. And, oh my, have I eaten better as we continuously try out new recipes. Toss in three trips to China for good measure and you have pleasant brew. I've always said "this has been a lot of fun and if I stopped tomorrow, it's been a success." I still feel the same way.
Thanks so much to Brian for his time in answering my questions. If you like this idea and want to donate, check out his listings on Indiegogo or Kickstarter. Even $1 helps, but if you donate at least $299 you could get a CoolCooker of your own!