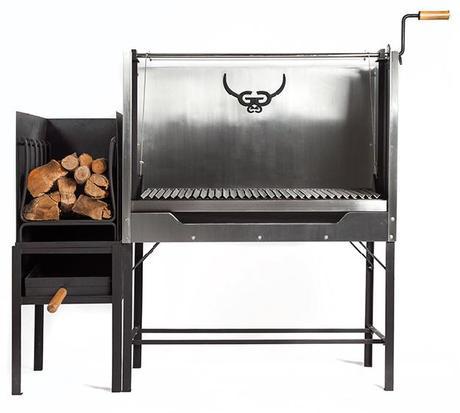 Gabriel García has created a new and innovative grill to facilitate a long-established cultural tradition. In Argentina and many other countries, people commonly host asados, or barbecues. But the tradition of asado means so much more than simply attending a social event; it is an expression of heritage, and a chance to slow down from the hurried pace of everyday life.
I had the opportunity to chat with Gabriel and learn more about the grill's design, what asado means to him, and his vision for the future.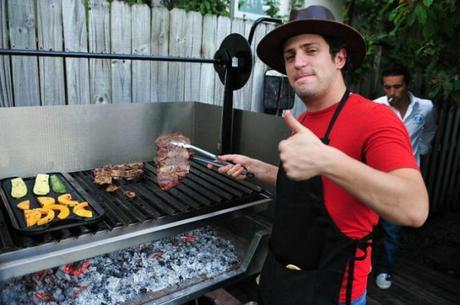 Have you always had a passion for cooking? Is this passion restricted to Argentine-style meals, or does it spill over into a variety of foods?
I've always had a passion for cooking, as my mother is an excellent cook and I learned a lot from her. My passion for grilling and asado was born from my first visit to Argentina when my wife's family treated us to an authentic asado. While grilling is my main passion, I also love making a variety of Mexican salsas and do a fair amount of pickling and canning. I also prepare most of our nightly dinners for my family, which usually incorporate a wide variety of cuisines.
You have been working on perfecting the Gaucho Garcia grill for nearly 5 years. Which features came first? Which were integrated later to improve the design?
The first grill I ever had built was similar to my current grill: it had the V-groove grate, drip pan, and crank handle for adjustability. At first, I used run-of-the-mill firepits to get my wood burned down to coals, but the inexpensive firepits usually couldn't withstand the heat produced from hours of burning large quantities of wood, and they would break down. Furthermore, it was very difficult to shovel out the coals and led to messy (and dangerous) conditions with hot coals spilling on to the ground near my grilling area.
So I decided to have a brasero (firebox) custom built to alleviate this. It worked fairly well, but scooping the coals was still somewhat problematic. In my final version, in the design you see today, the basket holding the wood neatly and efficiently funnels coals down to a shovel below. Once the shovel is full of coals, you can quickly and easily transfer the coals to begin grilling. It works terrific, and I submitted a patent application because of its unique functionality.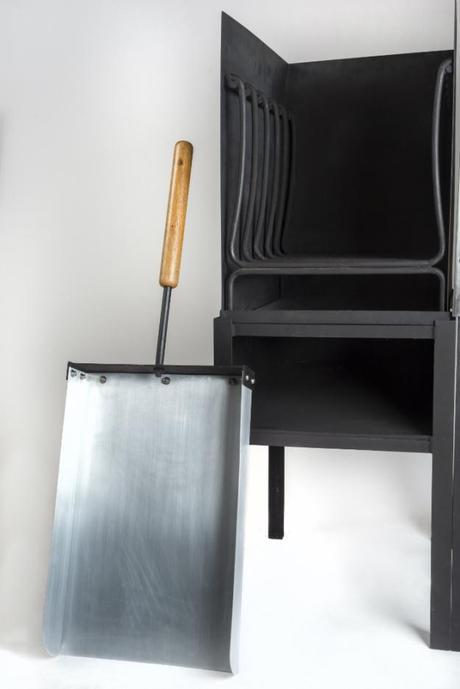 What sets your grill apart? What makes it exceptional or unique?
Our grills have a number of unique features that you won't find on conventional barbecues. First, and most obvious, is that this is a hardwood grill. There is a real trend in grilling right now, taking us back to our roots of cooking over wood-fired coals. Natural hardwoods make the food taste delicious and don't impart chemicals into your food that you get with gas or compressed charcoal briquettes.
Second, the V-groove grill grate is sturdier than a typical wire grate barbecue and also has the added advantage that it funnels drippings down the V-channel and into the drip pan. This translates to more even cooking temperatures because you do not have flare-ups from fat dripping onto the coals. Plus, you can use the collected drippings to baste your meat to enhance the flavor.
The crank handle has 18″ of adjustability, which means you can adjust your cooking temperatures in the middle of a grilling session — simply lower or raise the grilling surface to achieve the heat level you need.
Finally, our firebox is one-of-a-kind. There are a few other companies making Argentine-style grills, but none of them have a firebox which conveniently funnels coals onto a large shovel for easy coal transfer. Plus, our firebox can hold 4.5 cubic feet of wood — larger than any other competitor.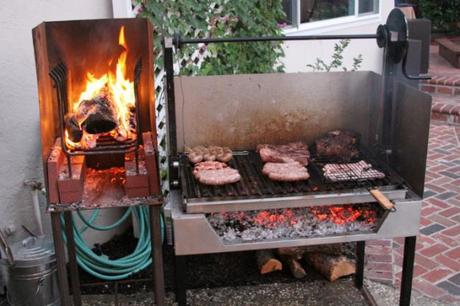 What are your favorite recipes to make with your grill?
I love grilling just about anything on the grill. So crowd favorites are chicken with my special chimichurri dry rub as well as provoleta, which is a melted provolone cheese appetizer. I usually put the provoleta in a small cast iron skillet and place the skillet right on the grill surface. It melts down, I add a touch of crushed red pepper and oregano, and the cheesy, gooey dish can be spread onto small slices of bread.
Because our grills are large in size, I like to get large cuts of beef or full racks of ribs to grill all at once. I will typically grill 5-7 lbs. of ribeye or sirloin and carve it up in front of my guests. Full racks of babyback and St. Louis pork ribs are also a big hit. And the grill does a terrific job of grilling vegetables and produces those great charred grill lines.
This grill is so much more than a cooking tool to you, but rather a deeply personal expression of culture. Expand on this. What does asado mean to you?
Asado is much more than a barbecue to me. It's a social event that brings together friends, family, and loved ones to spend time together. Laughter and conversation ensue and a great glass of wine (or several!) can be enjoyed while we slow down and take time from our busy schedules to enjoy one another's company. Re-connecting with people over a delicious meal seems to be a lost art. An asado brings us back to our roots, to a simpler time when these personal connections were part of our daily lives. An asado is a lengthy, languid event. It takes a while to prepare the fire, get your coals ready, prepare all the food, and finally cook everything. It teaches patience and attention to detail. After all the waiting and anticipation, guests usually enjoy the meal more because there is a long build up to the actual meal. Asado is a full expression of a lifestyle that goes beyond the meal itself.

Gaucho Garcia – The Art of Asado from [email protected] on Vimeo.
According to your blog, you have used your grill for a bit of catering. How many events have you provided food for so far? Is preparing food for people something you are passionate about, is it just a way to get more exposure for your grill, is it a kind gesture for family and friends, or some combination of these?
Cooking for people is a passion of mine. It's so great to expose more people, especially those outside of South America, to this style of cooking. It's great when it produces additional exposure for the products we're offering for sale, but it's not why I began and not why I continue to cook this way. I've catered a wedding in California for a woman from Argentina — that was quite an honor since she is from Argentina and asked me to cook for her and her guests on her wedding day. I also have an upcoming catering event where I will be grilling for a fundraiser for a U.S. Congressman. When I'm not doing these specific events, I like to have asados on the weekend and invite local friends and family in the area. Given the amount of time and food involved, it's always better when there's a larger crowd to enjoy it.
What do you envision for the future of your grill?
I would love for Gaucho Garcia to become the premier retailer for authentic Argentine grilling equipment and accessories. There is a definite niche out there of people looking to grill this way but without access to the proper tools. Gaucho Garcia will be there to supply them with everything they need.
Beyond that, I want to continue blogging on the subject and be a resource to spread the culture of asado. I think many people out there who love grilled food but who are not familiar with asado would love to be introduced to the methods and recipes I espouse on the website. In the end, it's really about spreading the word of something I am passionate about and getting more people excited about asado culture.
If you feel inspired to support him, head over to his Kickstarter campaign! Even $1 helps, but for every level of funding, you could earn more rewards, such as a t-shirt, laminated button, cotton apron, or top-quality steak brand!
Gabriel can be found elsewhere on the web at his website or Facebook page. Follow him on Twitter @gaucho_garcia.