The Feast of the Seven Fishes celebrates Christmas Eve (December 24th) by having a seafood dinner with seven different types of seafood for the celebration of the "Dear Lord Baby Jesus." You could have more than seven fish, but it must be an odd number. The (my) family had nine this year. This is an Italian Tradition that dates back some time to the Roman Catholic tradition of not eating meat on holy days or specific periods. The reason that there are seven fish is to represent the seven sacraments of the Catholic Church.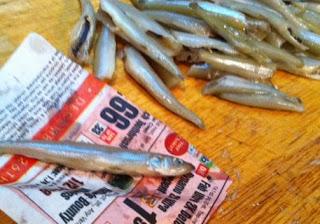 Cleaning the Spearing. You got to watch out for that fish wrapped in newspaper.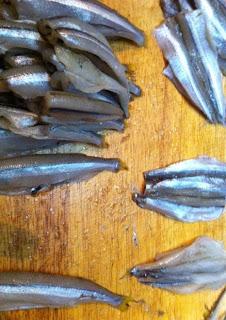 Filleting the Smelts, many more to go.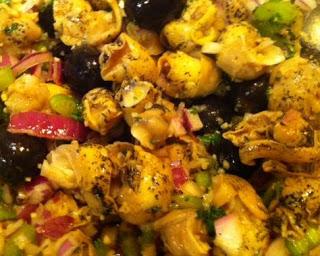 Scungilli Salad
My mother cooked most of the dishes, but we prepared everything together. This was the first year that I hosted Christmas Eve in my new house. It's always hard to start a new tradition since the passing of my grandmother who always prepared the dishes at her house with my grandfather, but we must move on. I learned a lot from my grandmother in the kitchen at an early age so some of it must have rubbed off. The menu this year featured the following:
-

  

Stuffed Galamad (Calamari) with lump crabmeat and Galamad Stew
-

  

Shrimp Cocktail
-

  

Fried Shrimp, Spearing, Smelts, Galamd (with tentacles), and Crab Cakes
-

  

Angel Hair Pasta with Mussels in a Marinara Sauce
-

  

Sautéed Scallops in a White Wine Sauce
-

  

Baccala (Salted Cod) Salad
-

  

Scungilli (Conch) Salad
There were other items but I'm just talkin' about the fish! When preparing the Spearing I had to take off the heads and gut them, and fillet the Smelts (which was not fun). Although mom cooked seven of the fish I was responsible for the salads. I cheated with the Scungilli because I purchased it already cooked and frozen. However, the Baccala is the trick. I soaked it for one day (most people soak it for three) to take some of the salt off and it was enough.
Anyway, the best part of the holidays is spending time with the family, eating, and having a drink. Here is my Baccala recipe. Don't ask how much of each, you just judge! Merry Christmas & Happy New Year!
Richie P's Baccala Salad
-Baccala (Soak from 1-3 days depending on taste)
-Olive Oil
-Fresh Parsley (Chopped)
-Capers
-Green Olives (Pitted)
-Black Olives (Pitted)
-Cherry Peppers (Cut)
-Fresh Garlic (Chopped)
-Fresh Lemon Juice (Squeezed)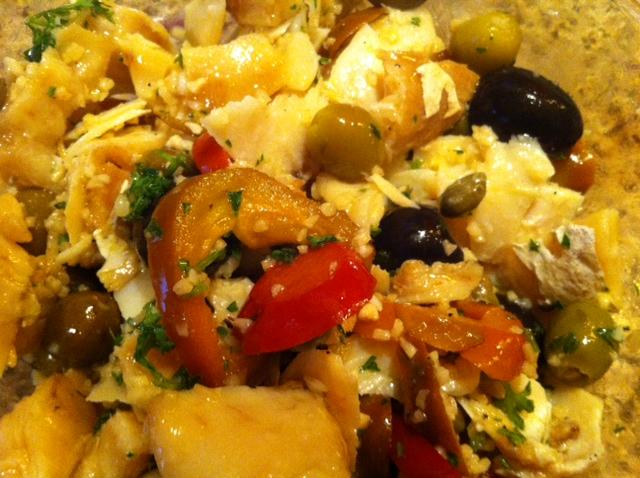 Richie P's Baccala Salad