Hey Eric & Sookie Lovers!
FEAR.net recently posted their review of True Blood Episode 2: "You Smell Like Dinner"!
This review is completely unbiased and it's obvious this person has never read the books. We thought it might be interesting to read a review written by someone who doesn't know what's going to happen in regards to Amnesic Eric!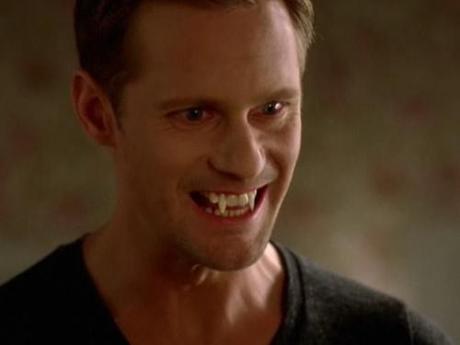 This is what they said;
Dig It or Bury It?

This episode was engrossing, but it felt unexceptional. It was a set-up episode. Right now I am dying to find out what is going to happen to Jason. Will he actually become a werepanther? Or will they just maul him to death? The whole Hotshot storyline is so fucked up, it's like a train wreck you can't turn away from.

I'm not crazy about Eric's amnesia sub-plot. Amnesia storylines tend to become hackneyed and cliched. Let me guess: Eric will forget he is a vampire. He won't be able to understand these deep hunger pains until instinct finally takes over. And so far, I am not loving the witch storyline, but I will try to reserve judgment until that plot is fully fleshed out. If they introduce zombies, True Blood will have officially jumped the shark – and yet I think that might make me love it more.
Um…no, Eric is quite aware he's a vampire, he just doesn't remember who he is…not what he is.
Prophecies?

I think it is safe to say that Jason isn't mauled quite to death by Crystal and Fenton. Like I said earlier, Eric is going to forget he is a vampire. And the coven is about to get serious.
Well, two out of three isn't bad… The witches will get serious. Jason won't  be mauled to death, instead he'll become a Werepanther.
You can read FEAR.net's review in its' entirety here!
What do you think about this review? Share your thoughts below!