The FBI has issued a warning about a heightened level of threats from terrorists, including the Islamic State, for the upcoming Fourth of July holiday and weekend. The federal agency has even sent out a request to militia groups to be on the lookout.
Admittedly, 9/11 and subsequent "terrorist attacks," especially the new ISIS bogeymen, are tailor-made for a power-hungry government bent on taking more and more freedoms away from the people in the name of protecting and ensuring our security. So you should consume the following news at your discretion.
That being said, we should err on the side of caution. Crowds and mobs have a peculiar psychology that is prone to irrationality. If I were you, I would stay away from crowds this July 4 . . . and other days.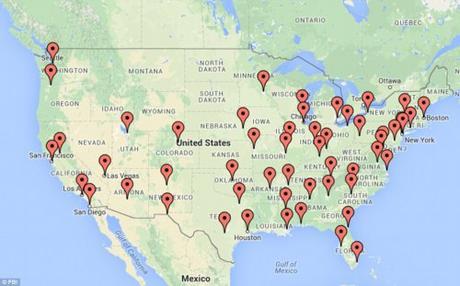 FBI field offices will be July 4 command centers for terrorist watch
The Daily Mail reports, June 30, 2015:
The FBI is setting up command centers at all of its 56 field offices across the country ahead of the July 4 weekend, to monitor any potential terrorist threats, law enforcement sources have revealed.

Sources told Fox News that local, state and federal law enforcement agencies in the U.S. will be reporting any information about possible attacks to these command centers – where officials will decide how to respond.

The move comes amid growing fears that the terror group ISIS is working to awaken sleeper cells in Western nations, after sympathizers were linked to three back-to-back attacks in France, Kuwait and Tunisia last Friday.

While the FBI says there has been no specific credible threat so far, it seems to be more active in its warnings and actions ahead of Independence Day this year than previously.
From American National Militia, June 29, 2015:
ALERT!!!!! ATTENTION ALL MILITIA, OATHKEEPERS and PATRIOT GROUPS.

As of 9:00 A.M. Central time I was contacted by the FBI to activate every Militia and Patriot groups in the U.S. for a eyes and ears OP over the 4th of July holiday for possible terrorist attacks( ISIS in nature). The threat level is very high. We need people to monitor the internet and groups to monitor all activities nation wide. This is the procedure in which we participate. I have already contacted many prominent Patriot and Militia leaders
1. Wear plain cloths.
2. Carry local Sheriffs Departments and local FBI contact numbers. If we see anything suspicious call the Sheriff first and then the FBI. Do not engage. Just monitor the situation until the Sheriff and FBI get to the scene.
3. If you are faced with an eminent attack and you are legally armed please protect life.. Be in groups so at least someone can get the Sheriff and FBI to the scene.

I want to note that this is the first time in our lifetimes the FBI has reached out for the help of every Militia unit and Patriotic groups to help guard our Nation. Please conduct yourselves as the Patriots we all are and do this with honor and integrity.. Another stepping stone for us all.

This will take a lot of team work so do not let personal feelings get in our way.

We got work to do Patriots so lets get to work protecting this nation in a coordinated effort with Law enforcement local, State and Federal.. We got a job to do Patriots.. Salute..

PLEASE SHARE this must go viral..
Note: Stewart Rhodes, founder of Oathkeepers, denies his organization was contacted by the FBI. Scroll down to the first comment for details.
H/t tina
~Éowyn