Hi loves!
It's October. I know you already know that it's October and I also know that you are sick of hearing (or reading) "Ahh how is it October already?" so I won't bore you with that, but I will tell you that seeing as it is now Autumn, I have changed up my skincare routine a bit lately and so thought I would do a Favourite Skincare Products: Autumn Edition post!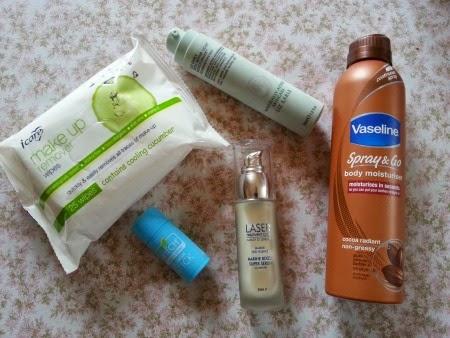 iCare Make Up Remover Wipes With Cucumber. There aren't many makeup wipes that I'm a fan of, but these ones smell so fresh that I seem to gravitate towards them a lot. I like to remove the bulk of my face makeup using these then carry on with my usual skincare routine.
Witch Blemish Stick I've had this for about a year, so I probably should replace it sometime soon LOL but I use this at the first sign of any spot or blemish and it gets rid of it straight away. This has witch hazel in it and it is so cooling and refreshing. It's not oily at all and feels really medicated on the skin which is ideal for during Autumn.
Laser Clinic Harley Street Marine Boost Serum This stuff stinks. Really smells baaaad! But in terms of how well this works, it is the bee's knees. I apply a little bit of this everyday and hold my breath while the smell disappears, but once the smell is gone, my skin feels so soft and smooth. I love it a lot and it really does tackle those little sun scars/spots from summertime.

Vaseline Spray & Go Moisturiser

I am so super lazy when it comes to using body butters and moisturisers so this was really a god send for me.  You literally just spray this all over and it will either sink in by itself or it can be rubbed in. Be warned, if you spray this on wooden flooring or vinyl, it will get slippy. Head, bath... you can probably see what happened there..


Liz Earle Light Moisturizer


Liz Earle is the Queen of skincare and this moisturizer is literally the best thing since sliced bread for me. I looooove it! It's not heavy, but definitely is moisturizing.  It feels medicated, I know I've said that before about a product but that element of a product really appeals to me and I feel like it's doing something good to my skin,
Those are my favorite skincare products for Autumn.