Rihanna joins Shakira on her new song, which was released this week, "Can't Remember To Forget You." It's got an '80s vibe and is fun and catchy.
"I go back again
Fall off the train
Land in his bed
Repeat yesterday's mistakes
What I'm trying to say is not to forget
You see only the good, selective memory"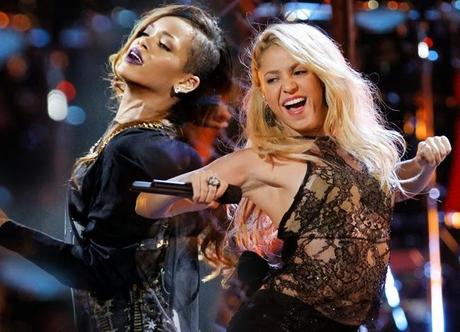 Rihanna and Shakira
Collaboration between artists is the name of the game in poop music these days, and no one seems to benefit more from joining forces with another artist than pop siren Rihanna. She has melded especially well with Eminem, on their number one hit
"Monster,"
and an earlier collaboration, "Love the Way You Lie."
Eminem:
"It's so insane cause when it's going good, it's going great
I'm Superman with the wind at his back, she's Lois Lane
But when it's bad it's awful, I feel so ashamed I snapped
Who's that dude?
'I don't even know his name.'
I laid hands on her, I'll never stoop so low again
I guess I don't know my own strength" 
Rihanna:
"Just gonna stand there and watch me burn
But that's alright because I like the way it hurts
Just gonna stand there and hear me cry
But that's alright because I love the way you lie
I love the way you lie
I love the way you lie"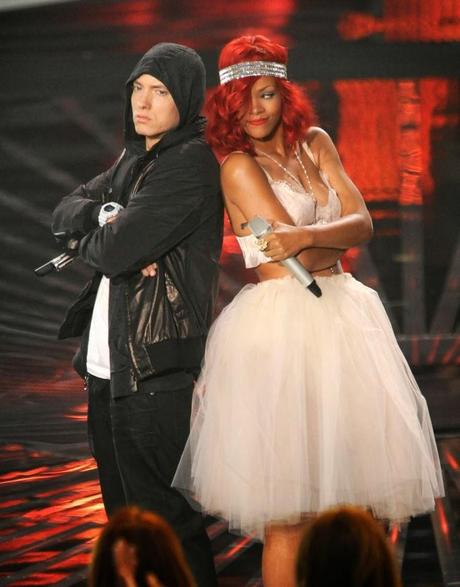 Eminem and Rihanna
The song originally came out in 2010, but it's as compelling and disturbing and great sounding as ever. These two artists' styles really mesh well together.