One of my favorite TV shows from the 1980's:
I must admit I do not watch TV that much anymore, but I do remember growing up and being very excited to watch my favorite television shows after school. TV has changed so much since the 80's. Though we are much more advanced now as far as technology is concerned, we do not find the family themed shows like we use to.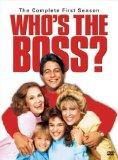 So which show from the past was my favorite? As a young teen I really liked Who's the Boss. I grew up in Brooklyn and had family in Connecticut so maybe it was just familiar to me, but I really enjoyed that show. Now I am all grown up and have a child, who I named Alyssa, after Alyssa Milano.
You can visit lots of old TV shows by visiting my 80's TV shows page. While I was creating the page I remembered a lot of the shows on my own. But it put a smile on my face when I saw shows that I had forgotten all about. Brought back some memories actually!
A little about Who's the Boss:
Who's the Boss? was a standard sitcom--turned on its head. Sure, there was a mom, a dad, two cute kids, a house in the suburbs... and a live studio audience. But Angela Bower (Judith Light) was a single advertising exec with a son (Danny Pintauro) and Tony Micelli (Tony Danza) was a widowed ex-ballplayer with a daughter (future Charmed star Alyssa Milano). The Connecticut mansion belonged to Angela (along with the big '80s hair and shoulder pads) and Tony wasn't her boyfriend, but rather her housekeeper. Then there was her mother, Mona (the incomparable Katherine Helmond). The sexed-up, slightly cracked grandmother is a primetime staple, but in the former Soap matriarch's hands, the character was a cut above (and usually got the best lines). As Angela complains to her in the pilot, "You've sent me a man for a housekeeper!" "Oh, don't be sexist," Mona replies. "A man can do meaningless, unproductive work just as well as a woman."
"Meaningless, unproductive work" is what Tony does for the Bowers--and does well--but he and Samantha (Milano) also become part of the family. Angela and Tony go on a number of dates with other people, but there's an obvious sexual tension between them. The show would continue to exploit that tension for eight seasons to great success (even inspiring a British version called The Upper Hand, with Honor Blackman as the "Mona" character). Helmond, meanwhile, would garner an Emmy and a Golden Globe for her efforts. Highlights include "Mona Gets Pinned," in which Mona takes up with a younger man, and "Angela's Ex, Part I," in which Angela reconciles with her estranged husband--who proceeds to fire Tony. Guest stars include Betty White (Mary Tyler Moore) in "Eye on Angela" and Danza's Taxi co-star Jeff Conoway in "First Kiss." --Kathleen C. Fennessy
What is your favorite 1980's TV show?