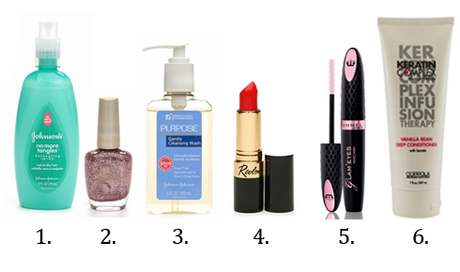 As much as I love Sephora, I'm a firm believer in drugstore makeup and beauty products. Some may argue that the quality isn't as good as higher-end brands, but I've found several products that are insanely awesome -- and cost less than $20!
Detangler Johnson's No More Tangles Detangler Spray ($3.69) My long (ish) bleach-blonde locks resemble a rat's nest first thing in the morning, after a crazy night out, when I get out of the shower, etc. One day I decided to try this detangling spray for kids and I was pleasantly surprised at how well it worked.
Nail polish Milani Disco Lights ($3.49) This may be the world's greatest nail polish. I bought it because it was pink and sparkly but that's not what makes it so awesome. This nail polish stays on and looks good for AT LEAST 5 days -- sometimes even a week. It's legit magical. (Note: I'm not sure if it's just this color or if the other Milani nail lacquers are as long-lasting...)
Face wash Purpose Gentle Cleansing Wash ($6.49) A few months back, I was diagnosed with adult acne -- which is super lame and really awkward when you have serious business meetings to attend. I've been following a strict skincare regimen that includes this gentle, incredible face wash. It removes all makeup, makes my skin super soft, and smells lovely. 
Lipstick Revlon Fire and Ice ($6.39) I wear this red lipstick all the time (as seen here and here) and everyone is always shocked to learn that it's Revlon. It has a lot of staying power and it works on many different skin tones. Plus, it's the world's most famous lipstick. (Kind of.)
Mascara Rimmel London Glam'Eyes ($7.29) I've owned my share of fancy mascaras -- from BADgal Lash to YSL -- but this one is definitely my all-time favorite. It defines, adds length, and doesn't clump -- for less than $8!
Deep conditioner: Coppola Keratin Complex Vanilla Bean ($19.90) This is my most recent -- and most expensive -- drugstore find. (Technically I guess I bought it in the high-end hair products section but whatever -- it was still in CVS.) Like I mentioned above, my hair gets crazy knotty, and this conditioner solves that without making it flat (my biggest hair pet peeve). The directions recommend you put it on your hair for 10 to 15 minutes but since I don't have time for that, I just use it a few times a week for 5 or so minutes while showering. And it still makes my hair, hair-commercial shiny and bouncy. It's that good.
So, my fellow drugstore mavens, what are your favorite cheap beauty find?