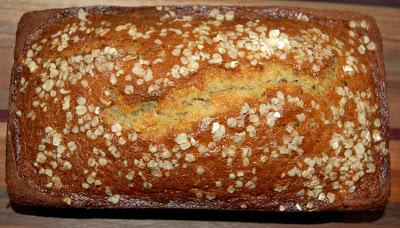 My family and I absolutely love banana bread-- the warm, delicious smell coming from the oven makes it hard to wait for this flavorful treat! It is so tasty either for breakfast with a little butter spread on top or desert with a scoop of vanilla ice cream. I have tried several recipes for banana bread but always go back to this traditional recipe. The bread is so moist and has just the right amount of sweetness and is super easy to make!
Ingredients
1 1/4 cups sugar
1/2 cup butter softened
2 eggs
1 1/2 cups mashed very ripe bananas (3 to 4 medium)
1/2 cup buttermilk
1 teaspoon vanilla
2 1/2 cups all-purpose flour
1 teaspoon baking soda
1 teaspoon salt
1 teaspoon cinnamon
1/2 teaspoon nutmeg
1/2 cup chopped walnuts
2 tbsp oats (for topping)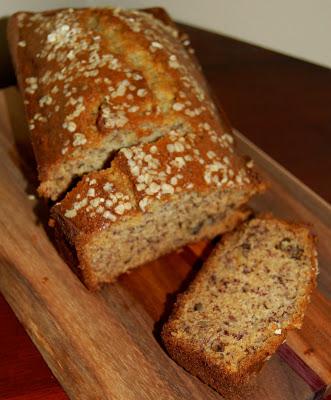 Method
Move oven rack to low position so that top of pan will be in center of oven. Heat oven to 350°F.
Grease bottom only of (1) loaf pan, 9x5x3 inches.
Mix sugar and butter in large bowl. Stir in eggs until well blended. Add bananas, buttermilk and
vanilla. Beat until smooth. Stir in flour, baking soda, cinnamon, nutmeg and salt. Stir in nuts.
Pour into pan. Top with oats.
Bake about 1 1/4 hours or until toothpick inserted in center comes out clean. Cool 10 minutes. Loosen
sides of loaves from pans; remove from pans and place top side up on wire rack. Cool completely,
about 2 hours, before slicing. Wrap tightly and store at room temperature up to 4 days, or refrigerate up to 10 days.

Adapted from Betty Crocker's Banana Bread recipe found here.