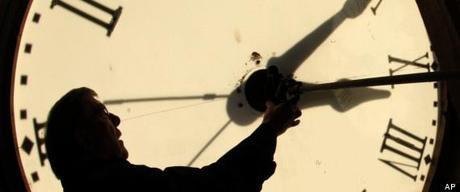 Source: huffingtonpost.com viaMarissa on Pinterest
Today's fave pin has to do with Daylight Savings Time, which begins in the U.S. on March 10th, 2013. According to this article by the Huffington Post, there is a petition being signed asking the President to eliminate DST all together. 
What do you think? Should DST be eliminated? 
Click on the link below the image to go to Pinterest and re-pin. Don't forget to share your favorite pins here with me or on Pinterest (use #FavePinFridays in your description)! 
Happy Friday! 

Marissa is a stay-at-home mom who writes pregnancy and parenting articles on HubPages, as well as shares her motherly escapades on Mommy Knows What's Best. 

Pinterest is not affiliated nor is sponsoring this post, and I am not receiving any compensation in any way. Please visit the original pin via the link I provided. Thanks!