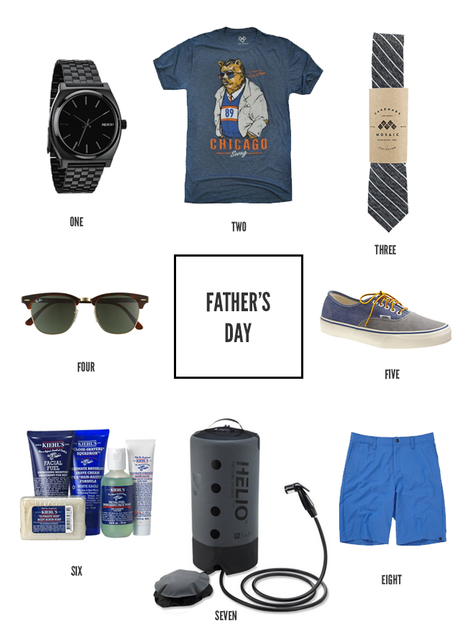 one | two | three | four | five | six | seven | eight
This gift guide is for the active, young dad who likes a classic yet laid back style. Father's Day is (already) coming up next Sunday, so I put together some picks with the main man in my life as the inspiration behind it.
The watch is a sleek staple that can go with everything. The tee is straight up awesome because a) Matt is from Chicago and b) who doesn't like "Daaa Bears"? The ties are incredibly well-designed and are buy one get one free for Father's Day. The sunglasses are a classic shape that every man needs and can pass down through generations because of their timeless style. The shoes are perfect for goofing off on the weekends. The shaving starter kit will keep them smelling rugged and delicious. The pressure shower is for the adventurer — perfect for hosing off at the beach or while camping, and pretty much the most ingenious invention. And last, a pair of fantastic amphibious shorts, which are exactly like they sound — they function as day shorts and board shorts. (Yet another fantastic design!)
Hope this list gets your wheels turning for gifts for the wonderful fathers in your life. Yahoo for dads!