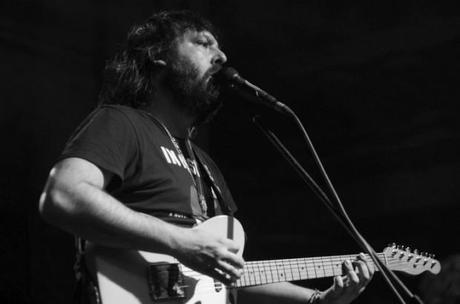 Photos by Karp
Magic Trick (Tim Cohen of the Fresh and Onlys) and Father John Misty (Josh Tillman formerly of Fleet Foxes) played to a sold out crowd Monday night at Webster Hall.
Hailing from the San Francisco psychedelic rock movement (amongst other things), the talented Magic Trick manage to pull all the best elements from Cohen's previous solo and collaborative works and successfully merge that experimental style with folk, rock, and country.  Noelle Cahill's soft harmonies fill the gaps in Tim's rugged voice to create something delicate and intricate, with just the right amount of weird. The highlight of the set was "Invisible at Midnight" from the album Ruler of the Night released last year.
Tillman, armed with some impressive dance moves and fables about cupcakes, rocked tracks off his first album under the Father John Misty moniker, Fear Fun, including the hit "Hollywood Forever Cemetery Sings". The crowd danced along, and by the end of the night, I was sold on the snake oil he was selling.
Magic Trick









Father John Misty