PALMDALE – The League of Women Voters Antelope Valley hosted a City Council candidate debate at the Chimbole Cultural Center on Thursday, hoping to strengthen the civic spirits of local constituents uncertain of the status of Palmdale's upcoming election.
Denise Latanzi, president of the LWV's Antelope Valley chapter, told those in attendance that the election will continue regardless of the court's recent injunction against the election.
"No matter what happens in the courts, there's still an election on Nov. 5th that people need to show up for," Latanzi told the crowd at the end of the forum. "There's school districts and water boards and the college board. … So please go out to vote on Nov. 5th no matter what the courts say. It's our job to engage in the democratic process and express our opinion no matter what happens in this election."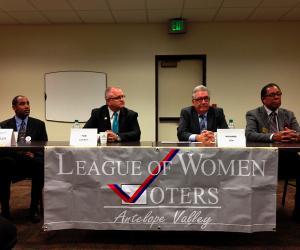 Nov. 5, 2013 General Municipal Election Candidates for Palmdale City Council include, from the left, Sir Daniel Duplechan, Mayor Pro Tem Tom Lackey, Richard Loa and Frederick Thompson.
Council members at Wednesday's meeting voted to approve a five-year contract with a San Rafael law firm to help the city appeal a preliminary injunction to cancel Palmdale's Nov. 5 City Council election. The superior court ruling was the result of a California Voting Rights Act lawsuit that claims the city's "at-large" election system illegally dilutes the votes of Latinos and African-Americans.
Though nearly 40 people attended the event to learn more about the candidates through the council debate, the fate of Palmdale's election was a leading concern in the forum's discussion points.
Asking for reactions to the court's decision to stop Palmdale's election, moderator Patsy Cisneros asked the candidates how they would be impacted if Judge Mark Mooney's decision "is upheld and the election is postponed until 2014."
Richard Loa, who is a local consumer attorney, said he plans to continue his campaign regardless, while also planning to "participate against that ruling" that is meant to stop the election.
"This election was taken too far into the election period – ballots are being issued, sample ballots are being issued, and the military has their ballots," said Loa, who served as a Palmdale City Councilman from 2001-2005. "It is just a deprivation of the voting rights of almost 70,000 people in Palmdale."
Recalling his previous successful runs for the Palmdale Elementary School Board, Frederick Thompson, current foundation director at Antelope Valley College, said he thought the reasons behind canceling this election were a "farce."
"If you have a good message, backing in this community is possible," said Thompson, who also served seven years on Palmdale's Planning Commission and is a former dean at Antelope Valley College. "I never felt like I was being disenfranchised because of my ethnicity. So this is a bunch of malarkey."
Sir Daniel Duplechan, who is a local minister, said the decision to stop the election "should have never gotten to this point."
"I am very upset with the decision that was made to stop the election," Duplechan said. "I find it hard to inspire people when they don't even know what is going on. So it kind of takes the energy out of the people."
City Council incumbent Tom Lackey, who serves as the Mayor Pro Tem, said the courts are not making a logical argument in their decision to shut down Palmdale's election.
"To make the assertion that we disenfranchise voters is a very serious allegation, and it's an affront against our community. Facts have determined that we are the third most integrated city in the country," said Lackey, who is a Highway Patrol Sergeant. "What I am very clear on, is that this is an injustice – not to us candidates, but to you voters. We already began this process. There have been votes cast already."
This election will decide two seats on the City Council, and each seat consists of a full term of four years. The following outtakes are more highlights from Thursday's City Council debate.
* * *
MOST CHALLENGING ISSUES
Moderator: "What do you see as the two most challenging issues facing the city?"
Sir Daniel Duplechan: "Number one is jobs, our economic circumstances right now. Number two would have to be our sense of community, (addressing) the crime that is going on in our neighborhood. … We need to bring more jobs to Palmdale, and improve the relationship between our sheriff's department and the citizens."
Tom Lackey: "I think it's clear that the biggest challenge we face is clearly economic. And it's not just because we have high unemployment either. We're a commuter community, and we rely on jobs that are a distance away from here. And so it creates an important challenge to us who are in leadership here in the City of Palmdale to attract companies. … The other issue is that as our population has grown, so has our challenge to have our community remain safe for its residents. And the partnership we've built between the community … and the sheriff's department needs to continue in the direction that it has in the last several years."
Richard Loa: "Economic development – I think that is priority. And beyond our control was the taking away of the redevelopment. The redevelopment tool was essential to bringing in industry, bringing in busineses, bringing in retail that bolstered our financial base. That was taken away, so we have to find other ways in which we can attract industry and business to our city. … I do think it is important that we continue advertising our area as being a strong, vocational-based workforce."
Frederick Thompson: "The two biggest challenges facing Palmdale – number one is the power plant. The opposition and misinformation is coming from the north, and it's something we have to deal with. … The second thing that we have to look at is the acculturation in Palmdale – diversification. We have a lot of different ethnic groups in Palmdale – 55 percent are Hispanic, 15 percent African-American. We have Persians, Koreans, Chinese, Japanese, and we need to reach out to them and in an inclusive way."
* * *
CLOSING STATEMENTS
Sir Daniel Duplechan: "What it boils down to is that we must work together. I want to devise a consensus group made up of all the different organizations, all the different leaders in the community who are willing to do something to make a change. And those people can reach out to the community. I want a transparent government – one where issues come before us, and we can immediately reach out to the community."
Tom Lackey: "You've actually given me the opportunity to be an extension of you. I really, really believe in that. … Whoever holds this position, let them be your voice. … I started out as a special education teacher, and the reason I chose special education is because it was a new challenge to identify and to communicate and to assist people who have unique needs. And I see that with the City of Palmdale – we're very unique in a number of ways. … Too many people who are elected feel the need to speak, and I feel it is much more important to listen."
Richard Loa: "I too have pledged always, from the first time I served, that though there may be considerable differences of opinion between me, the mayor or other council members, I will engage in discourse, and we will work things agreeably. … Economic development is extremely significant, and this city has a role to play in it by making our city more attractive to employers."
Frederick Thompson: "There's a lot of work to be done here, and if we all work together, we can help our businesses by shopping locally, spending our dollars here – even if we have to pay two dollars more for something. Pay it, because it's like putting money in the bank that we draw interest on … So spend your dollars here in the valley. Don't spend them elsewhere. … I want to be part of the solution. I want to be a part of lifting Palmdale up and moving it forward."
* * *
The League of Women Voters Antelope Valley will also host a Mayor of Palmdale debate on Tuesday, Oct. 8, at 4 p.m. in the Chimbole Cultural Center, 38350 Sierra Highway in Palmdale. Vivian Komori will moderate the forum, which will feature incumbent Jim Ledford and challengers Mitcheal Toles, Lynn Marie Minidis and Maggie Campbell.
For more information on the Nov. 5, 2013 General Municipal Election for the City of Palmdale, visit cityofpalmdale.org/departments/city_clerk/election.html.