The piece for today was written in May 2014. I was having breakfast at a familiar B&B looking out onto the garden and the numerous feeding stations by the hedge. Panic ! The feeders were empty !! I rushed upstairs, got my notebook and wrote this....
  Now it comprises two parts. The first is the birds complaining , and the second is Kevin's reply.
  So without further ado ...
                     The Birds
   Now look here , Kevin- the fatballs  are gone !
   Knock at the door boys and see if he's at home.
   Hurry up, Kevin- we're starving you see !
   Chirrup together lads - feed me, and me and me !
   I'll fly to the window, you go to the door,
   Carry a placard. We want more, more, more
   Is that him in the shed opening a bag ?
   Fly there, robin. Perch on the door and nag !
   Come on Kevin, give us some hope.
   Else we'll sit in the hedgerow and nope.
   All the day we'll be sad and down.
   Get the car out. Get some in town !
   Food, Kevin, food. That's all we ask.
   Surely that's not too great a task ?
   Here he comes now. Smart kind friend.
   Fatballs  in hand. A successful end....
                 Kevin's Reply
   Here you are lads. Plenty you see.
   Hope you're appeased now ? You certainly told me !
   I was chatting this morning and rather slow,
   Got held up. It shouldn't happen I know.
   Please forgive me for this oversight.
   I now view you birds in a different light.
   I'll be ready tomorrow. You wait and see.
   Up with the larks. A new organised me.
       Thanks for reading. Feed the birds....Kath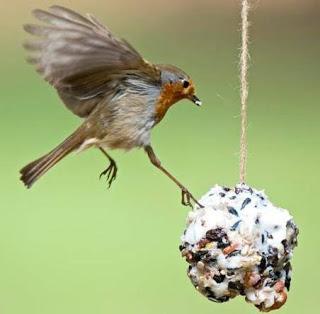 Email This
BlogThis!
Share to Twitter
Share to Facebook
Reactions: