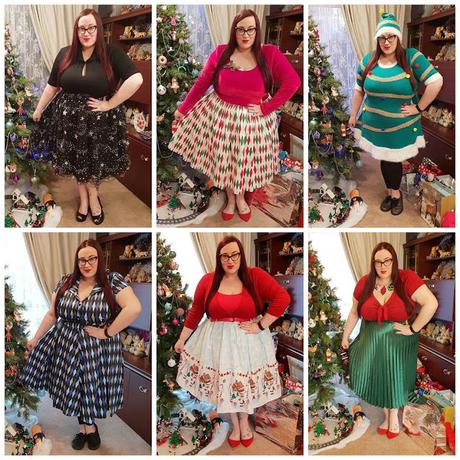 December - one of my favourite months of the year, i like all the lights, decorations and the feeling the festive season brings. I also have quite a collection of Christmas print clothes, which i only get to wear at this time of year.
As usual i went on a Christmas Break with Tan to Budapest, which was just as beautiful as the first time we visited.
Here you can see my entire Christmas themed wardrobe...

Vixen Babydoll Dress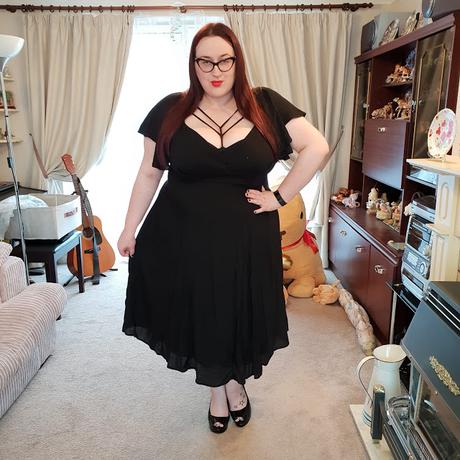 Not sure why I didn't get round to posting this picture, but i love it. Micheline makes amazing dresses.
Dress is a size 4x, i don't think i could wear it out in public without a vest top of something underneath, it is cut very low and i have quite a lot of bust to cover, but it is made from the most lightweight fabric. The bra is from Viva Voluptuous i sized down in the cup as i find molded cups always a bit big on me.
Pinup Couture Genevieve Dress in Holiday Harlequin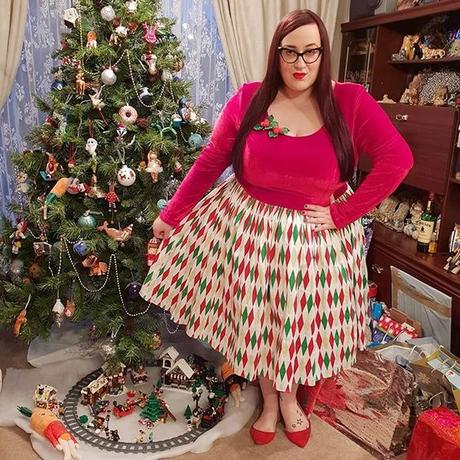 Merry Christmas! Hope you are having a magical day.
This was my Christmas day dress, i had wanted to wear something else, but it was held up customs so didn't make it in time, however, i still love this as a back up, i find this has a lot of stretch and can wear a 3x (i have a different print in a 4x and it is quite big on me)
Pin up Couture Cherry Jenny Skirt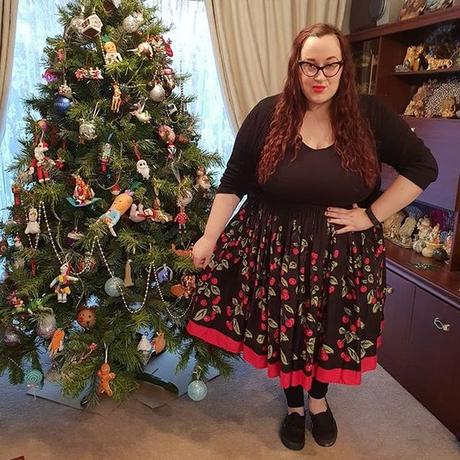 When you planned on working from home, but end up being needed in the office. So I just grabbed something comfy. I had flown in late from Budapest the night before, where i had been wearing my hair in braids, and on taking them out i had the most amazing (albeit sightly wild) curls.
Skirt is 4x and is a tad big for me, i am between sizes on the PUG skirts and find it easier/more comfortable to wear them big or get them taken in.
Pin Up Couture Colette in Ravenclaw blue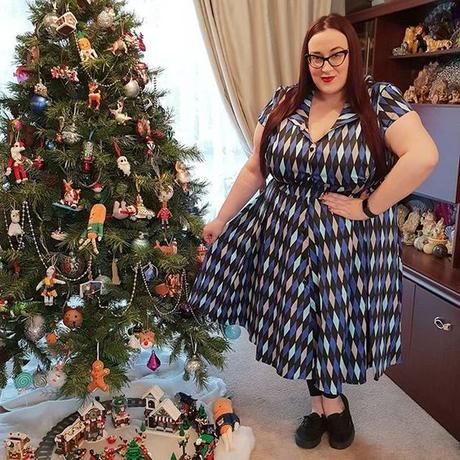 Ready for a day in London with @cacaopapow et al, seeing gingerbread creations and eating a whole lot of cheese. We might have also sneaked in some cake. Wanted a wintery feel and this blue and silver palette gave me that.
I took a gamble on this dress, normally shirt dresses aren't my friend (hello big boobs) and i end up with the unsightly gaping on my bust, but this was down to $25 in the sale so i thought why not, and the fit of the 4x is amazing, i need to add a single popper in the bust area, but more for my piece of mind than anything else.
Primark Christmas Tress Dress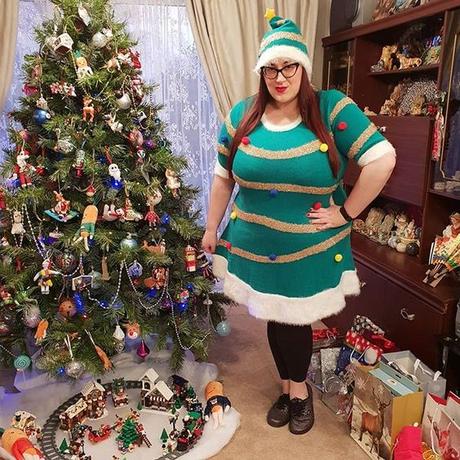 Work Christmas party today and a Christmas jumper was mandatory. I decided to be a Christmas tree. I felt pretty adorable tbh.
My word did Instagram go wild over this dress - i got over 2500 likes on a picture, which is mind blowing. I am wearing an XL which i believe is an 18-20 and the fit is fit on my 22/24 frame. Also wearing my glitter Vans, they sparkle so much.
Hell Bunny Holly Berry Dress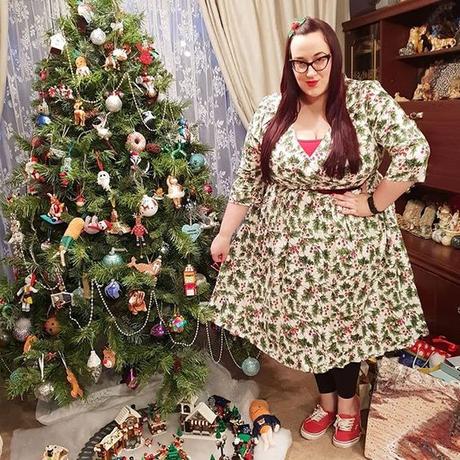 Going traditional Christmas with today's print.

This is another dress where the cut is a little too booby for work, so needs a top adding under it. I am wearing a 4x.
Torrid Tinkerbell Skirt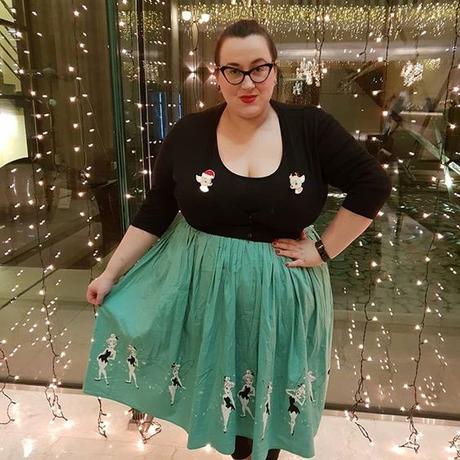 Today in Budapest I wore Tinkerbell and reindeer's. We saw a choir, ate amazing chips, rode the Christmas tram, walked along the river, had funnel cake and went on the Budapest eye.
Brooches are from Deer Arrow, they do some amazing collections.
Hell Bunny Blitzen Dress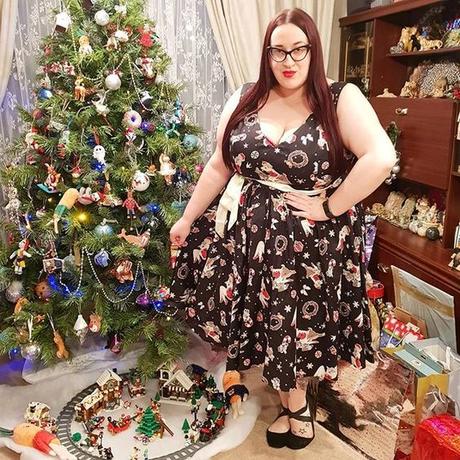 What says Christmas more than pin up girls riding reindeer? Bringing a bit to cheek into the #festive season.
Wearing a size 4x.
Primark pleated green skirt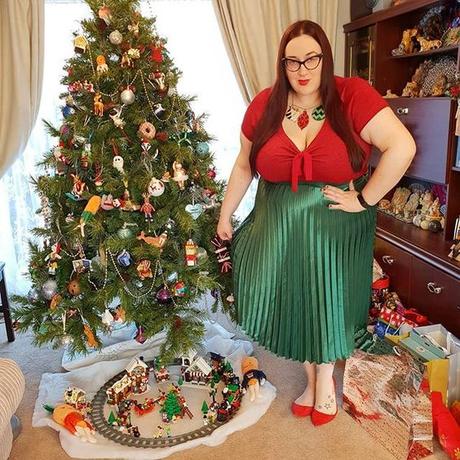 Tried a different shaped skirt today, I think I prefer my full ones. The necklace is perfect with this colour combo.
Skirt is a size 20 and fits really well. Top is the Angette from Hell Bunny in a 3x.
Hell Bunny Cosmic Love Skirt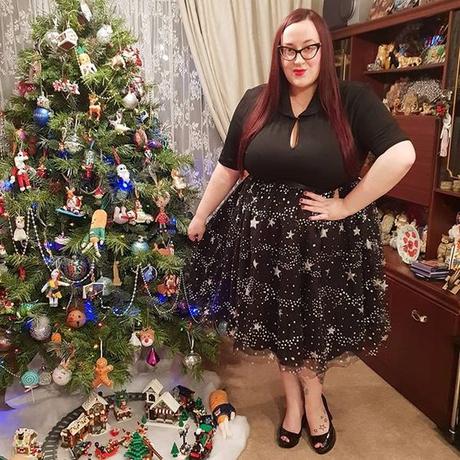 The last outfit of 2018 and I made it a sparkly one.
Happy New Year! Here's to another year of great fashion.
I am a sucker for stars, make them glittery and it is something i need to add to my wardrobe STAT. I am wearing a 4x which is an ok fit, the waistband is satin so doesn't have as much stretch as the cotton ones. Top is from Unique Vintage.

Pinup Couture Vintage Ornament Skirt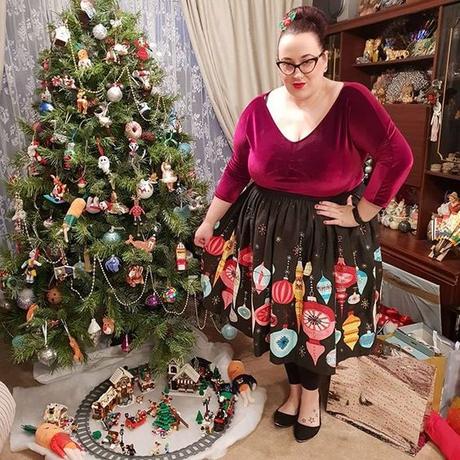 Playing with texture and jewel prints today. And who doesn't love a vintage bauble?
The skirt is a 4x, the top is a 3x and i'm not sure i'm 100% in love with it, i could probably have done with sizing up for a slightly more comfortable fit, but mostly, i don't think i suit this open a neckline.
Banned Ice Skaters in Paris Skirt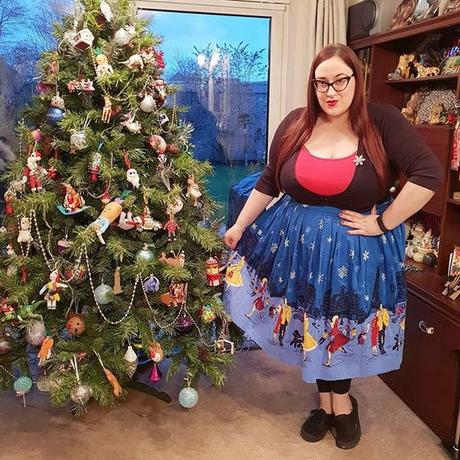 And the christmas wardrobe is out for 2018.
This skirt makes me think of snowy walks in Paris. The skirt is a 4x.
Hell Bunny Merrily Velvet Mini Dress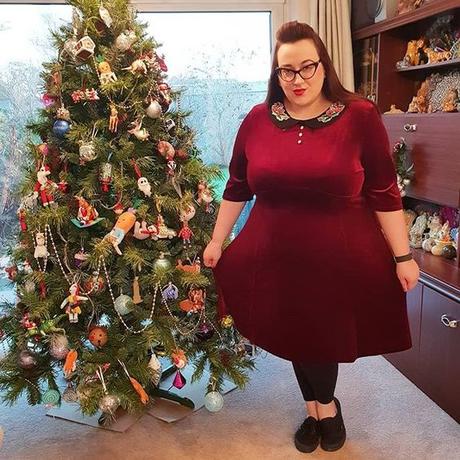 Why is velvet so christmassy? Add holly and sugar canes to the collar and you have a dress full of Christmas cheer.
Note - Velvet is the killer of hair, wearing it makes my hair so static. This is a different shape for me and i wasn't sure i would like it. For a mini dress, it s actually quite long, i am wearing the 4x which is mostly a good fit, the bust line was a little troublesome and made the dress sit a little higher than i wanted.
Micheline Pitt For Unique Vintage Hunter Green Carmelita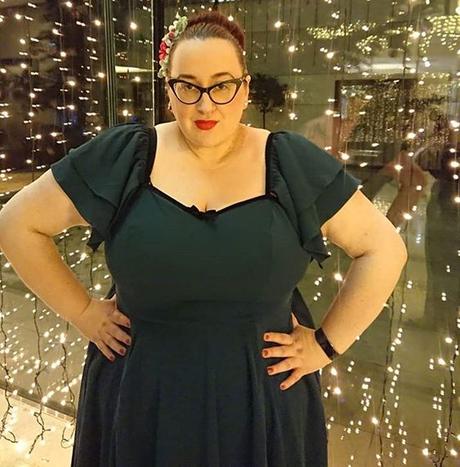 We got dressed up for cocktails.
I love this dress and i can't wait for an opportunity to really show it off! As i wasn't sure on the fit of this dress as Unique Vintage tends to run small, i ordered from UK stockist, Deadly is the Female so that if it didn't fit, i could send it back, but due to the shirring at the sides, i could have maybe even sized down in this dress.
Asda Mickey Mouse Christmas T Shirt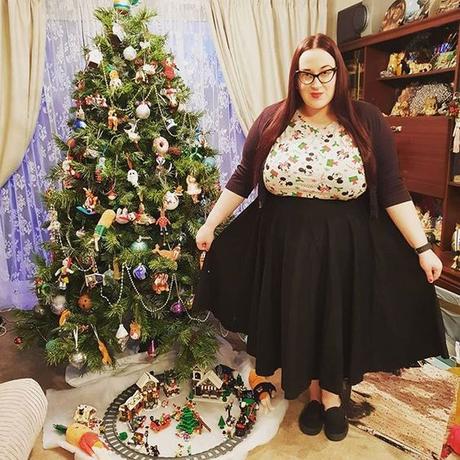 Going for a more casual look today, I am ready for work to be over and the xmas break to begin...1 day to go!
I picked up this t shirt as a bit of an impulse buy while doing my food shop, but it was just adorable. Wearing a size 18. Skirt is the Peggy from Lindy Bop - In 2019 i need to investment in more block colour skirts.
Hell Bunny Gigi Skirt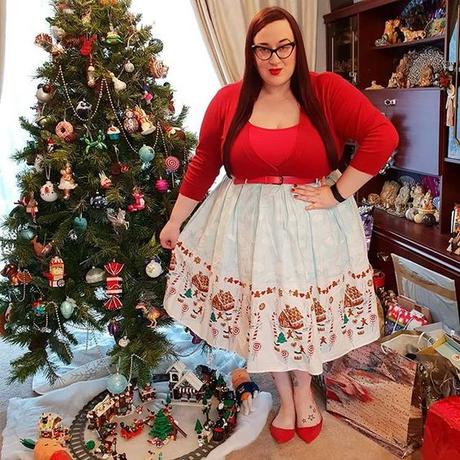 What I wore for Xmas Eve brunch before getting into my jammies to eat cheese and watch xmas movies. What are your christmas eve traditions?
Skirt is a 4x, Cardigan is from Mak and i'm wearing a 1x; i'm not sure why i didn't think about tucking my cardigans into my skirts before, but i love the clean look it gives.
Joanie Tartan Dress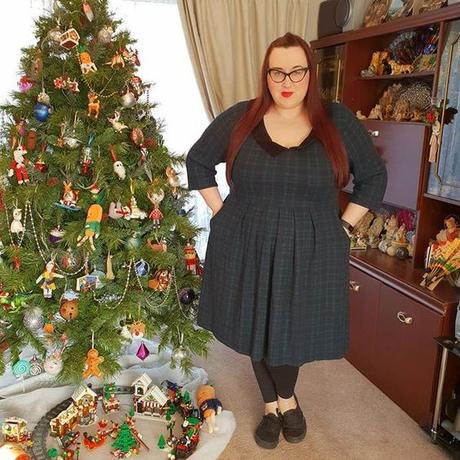 I was back to work today, although working from home, I wanted something comfy but still a bit festive and this tartan dress was perfect.
I am wearing a size 20.
Torrid Red Skirt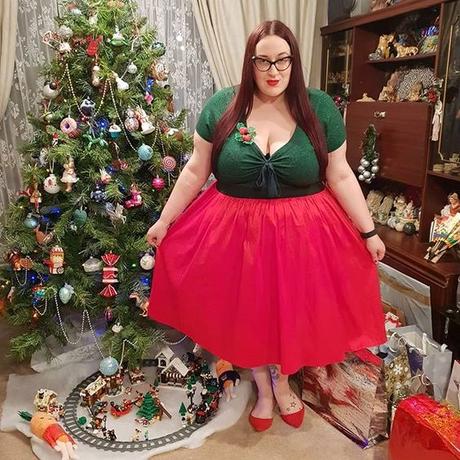 Letting the colours do the talking today.
I picked up this skirt on a trip to the US and i love it, it is a 1x. Top is from Hell Bunny in a 3x.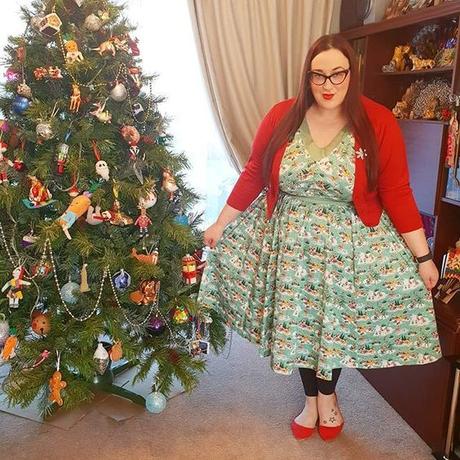 Merry Sketchmas! Today we went for festive afternoon tea, and we dressed festive as fuck.
Yes that is Disney characters on my dress.
I gave the full low down on this dress in my Xmas Sketch post, i am wearing a 1x, the sizing is very generous.
Pin Up Couture Alfreda Dress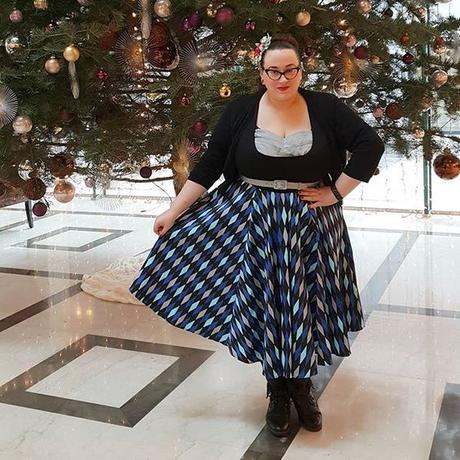 The fisherman's Bastion looks very Hogwarts esque, so in its honour i wore my ravenclaw dress there, as any chance to waft around like I'm in Harry Potter is gladly taken.
I am wearing a 4x.
Pin Up Couture Christmas Harlequin Print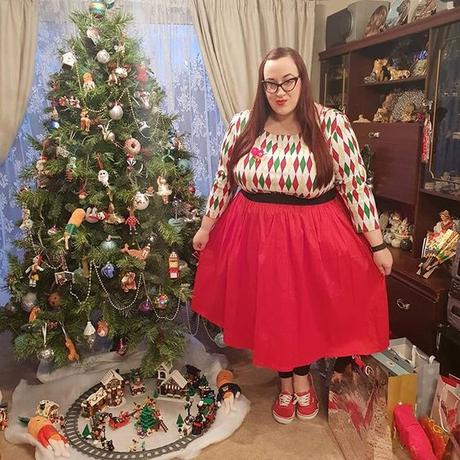 Red and green screams holiday cheer.
I bought this top before i bought the dress above, but i like that i can mix and match this one more. Top is a 3x.
Hell Bunny Noelle Dress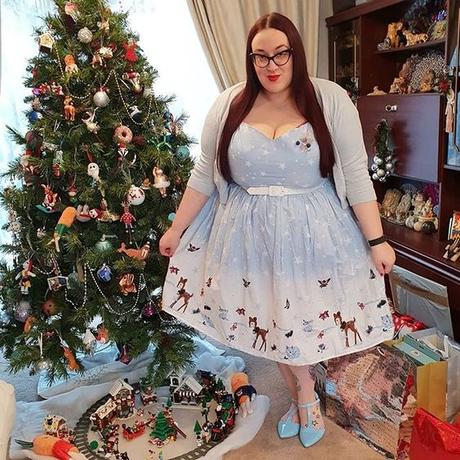 More winter wonderland than Christmas, but festive none the less. Those little animals melt my heart.
ASOS Curve Dungarees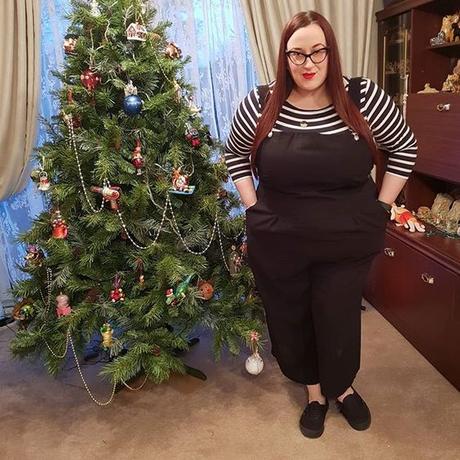 Yes, I am wearing trousers....dungarees to be exact. My legs haven't been clothed like this in years.....is it cute or do I look like an oversized toddler?
I am wearing a 22 because that's all they had in stock, and i could have done with a 24.