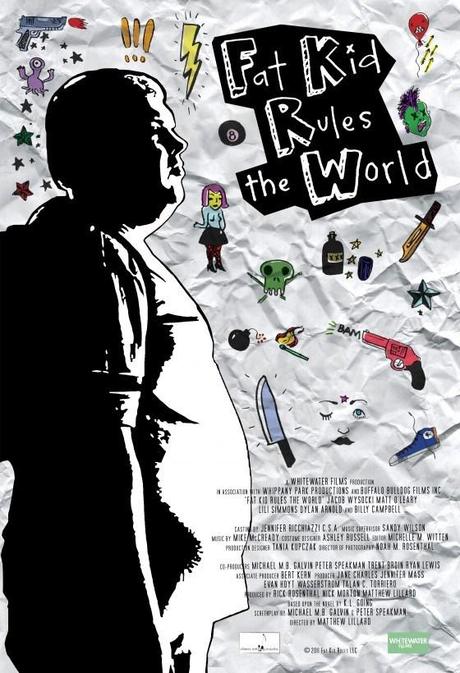 I love to read. A lot. I always have, literally as long as I can remember. My mother taught me to read when I was three, and I can't remember before that.
Everyone once in a while, I finish a book and I close it and I exhale and I think: I wish I had written this story. Those are my favorite books. K. L. Going's Fat Kid Rules the World is that kind of book. The kind that sticks with me and makes me want to be a better writer.
After months of waiting, the film version of Fat Kid Rules the World was released On Demand today. It was directed by Matthew Lillard, and then crowd sourced not only for funding for it's release, but its actual theatrical release as well. The film is clearly a labor of love, and that love shines through so well.
We all know that a movie based on a book can either be amazing or really bad. The best movies-from-a-book, in my opinion, are the ones that add a little to the written story without taking away from it. Fat Kid Rules the World is that kind of movie.
Jacob Wysocki is brilliant as Troy. His desperation and depression is tangible in the beginning, and when he finally starts to come out of his shell, it's impossible not to root for him.
Matt O'Leary plays Marcus (Kurt in the book), a character very clearly based on Curt Cobain. Even more clearly when you're have a visual representation.
The relationship between Troy and Marcus walks the line between absolutely necessary for both of them, and completely destructive. It's literally impossible not to get caught up in hoping that they will pull it together.
Billy Campbell is great as Troy's dad, an ex-Marine trying to figure out how to be a dad after his wife's death a few years earlier. He's tough as nails, but also entirely likeable. I loved that his response to his son's inability to rebel was to buy him a drum kit.
Spend a little time with the fat kid while he's On Demand. For the low, low price of $4.99, you get to support an amazing author, a director who put one of the best books ever on film–out of love for the story, and a fantastic cast. Plus, you'll come away from it feeling a little punk rock. Where else can you get all that for the price of a hamburger?