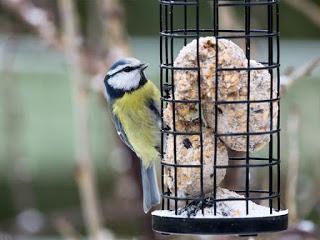 Spending time in Dumfries & Galloway is always intended to be restful and peaceful and that's exactly what we find at the lodges where we choose to stay. A favorite pastime is watching the birds feasting on the fat-balls and seeds that we provide. We feed the birds at home, but hardly get chance to enjoy the results of constant topping up. It's different when we're away. A morning consists of relaxing after breakfast with a coffee on the veranda, or inside if it's chilly, reading yesterday's paper or a Kindle. Reading material is soon cast aside as bird watching takes over. Depending on the time of year, we may repeat this in the late afternoon. The lodges are surrounded by evergreen trees and huge rhododendrons offering plenty of branches to hang an assortment of feeders.
We were there in November for a much needed break. My father-in-law had passed away the week before and the funeral arranged for our return. We looked forward to the family gathering that was always a highlight of our visits. I had started to be ill in the days prior to our trip and hoped the Scottish countryside air and time to rest would help me pick up. It wasn't to be, but we still enjoyed our stay.
Health permitting, our spring time visit will go ahead. It's a good time to watch the red kites at their feeding and conservation station nearby or at Galloway Forest. What I'd really like to do, more than anything, is fill seed feeders and fat-ball holders, hang them up and wait.
As we're in his domain and it's nearly Burns Night, I chose this poem,    
O stay, sweet warbling woodlark stay,
   Nor quit for me the trembling spray,
  A hapless lover courts thy lay,
   Thy soothing, fond complaining.
Again, again that tender part,
   That I may catch thy melting art;
   For surely that wad touch her heart
   Wha kills me wi' disdaining.
Say, was thy little mate unkind,
   And heard thee as the careless wind?
   Oh, nocht but love and sorrow join'd,
   Sic notes o' woe could wauken!
Thou tells o' never-ending care;
O'speechless grief, and dark despair:
   For pity's sake, sweet bird, nae mair!
   Or my poor heart is broken!
   Robert Burns  1759-1796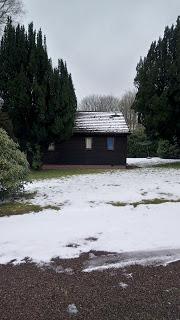 Thanks for reading, Pam x           
Email This
BlogThis!
Share to Twitter
Share to Facebook
Reactions: