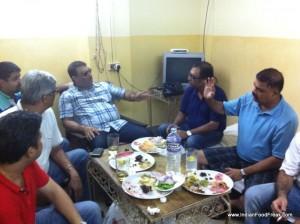 It's now a ritual.  Four years on the trot, I have been doing this amazing gastronomic pilgrimage of Bada Masjid area of Calcutta, during the month of Ramadan.
I hook up with about 12-15 other food aficionados' also brave hearts of Calcutta. I must say so, as to venture deep into this food territory where beef meat and its spare parts is the order…and chicken is for the less adventurous (Chicken hearted).  We had a fairly large 4-bedroom room at the famous Ammenia the HOTEL and let go our pent up desire to devour some of the most exotic meats prepared specially during this month by vendors large and small.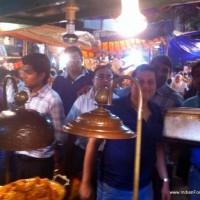 On arriving at Mohammad Ali Park on Central Avenue we take a left into Zakaria Street. You have to be chauffer driven to this place or you would waste an hour struggling for apparently zilch parking space. We tread along the road, which by Ramadan becomes the world's most densely populated locality. Every inch of space is covered with stalls that sell everything from clothes to shoes to food and fruits.  You would be seeing a sea of humanity with a vast majority of taqiyah-clad heads. We usually pick a few of these for ourselves so as to blend into the milieu rather than stand out like sore thumbs.

Our trusted succor "Shafique Bhai" at Ammenia is waiting for us with baited breath as he tends to our demands of a dozen odd picks from the entire locality to be outsourced up and served to us in the comfort of our room.  It is an ordeal to stand in the crowd and to do true justice to the food. The whole event is like a well-orchestrated symphony.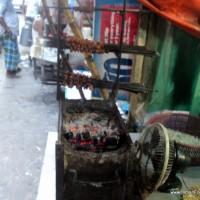 Our starters begin with KHIRI  (Udder) Kebab's from the Dilshad's. These are truly befitting starter for a royal beginning. Succulent pieces of cow udder lightly spiced and melt in the mouth consistency are just too perfect to satiate the hunger pangs that get very sharp due to the much awaited event. It is also perfect as accompaniment to the spirits, which are taking the entire group to dizzy heights.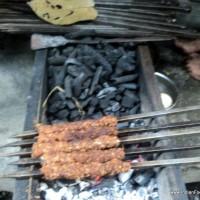 Starters continue with the runner boy getting the famous Sutli Kebabs from Adam's.  It's an Absolute must for those who have the belly for food exotica. It's a beef mince kebab held by a cotton thread and charcoal grilled served piping hot. This kebab is to die for and absolutely delectable.

Next on the agenda is the prized Afghani Machi that is prepared and available only during Ramadan by Afghani stalls that come up. We rely on Shafique to fish out the best vendor for us. It's a truly deep-fried fish for nearly 20 minutes at the bottom of the pan on high heat. The masala on this fish is a trigger for drooling. The eyes resist popping out of the ocular cave. It's a divine dish even for Non Fish lovers. No wonder it's extremely popular among Muslims, who aren't really fish enthusiasts.

Starters are no more Starters they are the order of the night. We are a stones throw away from the legendary The Royal Indian Hotel and how can we not have the "BURRA" Kebab which comes as a welcome relief to the so far under nourished and famished Non Beef eaters. It gets wiped off faster than you say ROYAL. Royal's kebabs are scrumptious and I would personally rate them very high in comparison to other kebab joints in Calcutta. The Royal's Biryani and Chaanmp are preferred by the purists to the several other Mughlai joints that have popped up in the past 2 decades.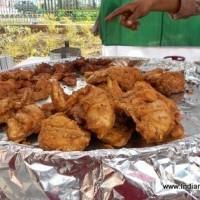 More Starters. We get a load of Chicken Chengezi by the KILOS, 3Kg this time. These are sinfully deep-fried and a replica of the Delhi's counterpart area "DELHI 6" and compares pretty well with its original.

Enough of Chicken and the boy returns with more packets ……meaty chunks of boneless beef Keema Malai Kebabs and Ghost Dahi Kebab's from Adam's again.

The grand Finale. The main course is the STARTER STOPPER  "HALEEM" of Ammenia. We order a dozen plates of Maggaz Haleems. A slight twist to the traditional, but it's devoured in less than 10 minutes by the Gluttons with local bread. The Haleem is quite different in Calcutta compared to Hyderabad, I really adore the one at Ammenia, as the consistency is great and has gleaming Rogan floating on top. The maggaz meat is of course tender and delicious

Thus after A Dozen Kilogram of between us, we reluctantly give the Firni's and Alauddin's  Sweets a miss. Only to return again next year. Enthusiasts and Food

Cheers…Jeev Sood