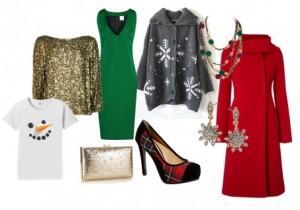 Is there a way to look stylish and celebrate the holiday season without looking like an elf, human candy cane or afemale Santa Claus?  You bet there is– none of which involve an ugly Christmas Sweater either.
Everyone celebrates the holidays differently.  Some get all gussied up and others lounge around.  For all types of holiday celebrations from, swanky to slothy, here are some looks I put together to help you get in the holiday spirit with style.  All looks created in this blog can be clicked on for shopping information.  
Dressy Holiday Fashion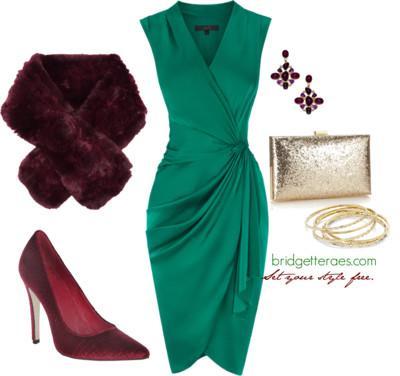 Holiday Cheer #1 by
bridgetteraes
featuring stackable bangle bracelets
While red and green may be a little obvious for the holidays, you can go with a dress in emerald (Pantone's color of the year) and pair with an oxblood or burgundy (another trendy color right now) to touch on the popular color combination of the holiday season in a subtle manner.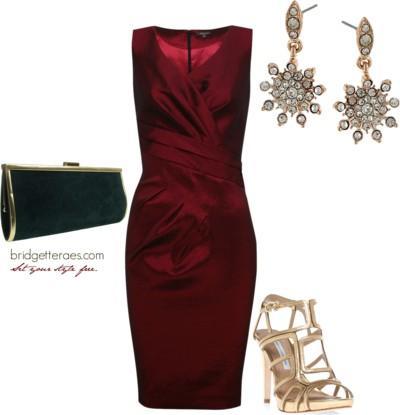 Holiday Cheer #6 by
bridgetteraes
featuring stiletto heels
Here is another example of using red and green but in deeper and richer shades that look more elegant and less obvious.  In addition, gimmicky things like snowflakes can be a bit tacky when done wrong.  Yet, when done right, like with a pair of pretty earrings, you can get into the spirit with class.
Festive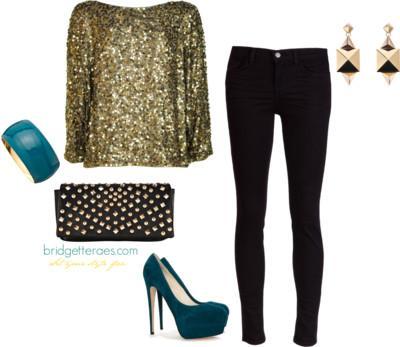 Holiday Cheer #2 by bridgetteraes featuring stud earrings
For a festive dressy-casual look, a sequin top is a great way to go.  Instead of going with the obvious red and green, I chose gold (another great holiday color) and, instead of green, went with a teal shade which is a borderline between blue and green.  Yes, you can look holiday without looking HOLIDAY.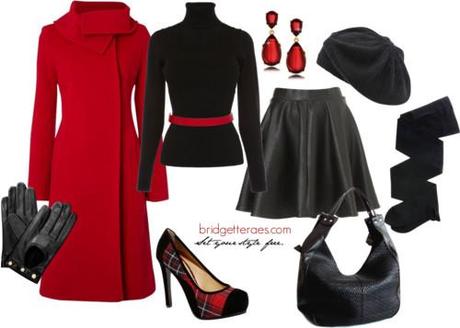 Holiday Cheer #3 by bridgetteraes featuring a military sweater
A red Tartan plaid goes with the holidays like needle and thread.  You don't have to wear a plaid jumper or skirt to embrace this trend.  Simply wearing it in small doses, like in a pair of shoes, gets the job done.
Holiday Work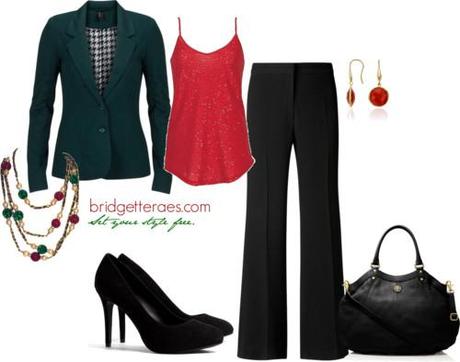 Career Holiday Cheer #5 by bridgetteraes featuring suede pumps
If you are going for a holiday work look, you can take pieces that you'd normally wear to the office and "Christmastize" them.  Red and green worn together can be lovely IF the pieces you're wearing are elegant and stylish.
Holiday Casual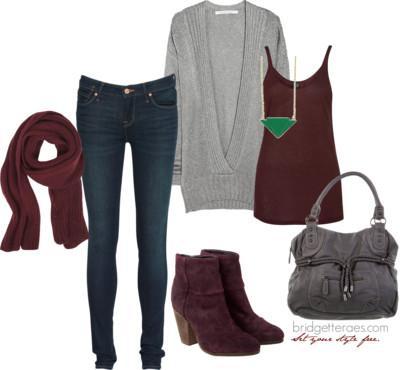 Casual Holiday Cheer #4 by bridgetteraes featuring vila
For many, the holidays are really casual.  If you're looking to throw together a stylish holiday look with pieces you already own, you can pull some rich burgundy pieces together and add a hint of green.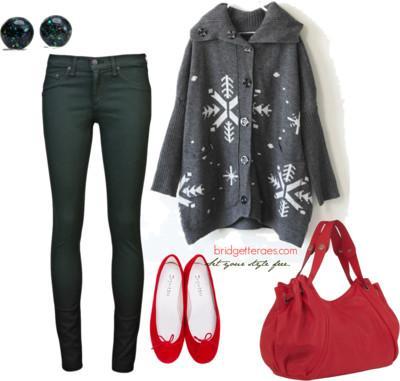 Holiday Cheer #7 by bridgetteraes featuring ballet flats
For those of you out there who love a good holiday themed sweater, choose one that is at least sophisticated, please!  You don't need to wear a lumpy, ill-fitting sweater with bells and doohickies all over it.  Paired with green jeans and red accents, this snowflake cardigan is festive while keeping your dignity in tact.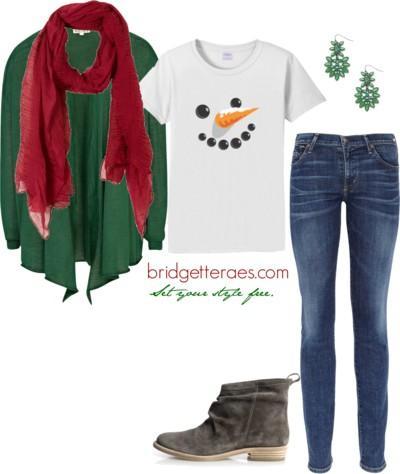 Holiday Cheer #8 by bridgetteraes featuring low boots
Lastly, for the super casual holiday partiers out there: have some fun!  I think this t-shirt is super adorable and playful.  Yes, as long as you don't take yourself too seriously, you can go all in with your holiday style.