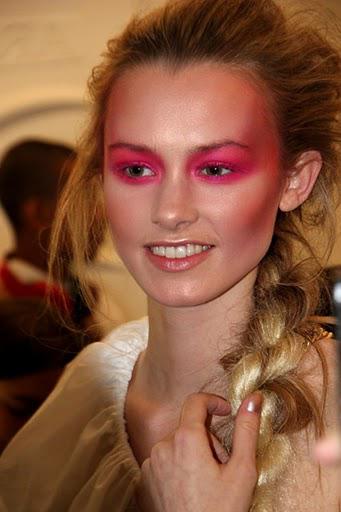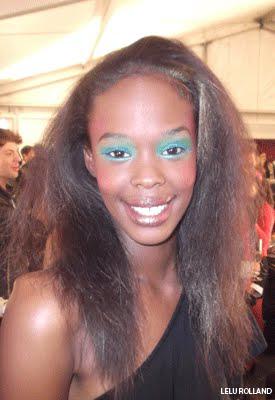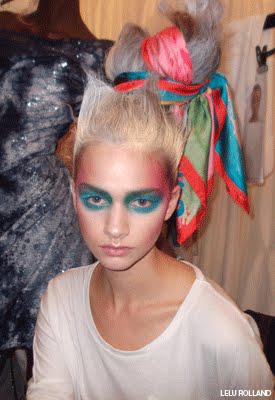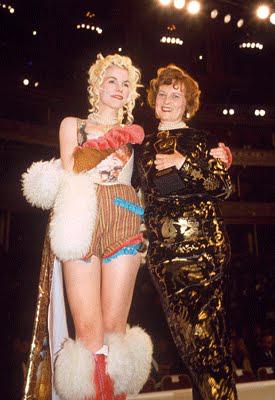 Make Up genius, Alex Box, created the make up for the show, whilst Malcolm Edwards created the hair. This makes for an extremely talented, creative pairing.
During Alex's demos of the looks, people look on in silence, occasionally catching each other's eyes and smiling. This is big make up, make up artists make up, something we can really get our teeth into, which is very exciting. It's colour, layering and technique, individualising the looks slightly for each models face.
It's fun to look at, and fun to do. It's like young girls wearing far too much make up but looking fantastic. Think peacock coloured eyes, with a Tequila Sunrise coloured cheek and you will get some idea of what Alex was trying to create.
If you know MAC colours you will recognize names such as Electric Eel, Bitter and Lime eye shadows, High Def Cyan or Process Magenta Chromaline, Devil, Salsarose or Azalea blusher, Bright Fuchsia or Acid Orange Pigment and the list goes on. It is bright floral color palette with a softened and highlighted face, which made an effective ethereal contrast between the features of the face and the face itself. The cheeks are heavily contoured and it all just looks gorgeously exciting and over indulgent.
It's busy right from the word go as the hair and make up looks are big, there are always also a lot of press and photographers backstage too which along with the designers team, the models and the hair and make up teams combined make for an awful lot of people. It's too hot and too cramped but people are really being satisfied by the whole package. It's backstage at a Vivienne Westwood show, it's a place a lot of people would love to visit and we all know and appreciate that.