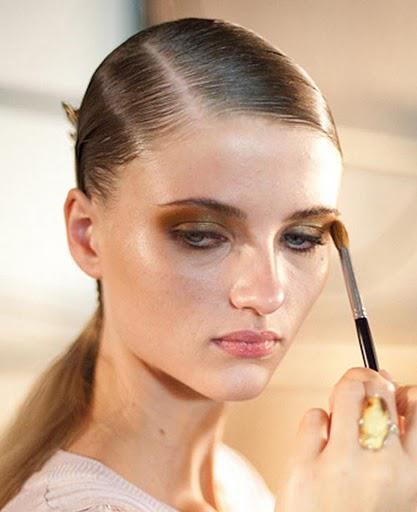 Firstly,  the lashes must be curled, and then powdered with MyMatch Powder. This will take the grease off the eye area and build up on the lashes to thicken them. Pat MyCover Concealer all over eyelids, up to eyebrows, and under bottom eyelashes, again set liberally with powder.
  With High Def Eye Pencil (black for dark hair, brown for fair hair), scribble and press liner in between the upper and lower eyelashes as many times as needed to create desired density. Don't come too high on the lid, just very focused and layered also covering the base of the lashes themselves.
The upper and outer corner of the socket should then be marked off with High Def Pencil in Brown. With your little finger blend Blingtone in Spicey over the pencil keeping it in the socket. Above the socket blend Blingtone in Morococo up to the brows. To finally pop the eye, liberally apply Blingtone in Gilt-y over the center of the eyelid.
To strengthen the eyebrows, scribble matte brown eye shadow from Eyetouch Trio in A Whole Latte Love back and forth on the eyebrows. To finish off, push brows in the opposite directions and set with a dot of hairspray on your fingertip, which also makes them glossy.
Using Upload Lashes Mascara, go into the base of the lashes easing inner lashes inwards, the middle lashes upwards, and the outer lashes outwards, using the end of the wand if necessary. Leave the ends fluffy for next seasons look, and as they are drying press lashes up and out with fingertips.
Use MyMix Foundation to lightly work around the outside of the eye area, and over the rest of the face. Then using your ring finger, pat a slightly lighter shade of MyCover Concealer into inner corner and outer edge of eyes, under nostrils, center of the chin and forehead to flatten out the T-zone. To finish, press a little MyMatch Powder on center of the forehead, outer edge of the nostrils, edge of the lips and the center of the chin.
Using High Def Lip Pencil in Nude for fair coloring or Beige for darker coloring, draw over the edge of your lip line and fill in the whole lip. Then with the matching lipstick in Vintage Pink or Sweet Dreams, fill it in the center of the lips, patting any excess onto the upper outer apple of the cheek.
To add the final gilt-y shine, put a dollop of the One Hit Wonder Lip Gloss in Gilt-y in the center of the lip and the lid.