Earlier this week, on Tuesday Shoesday, I wrote about the trend for rainbow shoes and while I was searching online to find funky multi-coloured shoes, I came across lots of pretty rainbow clothes and accessories too.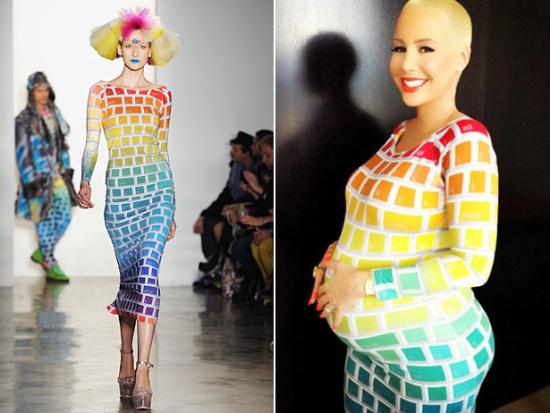 Photo courtesy of vh1.com
A pregnant Amber Rose was spotted wearing this Jeremy Scott dress earlier this year to her baby shower, and now the high street has taken inspiration from the catwalk and included a lot of bright rainbow patterns in their stores for spring/summer 2013. As a child I was a big fan of My Little Pony and the Care Bears and I think this might be the reason why I'm being drawn to the rainbow fashion trend. And honestly, when else can you get away with clashing 7 colours together? One of my favorite stores Apricot Online have designed these striped tops as part of their soft grunge collection and above all I love these cute rainbow tops from ASOS – which are already in the summer sale! When I went into New Look for some shoes this week, I spotted the necklace below in their accessories section (well, a girl's got to browse…) and really this product photo doesn't do it justice – the colours are brighter and the quality is really good for a relatively cheap piece of jewelry. I think that a necklace might be a subtle way to follow the rainbow trend without going overboard.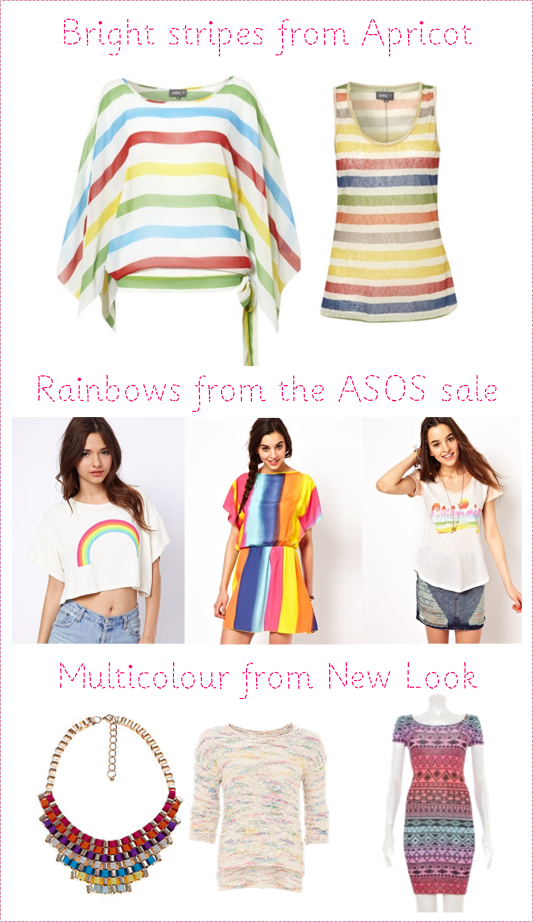 It's not often that a weather phenomenon features in my wardrobe, but I definitely will be trying out these bright colours this summer. Get in touch if you'll be wearing a rainbow pattern or colours this year, and let me know what you think about it by leaving me a comment below

Thanks!