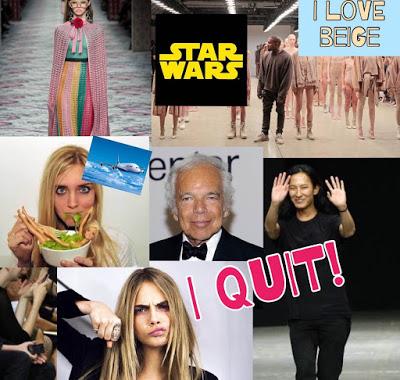 Fashion Month Review! Fashion Month Review!
Welcome, to the semi-annual Nothing 2 Wear Fashion Month review. This season we saw A LOT of change. With Cara "retired", Wang outta Balenciaga, Ralph out of the board room, new Creative Directors literally everywhere you look, we have a lot to cover. So sit back, grab a Pumpkin Spice latte and enjoy. 
NYC
Kanye's Beige Collection, I think it was actually called "Sneezey Season 2" or something, whatever, caused so much drama during NY FW that now, 4 weeks later I can hardly remember anything else. Maybe its the hundreds of memes Ive seen since, comparing his collection to the wardrobe from Star Wars, or prison uniforms, maybe its because of the way he went about announcing the show (he waitined until the shedule was set and then "surprised" everyone with his show, which overlapped with another designer's scheduled show; a fashion week no-no!). Also, Kendall was siting in SECOND ROW?!?! You DON'T SAY? 
Who gives  flying F*$k ? I sure dont, although I just spent an entire paragraph on my site discussing him...you win Kanye, you win.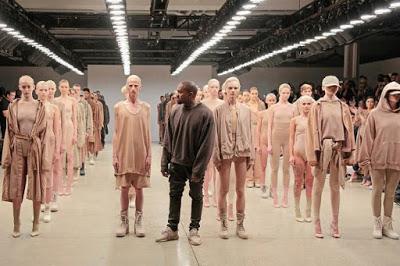 Do you like fashion bloggers? That was a trick question, because you're actually reading a fashion blog right now, silly! So you know Chiara right? Of The Blonde Salad....Well Chiara had A serious case of "I'm blogger hear my roar!" when she landed in NYC and proceeded to bash JetBlue Airlines. She ranted about rude service and horrible customer service, using #JetBlueReallySucks (so mature) and went mega viral. Here we learn a valuable lesson to not piss off The Blonde Salad. I am very curious and would love to know what exactly went down to get her so infuriated. Maybe a flight attendant offered her food? Maybe it was salad? She must have felt like they were accusing her of being a cannibal. Either way I guess #theBlondeSaladNeverStops....being a diva.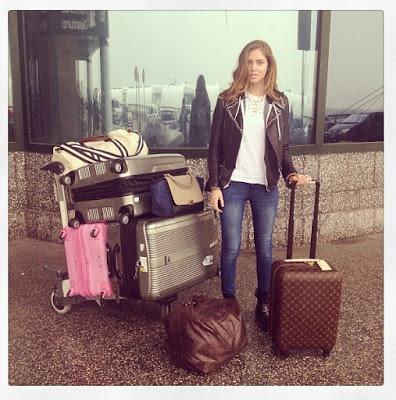 So, onto the fashion ya? My 3 NYC picks are below. 
Tory Burch - Step right up and get your fill of wearable prep. Also, texture, lots of texture. I kinda love the hair because it gives me hope, you know the lazy stay at home mom look. I'm so happy its trending.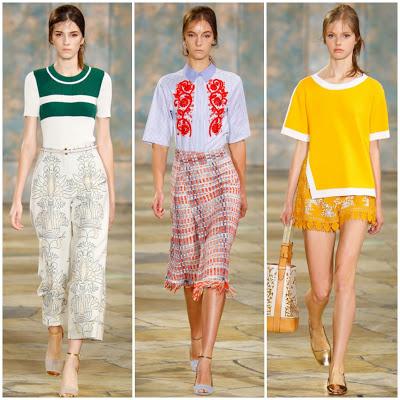 DVF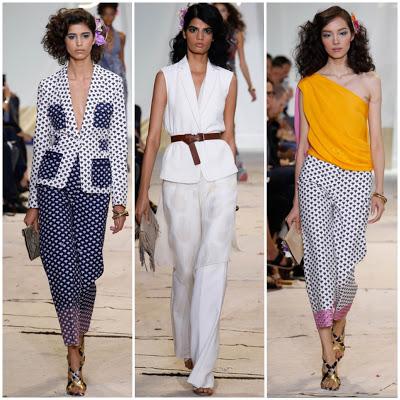 Jeremy Scott - Ah Jeremy Scott, I enjoyed this collection because its has so much more than just eye popping colors and head turning patterns. There was substance in the textures and materials. Demonstrating once again that there is more than madness to this man, he knows how to design. Scribble coat, two thumbs up!!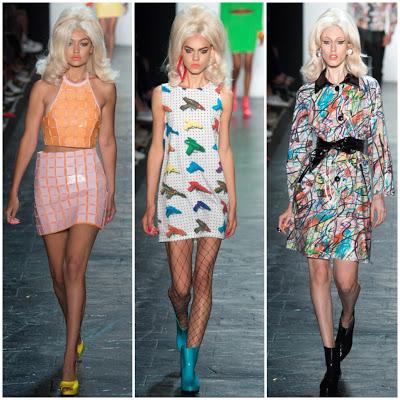 London
Guys I really miss London. Every season I tell myself  "I'll make the trip there next fashion week" but it never happens. It's my favorite city of all Fashion Month, little London underdog fashion week. Why do bloggers skip you? Why are you not even a full week? I dont care, I still love you London.
Vivienne Westwood Red Label -Viv caused a stir when she lashed out with some political incorrectness right before the start of her runway show. Does it make much sense to bash commercial practices, and mass retail production right before a show that is only on the fashion week docket because it supports said notion of buying new (very expensive) clothes every-single-season? I'm gonna let it go and forgive her cause her message is cool. We should buy less, and buy better quality. To move away from the mass production of clothing that leads to overuse of fossil fuel and usually utilizes child/underpaid laborers in developing countries. Viv you're radical but you know how to friggin tailor the crap out of a suit! Evidence below.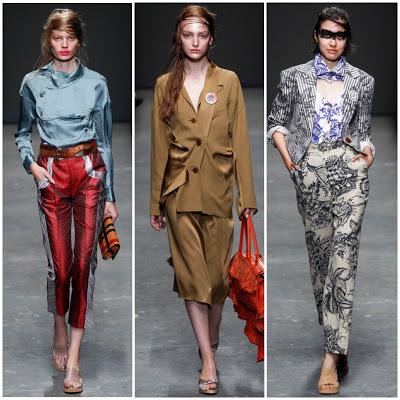 Markus Lupfer- Everyone needs some less than serious pieces sprinkled throughout their wardrobe. Sequins, mesh and rooster print is the best way to achieve this.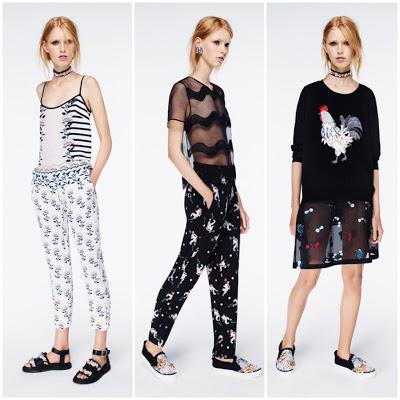 Issa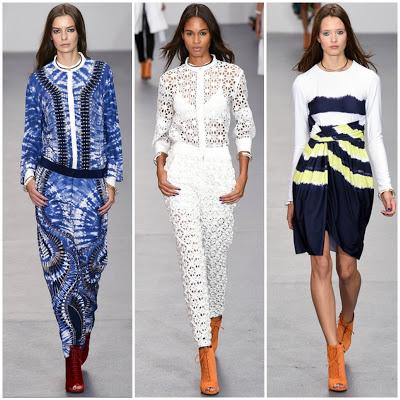 MILANO
I really love Milano, and so should you. Like, sometimes I dont really know what to write here in the city description so: pasta, gelato, hot police officers, Gucci, pane, meat balls, shopping, Italian stuff, those are all the reasons why you should love Milano.
Gucci- Alessandro Michele wants you to be the chicest Nonna on the block. Demure but still vibrant, this collection screamed ITALY! Also, I nominate the Gucci presentation for best runway. Check out that floor!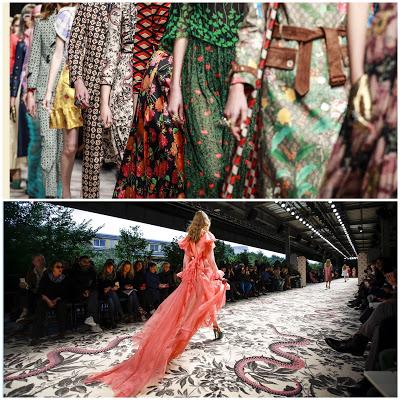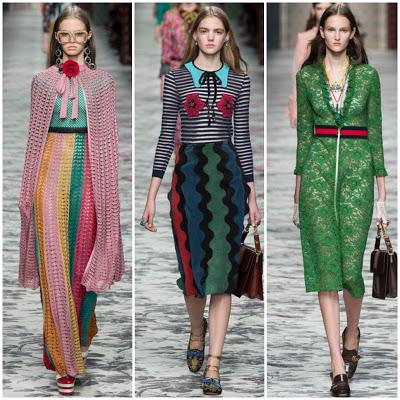 Pucci - This was an exciting season for Pucci as they welcomed a new Creative Director.
Massimo Giorgetti, the founder of MSGM, took over earlier this year after Peter Dundas's departure. This was his debut collection and it was a lacy, feathery home run.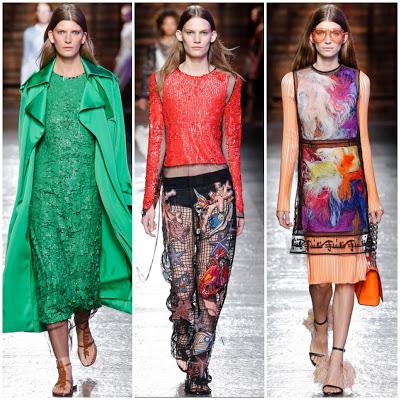 Missoni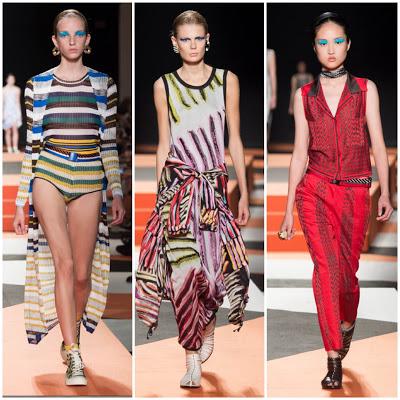 PARIS
Two words. HUMAN.BACKPACKS.  Rick Owens stunned the fashion crowd with his "Strong woman" imagery, meant to depict not just strong woman but Female strength. Rick spoke before the show and discussed that he had recently been thinking about how woman have an innate ability to relay on each other, and carry each other. That's kinda sweet, Rick. Also, I love the shoes. Speaking of female empowerment. Gigi took to her Instagram during Paris fashion week to remind everyone to keep their negative comments about her body to themselves. Her positive-body message made headlines in a big way. Now onto my favorite collections.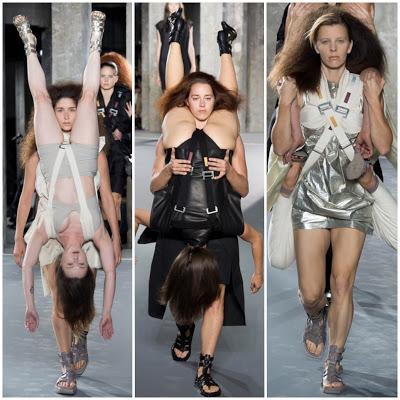 Barbara Bui - It's nice to see fringe is still in.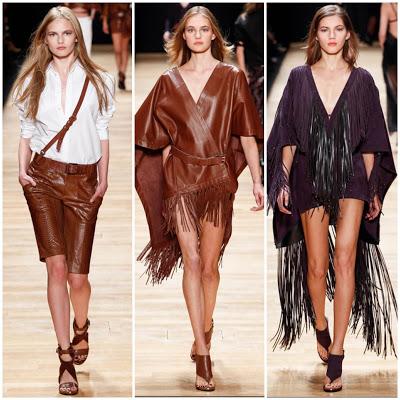 Dior -Dior had Delphiniums shipped in to decorate the Dior tent , which was actually a temporary mountain with an entrance. This was a major undertaking, which obviously earns Dior best runway design credentials.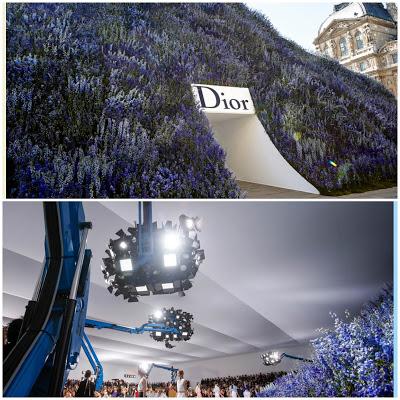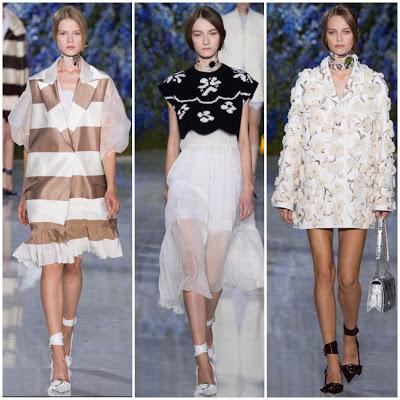 Carven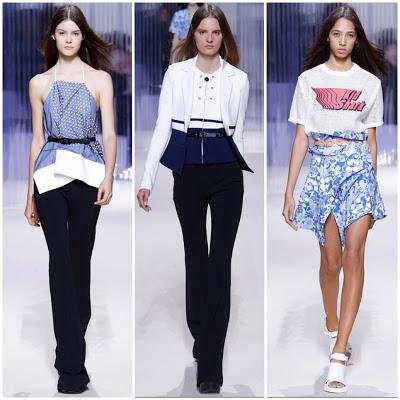 And my favorite show of all....drum roll please... MIU MIU!!
Miu Miu - Miuccia recently lost her 103 year old aunt, who she said was a "second mother" to her, she was absent from her Prada presentation but made an appearance at Miu Miu; her only sighting during fashion month. Each look in this collection is totally wearable head to toe. And also, it can be deconstructed and worn piece by piece. Accessories are on point, as usual, and even the beauty look is fresh and interesting. The lips are actually two colors.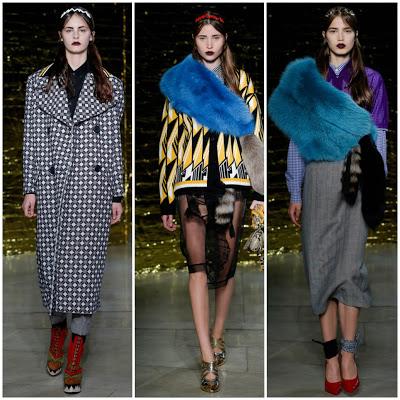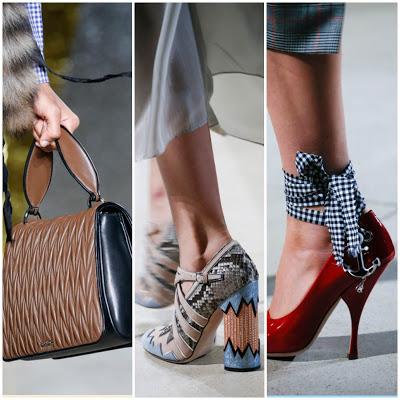 So there you have it four weeks of fashion and beauty. Did you follow Fashion Month? Do you have a favorite collection?