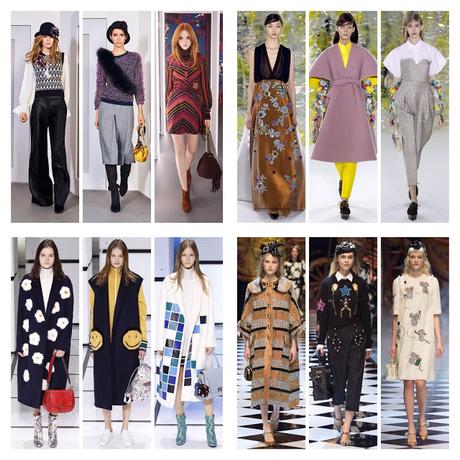 Fall/Winter 2016 Fashion Month Review
This was a craaaazy Fashion Month, my daughter got like 6 teeth all at once right during Milan Fashion Week and let me tell you, teething is NOT fun! I didn't know I could survive 9 days with a cumulative total of only 9 hours of sleep, but I surprise myself sometimes. 
Meanwhile at Fashion Month, which I was NOT in attendance for (one day I swear) it appeared that times were -a-changin. Specifically when it comes to purchasing what we spotted on the runways. I'm talking of course about the "
see now - buy now"
trend which has gained some popularity this past year. Moschino has been doing it for a few seasons under the guise of "capsule collections" but this season many other houses followed up with their own available like, TODAY collections or special pieces. Delivery schedules saw a change during New York Fashion week with heavy hitters such as Micheal Kors, Coach, even DFV offering a few pieces that could be purchased right after the show.

Other than that there was the usual fashion sized dose of drama that comes with every Fashion Month. Stick around, I'm covering most of it here, along with my favorite collections from each fashion capital of course!

NYC 

What to know about New York Fashion Week? Well; first I should mention what you DO NOT need to know. How about we make a truce and don't talk about Kanye West for awhile, ok? Of course in just saying that I have already uttered his name, and I have brought him to your attention, attention he does not need or deserve in the fashion context. Kanye is a great singer and all, but is he a distinguished fashion designer? Only according to Kanye. Ugh, this disease we have, this chronic obsession with all things Kardashian/Kanye needs to stop. I hate that he has leaked into the fashion world and has caused me to think twice about him (thats twice a year). So I have vowed to not review his show this season. I wont even make a sarcastic comment, or a bad joke. I'm done.

In other pop icon news, Lady gaga walked the Marc Jacobs runway to close off NY Fashion Week and she totally nailed it! At first Gag's was completely unrecognizable, the one giveaway of course was the height difference between her and the supermodels. I'd say at least 1 foot. Now onto my favorite collections...

Delpozo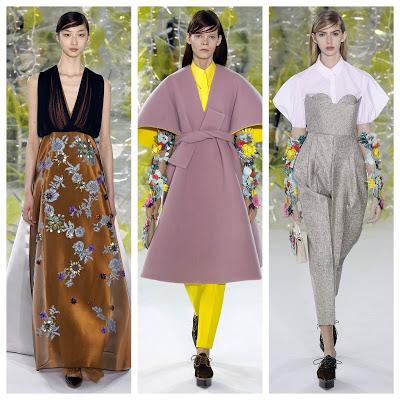 DVF - Diane decided to show her collection by staging a disco dance party. Sure some of the models looked awkward. Like really awkward, probably because they were about 3 decades too young appreciate Disco tunes. But the idea of partying with Diane is what got me going. That and dancing to disco music. Oh and the perfect 70's inspired clothing. Nothing awkward about that for me, I was clearly born in the wrong decade, I am a Disco Queen at heart.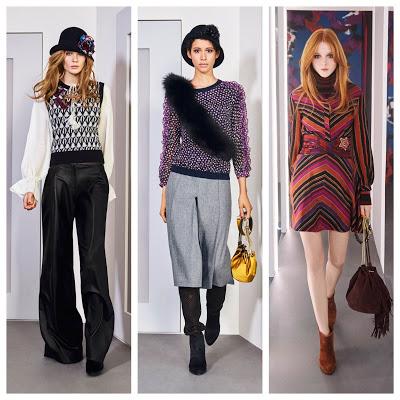 Hilfiger Collection: All aboard the Hilfiger cruise liner! This show transported guests to the middle of the sea via a large boat right in the middle of the venue. Of course this was a tribute to the Hilfiger nautical influence, but it done so damn well. Normally I shy away from prep, not for anything but because I have a "young" look and I honestly run the risk of looking prepubescent if I tried the prep trend. But this Hilfiger collection does not apply to that rule of mine. I would wear every single look!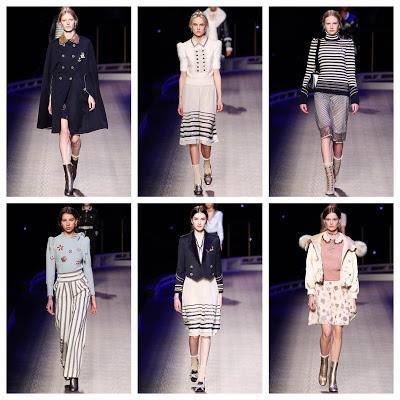 Lundy Town 
I'm going to do a little something different for my London review. We all know those crazy Brits have a certain way of dressing, right? But have you taken notice that lately the most coveted accessories all hail from across the pond? Of course you have, so lets talk accessories shall we?
Burberry - Holy baby Jesus Burberry. You just made my heart stop. THE TIGHTS!! Brits love tights, when I lived in the UK I wore patterned tights practically every single day. Here in North America its less popular.  I am praying this means that tights are back baby!!!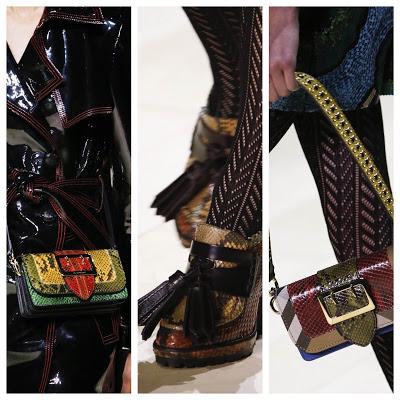 Anya Hindmarch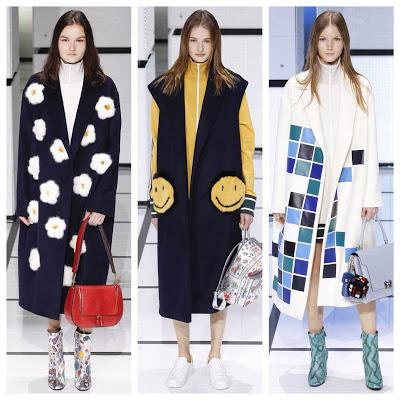 Mulberry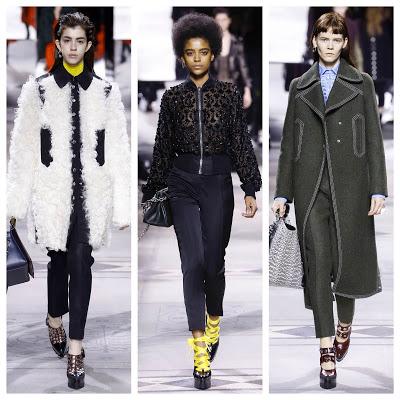 Milano 
Somewhere during Milan fashion week is when, as I mentioned above, my daughter decided to go on a sleep strike. So excuse me for basically knowing NOTHING about the events thats took place that week. I can vaguely recall showering, maybe twice that week. But all hail Vogue Runway and their brilliant collection of runway images. I was able to identify 3 collections I will be obsessing over this fall.
Gucci  - This Gucci collection made ME love PINK. Enough said.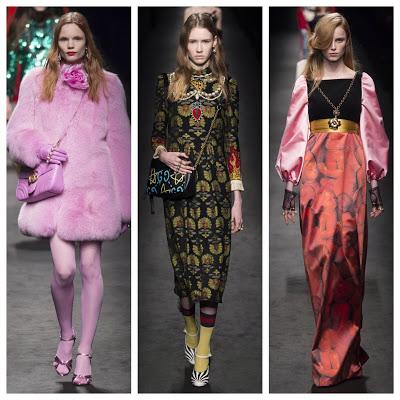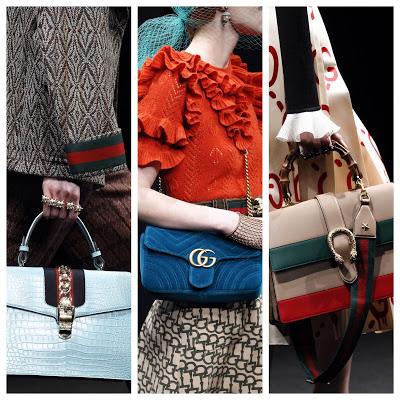 ohhh and these bags!!! My obsession with Italian handbags is unhealthy after seeing these babies.
Dolce & Gabbana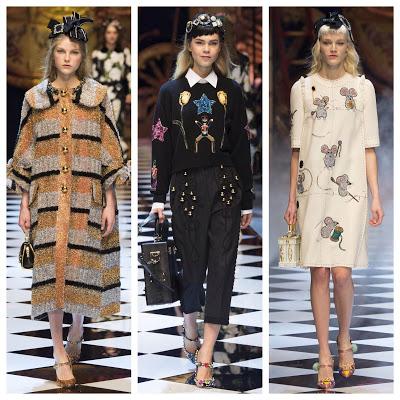 Etro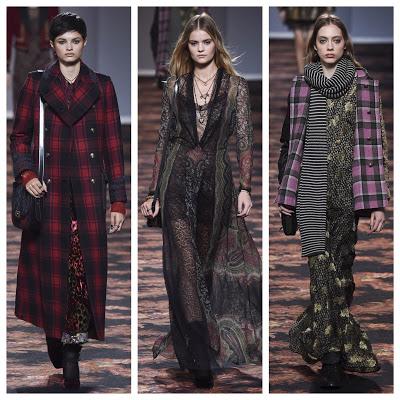 Paris
Lets talk about Delta Airlines for a moment. Is there some sort of conspiracy going on here? Famous bloggers, journalists, even the brilliant Eva Chen had their luggage "lost" for days and days upon their arrival in Paris for Fashion Week. These poo fashionistas were stuck in their airplane clothing for days. Thats just gross. Eve was forced to start her own hashtag #SuiteCaseGate2916. If that happened to me I would WIG out! 
"Wig" out, you get it? You know, cause Balmain used wigs in their show. Oh, you dont care? Neither do I. And yet everyone and their mother's neighbour is freaking out over the Gigi/Kendall hair color swap. When PEOPLE, THEY JUST WORE WIGS! I dont know about you but I've been familiar with wigs for like, ever. You can even wear them on halloween and to play dress-up. They are kinda not a big deal, in fact models wear them quite often. But I guess it was a short news week because all anyone could talk about was the fact that these two overdone, over rated models swapped hair color with the help of wigs. Yawnnnnn.
Oh and Valentino sent a really young, like illegally young, looking model down the runway with her nips exposed. By rule all models in Paris must be at least 16, so even if this young girl was of age by Parisian standards she is still not an adult. Valentino risks stirring up some controversy here after the Paris runways have battled years of scrutiny over the age and size/weight of their models. What was it about the looks at Valentino that really bothered me? Oh ya, if you owned an actual pair of breasts any of those dresses would be impossible to actually wear. They were all c-through, sheer, with plunging necklines, seemed to be missing a lining, and flimsy. I guess this collection is aimed towards a more bellerina-like figure. Much like the young model who was sent down the runway with her lady bits showing.
Isabel Marant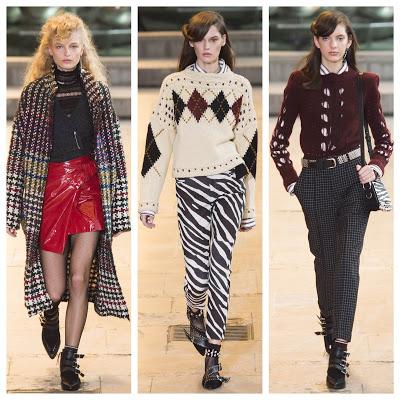 H&M Studio  - When m

odels Amber Valletta, Jourdan Dunn and Ashley Graham walk a runway you know you're in for a treat. H&M Studio was not just a roaster of top supermodels but also a collection that was strong and  expressed a woman's individuality. The models walked a specially created runway that imitated a frozen lake, reflecting of course the influence of nature. The H&M Studio collection showed powerful tailoring mixed with a homage to the brand's Swedish heritage. My six favourite looks from the collection are below, and keep in mind that t

his is a limited-edition collection which will be available in 200 H&M stores from September 8

th

 So plan ahead happy shopping :) 
Images via H&M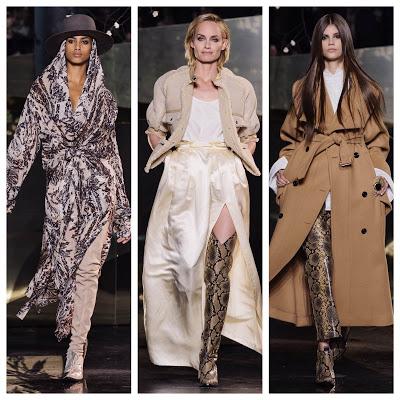 Chanel - I'm granting Chanel the privilege of being my favourite show of Fashion Month. Why is that? Because Karl paid a beautiful and respectful tribute to the way collections used to be presented, before runways. Each guest at this week's show had a front row seat and the set...well there was no set this time. Patrons of the Chanel show had gotten pretty used to the Chanel Airport, the Chanel Casino, Chanel Supermarket, so what on earth would Karl do this time? White carpet, gold chairs, pearls, tweed! Oh the tweed. I had several dreams I was wearing a head to toe Chanel look after seeing the runway images.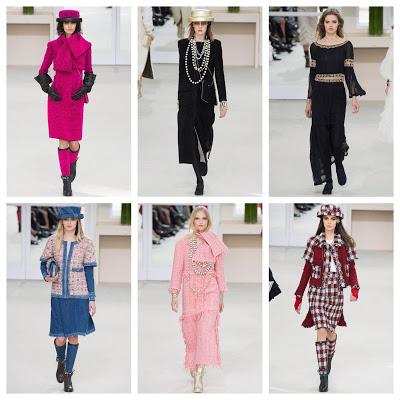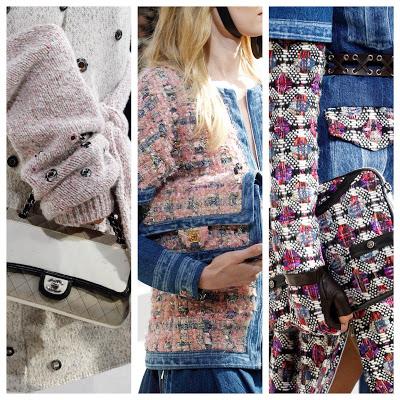 So what's next? Toronto Fashion Week of course. Formally known as "World Mastercard Fashion Week" we've got some exciting changes over here in our neck of the woods too. Fashion Week begins Monday and I will be hanging out at the tents and reviewing shows here of course. So tune in!
J