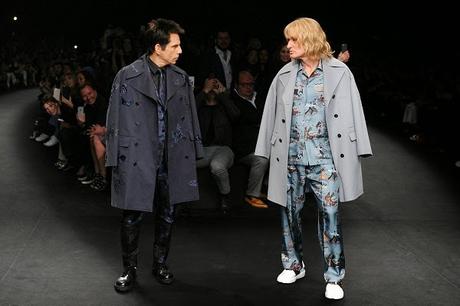 Its that time of year again! Buckle up cause I've got your Fall 2015 Fashion Month review
In just a few days Fashion Week in Toronto kicks off. Although I wont be attending to my usual full extent because I'm currently helping a tiny human eat sleep and poop I will still be covering a few shows so check back later next week for that. 
Even thought fashion week in New York, London, Milan and Paris has already come to an end some designers have kept the buzz going this week. Dolce & Gabbana's tabu comments have struck a cord all over the world in particular with Elton John who has asked fora boycott of the label. These comments about today's "modern family" unit come at an interesting time considering just last week they saluted moms and sent mama and baby, pregnant models and young children down their runway in what was being hailed as the most stunning and moving collection of fashion month. Now a dark shadow has fallen on the duo who are being shamed for their insensitive comment. 
In a completely different story the seriousness and sometimes stuffy and snobby image of the fashion industry was forgotten for a moment at the Valentino show when the stars of Zoolander 2 walked the runway at the end of the show. Never have I ever had a more sever case of FOMO than in the moment I realized that had gone down. Zoolander is one of my favorite movies (deep, I know) and I wish I had witnessed that in person. 
Just because I followed along from my sofa while nursing my 3 month old daughter doesn't mean I didn't fall in love with several collections. Check out my mini reviews below and be sure to check back for my Toronto fashion weeks reviews next week!  
New York, New York
Coach: I'm obsessing over Coach lately, after walking into their store last month and loving a good 80%of their current collection. The fresh, new, revamped Coach look is nothing like that brutal "coach" logo of the past.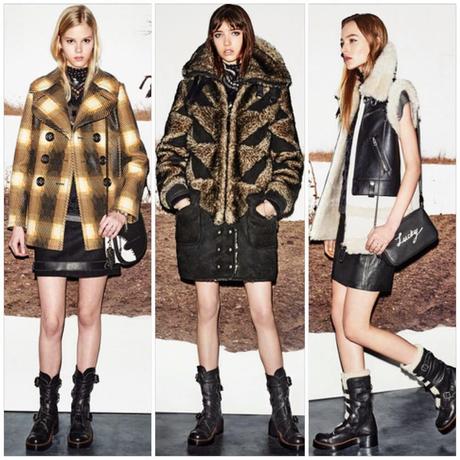 DVF: I loved DVF's fall collection, what else is new? I'm drawn towards color and patterns, so shoot me. Apparently Diane was designing this collection with seduction in mind, and even looped The Weekends "Earned It" single over and over in her showroom while putting the final touches on her collection. Well, I'm in love with that song and I'm in love with this collection. I'll leave you with these thoughts, power suit, cobalt blue, 70's vibe. Need I say more?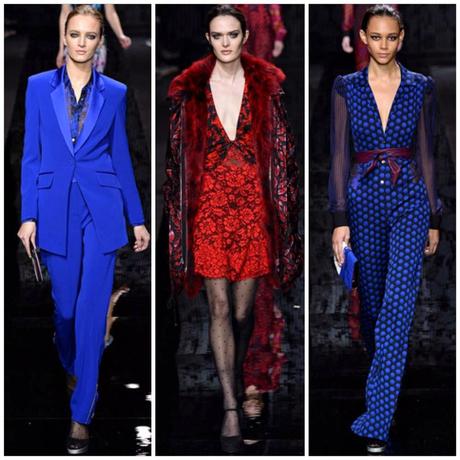 Lundy Town
Burberry Prorsum: Burberry has transformed into this lovely collection that is totally bohemian and not at all stuffy. Suede, lots of teal and velvety floral. And of course fringe is your friend.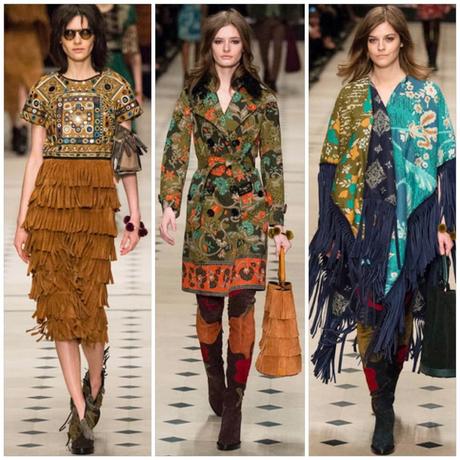 Markus Lupher: Although not exactly on the runway but still shown during London fashion week Markus Lupher revealed a sweet and very wearable fall collection. And look, BUNNIES!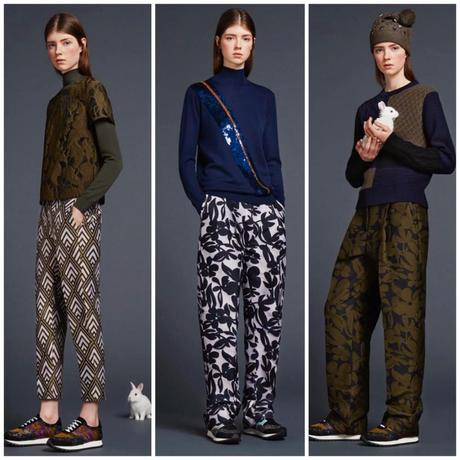 Milano
Missoni: I love the nutted colors in this collection. The vibe was rock star chic, in knitted sweaters of course. I am a massive Missoni fan, I love their dresses, sweaters, hand bags and skirts. But one item I wish I had the most is their pants. A pair of their signature zig-zag print knit pants would be the perfect addition to any fall wardrobe.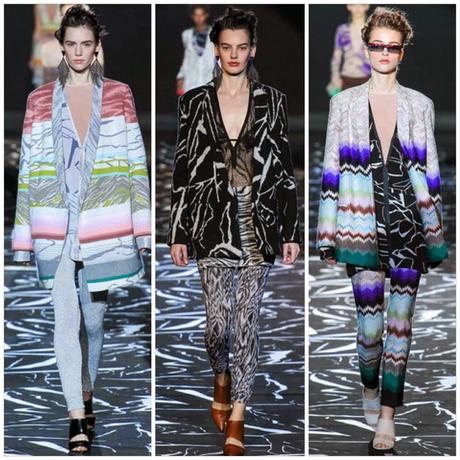 Versace: #TBT. This collection is so early 90's bad ass. Also, turtle necks, by Versace. I never thought I'd see the day. But I kinda love it.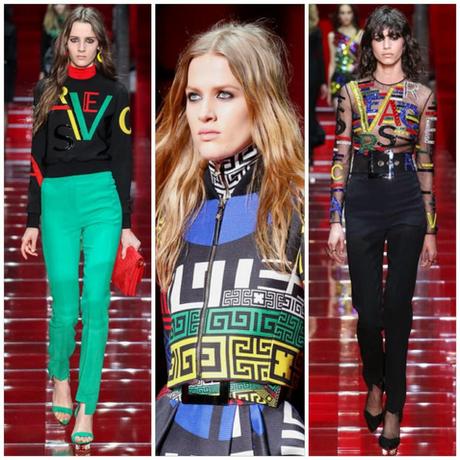 Dolce & Gabbana: Despite the controversy of this week I still cant leave Dolce off my best of list. Dolce won Milan fashion week with this collection of pretty, lady like prints inspired by and replicating art work by their young nieces and nephews. The new mom in me teared up when I saw the dress with the phrase "Ti voglio bene Mama" So, so sweet.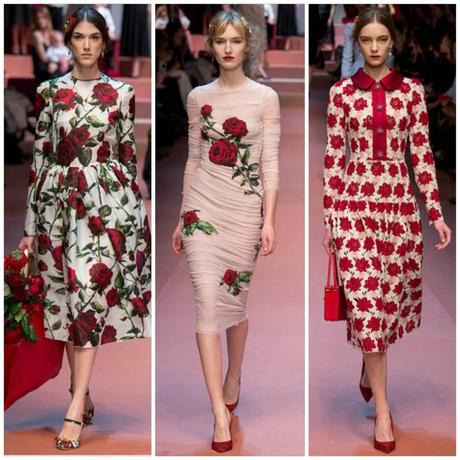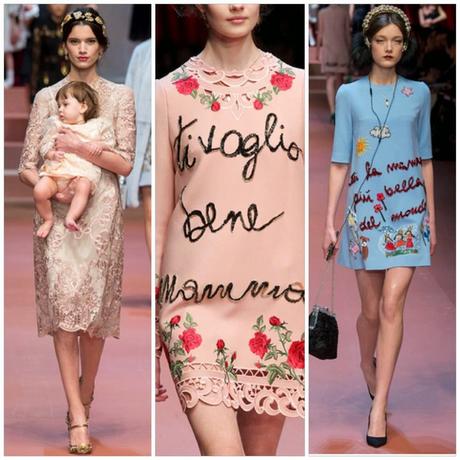 Paris
Miu Miu: Ever since I had my baby I have become handbag obsessed. Shoes used to be my #1 vice but lately, possibly because I don't dress up enough to justify a high heel purchase, I have been drooling over handbags daily. Always a fan of Miu Miu bags this collection really got me excited.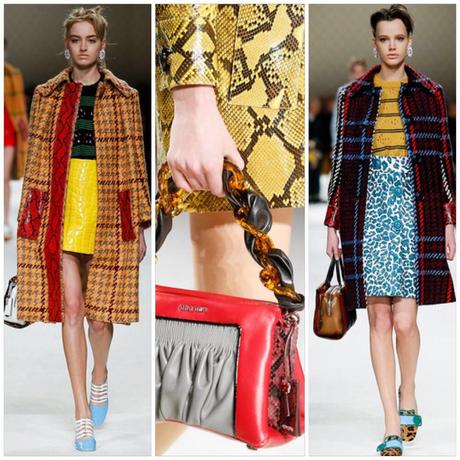 Valentino: Derek Zoolander wasnt the only ridiculously good looking thing on the Valentino runway. The fashion of course was on point. I call this fantasy wear because in my lifestyle and with my funds these Valentino dresses will never make their way into my closet. But its fun to dream right?