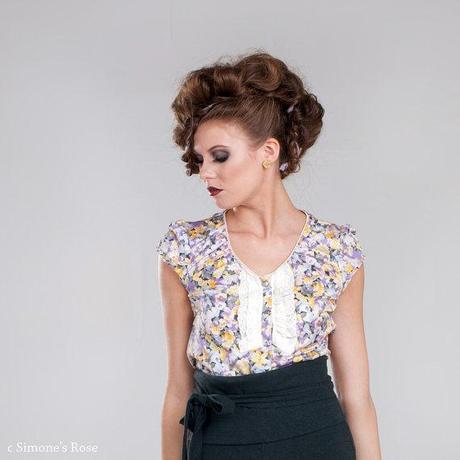 Simone's Rose is a line that can be summed up in one word – chic. Ok, wait… let's make that two words – ethically chic. Even better! Michelle Maynard named her label after her strong-spirited and kind-hearted grandmother, who is the source of her inspiration. Michelle's belief is that style is achieved both in our dress and in the impact we have on the world around us.
As someone who creates each piece in her collection with her own two hands out of sustainable materials, Michelle believes it's important to think about where all of the products in our lives come from. How does this affect her own purchasing decisions?
"When thinking about ethically made products, I firstly think about who's making it and why its being made."

"As far as my product goes – I love it when my customers appreciate that it is made by hand, made to last (and fit) and made by someone who cares about sustainability and people!"
There are a few things Michelle believes we can all do to make shopping conscientiously a little easier.
"It all starts with voting with your dollars! If more consumers question where their money is going, it will start to effect the market and more ethical products will become readily available. At the moment, I think choosing boutiques over malls (or Walmart) is a good place to start, as well as shopping at your local farmers markets or designer/craft events and thrift stores. The internet is also a fantastic resource which allows you to research what you're buying, how it is made and who is making it before making your purchase. Consider the design and usefulness of the product – will it last you a lifetime or will it fall apart after the first wash? Was that color achieved with a slew of toxic chemicals or was it naturally dyed with low impact dyes? If you want to make your life easy, just find someone who believes in all this stuff and support them in their business or cause."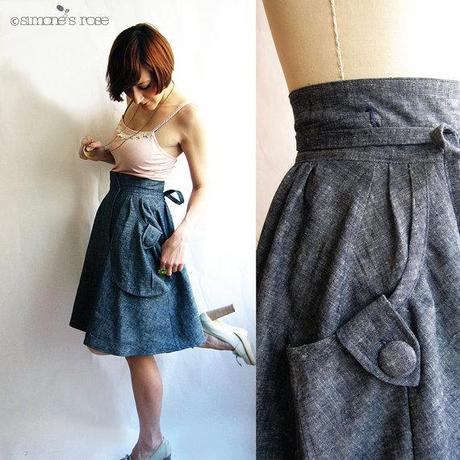 I was drawn to Simone's Rose because I could tell that just as much care and thought was put into creating great designs for the garments as was in the processes of making them. For Michelle, her love for fashion began at an early age, mainly out of a need to be different…
"I grew up in the country – FAR away from any malls or shopping centers. The internet didn't even exist in my world yet, so making or altering clothes was a necessity in my teenage years!"
Lucky for us, Michelle hasn't grown out of her passion for fashion. So what are her favorite duds these days?
"I recently added a few new pieces to my summer collection, and I can't get enough of the Milan dress or the Christine shorts! I'm a big fan of classic styling with really great details and these fit the bill. Also, they are both made from an organic cotton and hemp denim which is lightweight and SO perfect for the hot summer weather. I love that both pieces can be dressed up or down with the right shoes and accessories."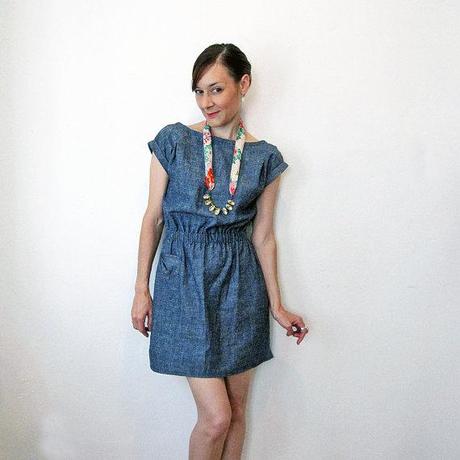 Michelle's customers love her designs, of course, but they also rave about the quality and fit of her garments, as well as the little details that go into them. These skills come from her years of experience in custom design and dressmaking. You know something is destined to end up a favorite when it's custom made according to your own measurements.
So, how is this fabulous fashion designer spending her summer?
"I LOVE taking a stroll down the boardwalk by the beach (with my doggie in tow, of course). I'm usually wearing some comfy flats so I can kick them off and dig my toes into the sand and most likely something easy breezy like the Milan dress or a comfy vintage cotton dress."
Michelle has some exciting things in the works that you will definitely want to keep an eye out for…
"I'm currently working on a few different projects which include a pre-fall/fall collection (coming to my online Etsy shop in July / August), a small bridal collection and some avant garde pieces for a photography project made from vintage kimonos! I'm also working with a few artists who are creating artworks for custom printed fabrics – I'm super excited about these collaborations."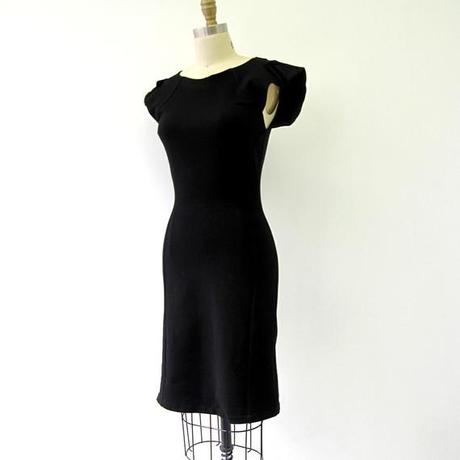 Sounds like there are exciting things coming our way! There are some easy ways to stay updated on the latest from Simone's Rose, so pick your poison (or join them all):
"My Facebook page and Twitter are where I post most of the up to date news and announcements on discounts or new collections. Come on over to the dark side and join in on the conversation!"
Like Simone's Rose on Facebook
Follow on Twitter @Pyxus
Sign up for the newsletter (starting this fall)
Now, head on over to Simone's Rose, because now through August 3rd you can get 10% off of your order with code "UANDMECOLL10".