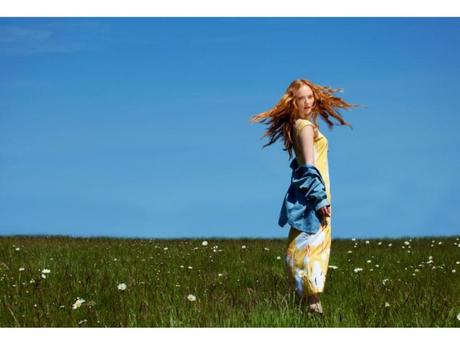 Sunshine Stripes Maxi Dress
Yes, being an advertising exec and photographer in London sounds exciting, but for Sara Cohen, there was something in her that longed for a bit more adventure. So she did what any (okay, very few) of us would do if we found ourselves in that situation. She packed herself up in her family campervan and set sail across the English countryside. While Sara was exploring another side of England, she was also exploring a new direction for her life. It was from these experiences her clothing brand, Sara C, was born.
"I knew it was time to follow my passion, and I needed some time to stop, reflect and be inspired. Nature for me has always been a great inspiration, so armed with my camera, note pad and walking boots, I photographed and drew what I saw on my travels. Before I'd packed up and headed home, I'd decided to leave city life behind and set up Sara C."
The most memorable experiences from her travels involved solitude and unadulterated nature, which gave her a sense of space, freedom, and inspiration.
"I was often the only person walking on the beach, hiking up the hills and sheltering beneath open skies. In my time away I discovered an empty, uniquely picturesque country where nature told millions of tiny, perfect stories. Here's a selection of photos from my travels. If you want to see more photos from my travels check out http://ablemabelandme.tumblr.com/"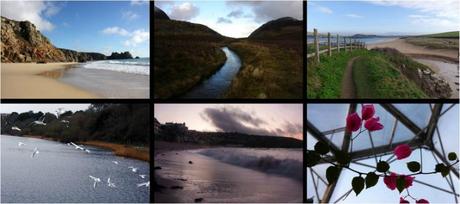 Inspiration Sara gathered during her travels
Why did Sara decide to translate these experiences into clothing?
"A passion for prints, colours and textiles propelled me to start designing my own prints. I love that each print is inspired by a specific aspect of nature, from sunshine dappled woodgrain to hydrangeas drying out at a London flower market. I started with clothing because I wanted to showcase the prints across simple silhouettes."
Each item in Sara's line is individually handmade in Britain. When it comes to "ethically made", Sara C's tagline "naturally" says it all.
"Each garment is inspired by and respectful of the environment, with each garment individually handmade in Britain using eco-friendly processes and only using natural and organic fibres. Even the small details like our stationery and clothing labels are organic or recycled."
Sara's approach to shopping ethically is to stay updated with her favorite designers through social media and blogs. Her motto?
"To buy less and buy better."
"There are some incredible ethical designers around, so to make it easier I follow my favourites on twitter as well as following a lot of ethical fashion blogs to keep updated with the latest inspiration, brands and ranges."
Sara's prints each start with a simple scene from nature. It's amazing to see the transformation from inspiration to finished print. Check out the stories behind the prints here.
"Bamboo Couture" is a term I use to describe our design and production process. Once I've designed a nature-inspired print, it's crafted so that it works perfectly within the shape of each garment. That way we can decide exactly where the print is placed and how the front and back will match. Each garment is then placement printed, hand cut and sewn here in Britain.
With each design being so distinctive, I had to know if Sara had a favorite…
"That's like asking to pick a favorite child. I love them all. If I had to pick my current loves they would be Sayulita Electric and Swirl Sunshine. The first because it transports me back to special time in Mexico, where I came across the leaf on a dirt track in the fishing village of Sayulita. And the second, because I love the simplicity of the shapes and colours within the flower. Whenever I wear this top it just transports me to a happy place."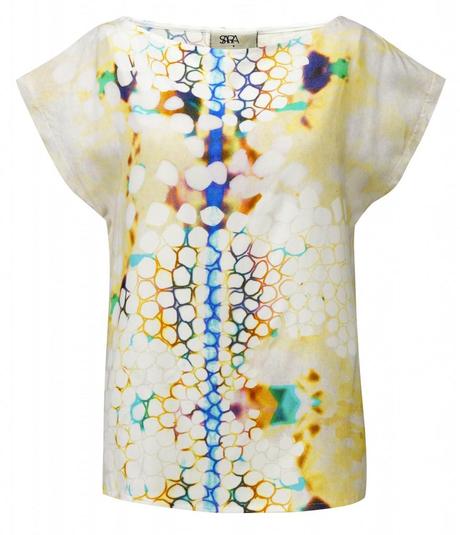 Swirl Sunshine Bamboo Top
Sara C junkies love the natural bamboo fabric, as well as the natural shapes that are enhanced by bright washes of color. They can also anticipate some exciting things Sara has in store for the future…
"Although I'm starting small, I have big dreams. You can expect lots of fresh signature prints across clothing, interiors and accessories. All hoping to bring a little color to everyday life."

Sayulita Electric Dress
Sara C has lots of ways to stay updated, so pick one or all, so you don't miss a thing:
Twitter: @SaraC_Prints
Facebook: facebook.com/SaraC.Prints
Blog: sara-c.com/blog/
Email Updates: Sign up on the Sara C home page
---
---