MACY Offers Their New Clothing Line...the MADE 4 Impulse C

ollection


Are you impulsive? I am. Especially when the price is right (ching, ching) and the fashion style is right up my alley!
I totally flipped when I was searching online through MACY'S newest edgy, chic fashion collection.  Macy had recently collaborated with MADE Fashion Week to design a MADE 4 Impulse fashion collection that inspired a mix n match fashion piece line up of pop culture, music, and high street fashion.
If you haven't had a peek, you have got to get on over there and take advantage of Macy's totally affordable pricing on this MADE 4 Impulse fashion collection.
I created a fashion collage illustrating a few of Macy's MADE 4 Impulse fashion collection, of course using my favorite mix n match platform (Polyvore).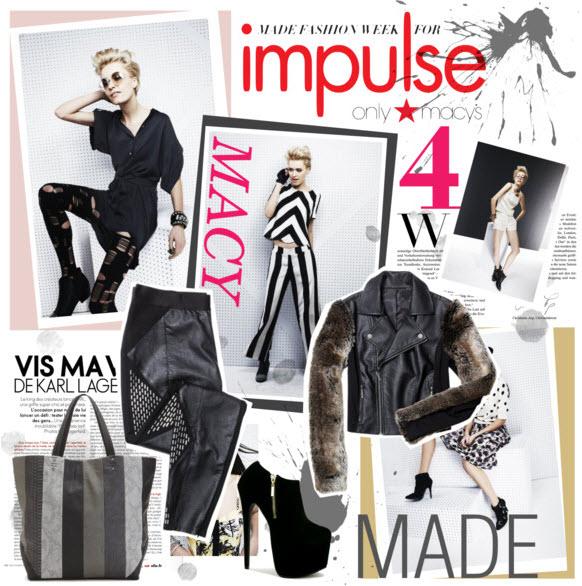 Who is MADE Fashion Week? "MADE is a year-round, dynamic platform that connects emerging talent in fashion, music, art and pop-culture."
I don't know about you, but I love what MACY'S and MADE Fashion Week have designed.
1. RACHEL Rachel Roy Handbag Tote 
2.

High-Neck Short-Sleeve Shirtdress
3. 
Scoop-Neck Short-Sleeve Striped Scalloped-Hem Top & Wide-Leg Striped Pants
Thank you for stopping by! Totally appreciate your continued support...If your new here follow us for my latest updates and articles....:))