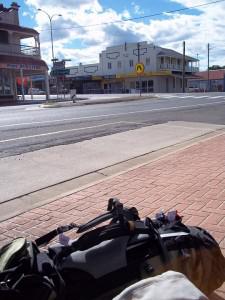 I left the Kooloombah Grazing Co. today.  Lyn had approached me a couple of days ago and we discussed the work nearling completion.  We were weeks ahead of schedule.  In that discussion we shortened my stay by 9 days.  She was having a saddle clinic with a family and it would be nice for them to have the whole area that I occupied as a place to sleep.  I had already planned to fly to Western Australia at the end of the month.  I will be staying with a woman named Sahyma.  Sahyma runs 'Sahyma's Sanctuary'.  She tells me it is a 30 acre organic farm 700 meters above sea level on a mountain overlooking Denmark village, an inlet, and also the Southern Ocean but I will write more on that as it nears.  With the duration of my stay at Kooloombah shortened I started looking for something to fill the coming weeks for the rest of April.  After several emails the ball began rolling and Lyn and I parted even sooner.  Yesterday was my last day feeding the horses at Kooloombah.  That morning I found myself shaking Quintin's hand and bidding him farewell.  I expressed my heartfelt generosity and with and with a final parting wave to each other my time at the Kooloombah Grazing Co. came to a close.
This morning I once again found myself in the town of Nanango.  The small town that a typical U.S. small town would call a small town.  I would later board the same bus that I found myself hazily stepping off of in the dead of night just weeks ago.  I  walked into the only gas station in the town and bought my bus pass.  Not the typical place one normally purchases a bus pass, but nothing about staying in Australia has been typical.  I asked if he would watch over my large back pack and he obliged.  The thing feels like your carrying a hippopotamus.  It is probably a fine line between a workout and a trip to the hospital.  So here I am in small Nanango and I have 3 hours to kill.  The note that police department building is the size of a mobile home.  The town consists of roughly 4 blocks that each intersect.  That's about it.  It didn't leave me with many options to explore, so I grabbed some Australian chips and took a seat on the curb (I'm on a mission to try each of the Australian chips by the way).  Minutes later I get up and walk over to a dark door that had Visitors Centre in large yellow letters across the front.  Upon entering I was immediately welcomed by an air conditioned room.  Suddenly I felt as if I am warped to another place.  I have suddenly just left Nanango.  I immediately walked out of the building to examine the front, "What is this place?"  Upon entering the Nanango Visitor Information Centre and South Burnett Energy Center you your eyes immediately adjust to a dark lit room with contemporary style flooring and design.  Just moments ago I was in the middle of bushland Australia where I bought a bus pass from a gas station with a truck full of pigs in front of it.  Suddenly I am in a room with marble flooring, purple lighting, state of the art exhibits, and the most elaborate gum ball machine I have ever seen.  This place makes the Science Center back home in Orlando, Florida look archaic.  It appeared I had stumbled into a museum on energy.  Where the town has skimped on a police station that won't blow away with the first gust of wind, they made up for with a state of the art museum.  I spend a moment to chat with the woman attending the counter and bought a gift for a friend before making my way around the museum.  Aboriginal artifacts and old engines used in a butter company were on display.  I didn't read how the two correlated but now that I'm writing this I wish that I had.  I did, however, learn that the butter company bought several engines from Europe.  The engines were powerful enough to power both the butter company and the the town of Nanango.  So there you have it, the butter company was the first power company in Nanango.  We can finally put that hot topic to rest.
After leaving the museum and warping back to Nanango I went back to sitting on the curb.  The bus arrived right on time and within 3 hours I was at the Roma Street bus station in Brisbane.  Brisbane is the capital of the state of Queensland and by every means a city.  I exited the bus and hoisted the back pack containing the hippopotamus onto my back and walked several blocks to the Central Base Backpackers Hostel.  There are Base Hostels all over, this is the Central Brisbane location and where I would be staying for the night.  The stay cost me A$20 for the night, not bad considering the price of a sandwich in Australia is half of that.  I am rooming with 9 other guys in a large room on the 3rd floor.  I am back in college.  If McDonald's, Hollister Clothing, and Gander Mountain (hiking department) all threw up in one room it would mirror my room.  The Europeans and Australians from France (I'm confused on it too) are all easy going.  When I tell them that I'm from Florida I become a celebrity.  Apparently the song "I'm from Miami b**ch" gives me all the credit I need.  I laugh as I have to explain that Miami and Florida are not two separate states in the U.S.  The bathrooms at the hostel are scary and you can count on my showering with my sandles on.  The view from the balcony takes the experience up a notch.  The balcony wraps around the corner of the building and you can easily walk from one side to another.  The view is above the Central Business District (CBD) of Brisbane and spectacular.  Since I was a kid I have had an affection for the heart of the city.  I remember looking out of the car window at large buildings that were so high I couldn't see the top causing my mouth to drop wide open.  Which it still does.
After showering at the hostel I made my way to Central Station.  I had made a list of free wi-fi hot spots before arriving to Brisbane because there aren't many.  Half of the places that offer free wi-fi in Brisbane are McDonalds.  Yep, McDs just started a campaign months ago allowing for free use of wi-fi at most of its Australia locations.  You can not escape the Big Mac no matter where you go, ever.  Oh, a Big Mac value meal is $7.80 here also.  Mayonnaise is $.30 extra.  We have it easy in the States.
So I have my next stop worked out.  After staring at my computer as it seeming moved backwards in time I gave up and found a park to make some calls.  After about 20 now have an arrangement with a woman named Tricia until Saturday.  Tomorrow I will leave the Base Hostel (and since there are so many hostels to choose from I doubt I will return) and hop on a train south to a town called Burleigh in the Gold Coast.  Here I will stay in a garden studio and be able have access to a bicycle, fishing rod, and a boogie board.  I'm really excited about the bicycle.  I think the work will involve fruit and vegetables picking and packing.  I'm not entirely sure, but I think I might work with more chickens.  I had worked with chickens at Kooloombah.  Who knows where I will find myself after Saturday.  I'm going to take it one day at a time.
I have updated the Kooloombah Grazing Co. gallery.  If you do not see the new pictures please refresh your browser.
Click here to see the website for the Kooloombah Grazing Co.