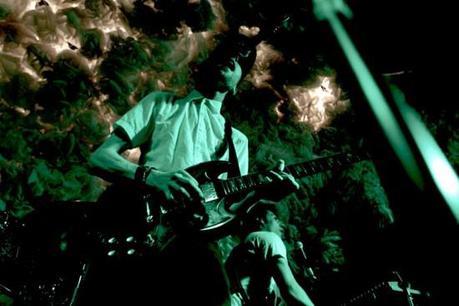 Everything about Wednesday night at Glasslands was loud. From the pounding, crashing percussion to the multitude of crunchy and smooth guitar tones, each band brought a huge amount of passion to the stage and put on an incredible show.
Opening band, Fort Lean, began the evening with catchy guitar riffs and some of the most desperate, impressive vocals I've heard in quite some time. Screaming and screeching over the already loud music, their frontman (sporting bleached-blond, curly locks) showed a really impressive, emotive range. The following band, People Get Ready, brought the same level of intensity, but with a very different feel. Incorporating heavier electronic elements, band members shimmied and shook to the music, rocking out with a stand-up drum kit, keys, and well-crafted guitar picking.
By the time Fang Island appeared, the room was packed full of eager fans pushing closer and closer to the front. Though they were barely able to fit on the small stage, the band certainly didn't use it as an excuse to hold back — wailing away on three guitars (and several other instruments), they certainly played a very genuine, jam-filled set. With mostly instrumental arrangements, I was incredibly impressed at how unique they sounded, particularly at Glasslands Gallery where I don't generally tend to hear as much genre variety. They were a rock band through and through, and I had a damn good time watching them.

View Photo Album

View Photo Album

View Photo Album