Calling ALL SVM fanfic writers and creative artists! We have a special collaborative event we think you might be interested in! If you love a good mystery…and we think you do; considering you love the Southern Vampire Mysteries…this is the perfect way to satisfy your inner sleuth!
There is a new fanfic adventure in town…and it's called, "Chronicles of an Adventure" from the creative mind of fanfic author MusingsbyChar and sponsored by The Fangreaders! Though based in SVM, all fandoms are welcome to join in!

The Project
This is a true writing collaboration. You will be given a preface and a few details that must be used to solve a mystery. Each week the chapters that have been written will be uploaded and voted on with a public vote. The winning chapter will be the NEXT weeks premise(or prompt) for the upcoming chapter. (example winning chapter from 1 will be the basis for writing chapter 2, etc) Writers have 8 chapters to solve the mystery. All the chapters will be posted on the blog site as well as on fan fiction. Voting will be open for from Wed-Sat night at Midnight CST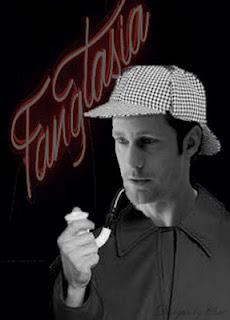 "Sherlock Northman" by MusingsbyChar
The Rules
1. You must develop a supernatural character (s) that will play a large role in the mystery and its` solution.
2. Chapters are limited to 700-1000 words max (not including story form)
3. ALL CHAPTERS must be Beta'd and the header must be included with the story. It does NOT count towards the chapter length
Header
Author's name ~
Beta~
Chapter number

and Title (if you have one) ~
4. All chapters must address the prompts given for the next weeks chapter
5. Chapters are due no later than Sunday of the following week. The first chapter will be due on April 15th. Voting will be open from April 18th Wed and close Saturday night at midnight CST
6. Send all entries to [email protected]
7. You may not post your stories on your own Fan. Fiction site until the end of the project. You may however link to the stories.
8. Stories should be written at a T-Rating
Your Preface (The Prompt for the first chapter)
Eric Northman has received a call from his long time friend, Gabriella Calabrese AKA (Gabby) who is the Sheriff of Area 7, Chicago. Her bonded, a human named Matthew Gregorian has disappeared and Gabby is frantic to find him and asks Eric for help. Gabby has explained that their bond has been severely severed somehow and she can tell he's alive but that's about all she can tell from the bond. The only other clues Eric has been able to find so far have been that Matthew disappeared sometime during Gabriella's rest…
The rest of this story is up to you! You can write it, vote for it or both!
Don't worry…authors and artists can jump in any time during this collaborative event!
You can find out all the important details it's official website, The Chronicles of an Adventure!
Right Now: VOTING IS OPEN!!!
The voting for chapter 1 submissions is opened and will remain open until Saturday 11:59 p.m. CST(Central Standard Time, U.S) Remember the winning submission will be the basis for Chapter 2 in our mystery!  So get those votes in!
You may read the stories HERE and then go VOTE!
You can follow these amazing adventures on:
Twitter: @ChroniclesAdven
Fanfiction.net: http://www.fanfiction.net/~chroniclesofanadventure
Facebook: Chronicles-of-an-Adventure
Tumblr: chroniclesofanadventure.tumblr.com
What are you waiting for? Let's solve this mystery together!
Can't wait to see what we end up with in the end!