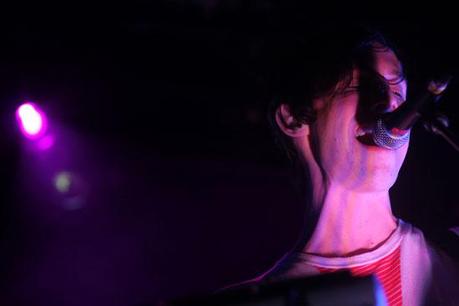 Photo credit: Eric Weiner
There's a sparkle to the music of Fanfarlo, a style perfectly represented by the series of small, golden lights that were strung across the upstage wall at Tuesday nights' Webster Hall performance. Stemming from their affinity towards bright, staccato accents, this shimmering sound is executed on everything from percussion, keys, trumpet and violin, to an iron bell, a hollow plastic tube and the very rhythm of the lyrics. All of these elements blend seamlessly in their songs, and during a live performance, the five members of this London band rotate between those instruments with natural dexterity.
The contribution from each instrument in Fanfarlo's infectious songs may be simple, with slight variations on a repetitive line, but when all the parts are combined, the result is intriguing. Each song has its own journey, and the artfully layered sound is never predictable. This quality was apparent in their set list as well, as the songs flowed smoothly together, but each with a satisfying contrast in melody or tempo. The majority of the show consisted of songs from their newly released album, Rooms Filled with Light, but they also indulged the adoring crowd with earlier hits such as "Deconstruction" and "I'm A Pilot". The resounding call for "The Walls Are Coming Down" was obliged as the final song of the encore.
The attention to detail in their music is also reflected in the band's focused energy onstage. The only dialog during the set came from lead singer Simon Balthazar or front-woman Cathy Lucas and was as endearing as it was minimal ("Every time I come to New York, I get three hours of sleep and see small dogs everywhere," Balthazar attested). Sporadically sipping directly from a bottle of red wine, Balthazar also gave a quick and easy language lesson as he taught the audience the Swedish word for "cheers" (it is pronounced "skoll").
The evening was opened by Young Man from Chicago, who are joining Fanfarlo on this US Tour, followed by Nightlands from Philadelphia. The two bands have a sound and energy that is the polar opposite from one another; the first is loud and electric with pounding drumbeats, the second mellow and harmonious with harp accents. It was compelling, then, to hear the ways in which Fanfarlo's sound is like taking the elements of both opening bands, clarifying them a little, and throwing it all into a blender with a touch of anthem rock, Gypsy jazz and Dixieland music — then a little sparkle for good measure.