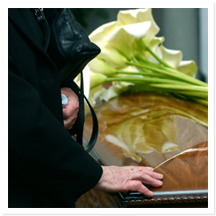 Choosing famous songs to sing at a funeral can be difficult. There are a lot of touching songs that can be played at a funeral, but to find the right song to sing is not easy. Typically religious songs or gospel music is most often sung at a funeral. However, there are contemporary songs that can be sung at non-denominational funerals.
Before deciding what songs to sing at a funeral, you should speak to the funeral director to make sure that they leave time for you to sing the song. You should also notify them of the song you choose so that they can approve it and make the necessary arrangements for you to sing it. They may need you to bring the song on CD if they do not have a copy.
When deciding what famous song to sing at a funeral it is important to decide what message you are trying to convey. Are you singing the song because the lyrics relate to the personality or life of your loved one? Do the lyrics express the emotions that you are feeling that you may be having difficulty putting into your own words? Or, are you singing the song because it was one of the departed person's favorite songs to listen to?
No matter what the reason is for selecting the song, make sure that you read all of the lyrics word for word. There are numerous famous songs to sing at a funeral, but the words in the songs don't always express what you want to say. Whatever song you choose to sing at the funeral, the bottom line is that the song should pay tribute to your loved one and commemorate their life.
Songs To Sing At A Funeral
"Let It Be" by The Beatles – A classic song often played at funerals. It would be a great song to sing for anyone's funeral.
"Love Me" by Collin Raye – A beautiful song about a couple in love. The wife passes away before her husband, but he's reassured that his departed wife is waiting for him, and that he'll follow her once his life ends.
"Holes in The Floor of Heaven" by Steve Wariner – Is a song related to a young man who misses someone he loves. He is reassured that the departed person is seeing the family from where he or she is in the afterlife.
"You Raise Me Up" by Josh Groban – A more difficult song to sing, but the lyrics are very powerful. It is one of the top 10 songs played at funerals.
"Just a Dream" by Carrie Underwood – This song is about a new wife losing her soldier husband. They were stripped of the chance to grow old together and this would be the perfect song to sing for a fallen soldier.
"Angel" by Sarah McLachlan – This is another famous funeral song. If you have access to a piano at the funeral it is a great accompaniment to this beautiful song.
"How Can I Help You Say Goodbye" by Patty Loveless – This song follows the life of a young woman whose mother is dying.
"Wind Beneath My Wings" by Bette Midler – A beautiful song often played at funerals. It is a great way to pay tribute to a woman or man you love.
"When I Get to Where I'm Going" by Brad Paisley  - This song is about an untimely death. However, the song conveys a message that the family left behind should not be sad.
"What I Cannot Change" by LeAnn Rimes – This touching song is about accepting life and moving on. It can be comforting to the bereaved family.
"I Can't Stop Loving You" by Keith Urban – This song is also about putting on a courageous face for the departed loved one and can help comfort the family and friends at the funeral.
These are only a few of the many famous songs available. Remember that when choosing songs to sing at a funeral to select a song that pays tribute to your loved one, or express your feelings that you are unable to say. For additional options of songs to sing, view our related articles below.