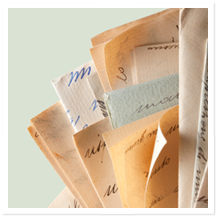 Everybody can attest that saying goodbye is one of the hardest things to do. Reading famous funeral poems at the memorial service will help to express that final farewell. Poems help put in to words the thoughts and feelings that can be difficult to express during such an emotional time.
For most people the thought of writing a funeral poem seems like a difficult or impossible task. However, a poem makes a nice addition to a funeral eulogy or can be part of a memorial. Luckily, there are numerous writers who have written poems that are appropriate for a funeral. The following are the most famous funeral poems that are traditionally read at a funeral service.
Famous Funeral Poems
Do not go gentle into that good night,
Old age should burn and rave at close of day;
Rage, rage against the dying of the light.
Though wise men at their end know dark is right,
Because their words had forked no lightening they
Do not go gentle into that good night.
Do Not Go Gentle into That Good Night – By Dylan Thomas
Do not stand at my grave and weep;
I am not there. I do not sleep.
I am a thousand winds that blow.
I am the diamond glints on snow.
I am the sunlight on ripened grain,
I am the gentle autumn rain.
When you awaken in the morning's hush,
I am the swift uplifting rush
Of quiet birds in circled flight.
I am the soft stars that shine at night.
Do not stand at my grave and cry;
I am not there, I did not die.
Do not stand at my grave and weep – By Mary Frye
When I am gone, release me – let me go
I have so many things to see and do.
You must not tie yourself to me with tears
Be happy that we had so many years. I gave you love,
you can only guess, how much you gave me in happiness.
I thank you for the love each have shown,
but now it is time I traveled alone.
So grieve awhile for me if grieve you must,
then let your grief be comforted by trust
It is only for a while that we must part
so bless those memories within your heart.
I will not be far away, for life goes on.
so if you need me, call and I will come.
Though you cannot see or touch me, I will be near
And if you listen with your heart, you will hear
All of my love around you, soft and clear.
Then when you must come this way alone,
I will greet you with a smile and "Welcome Home"
When I Am Gone – By Unknown Poet
Two roads diverged in a yellow wood, And
sorry I could not travel both
And be one traveler, lon I stood And looked
down one as far as I could
To where it bent in the undergrowth;
Then took the other, as just as fair. And
having perhaps the better claim,
Because it was grassy and wanted wear.
Though as for that, the passing there
Had worn them really about the same,
And both that morning equally lay. In leave
so step had trodden black
Oh, I kept the first for another day! Yet
knowing how way leads on to way,
I doubted if I should ever come back.
I shall be telling this with a sigh.
Somewhere ages and ages hence;
Two roads diverged in a wood, and I took
the one less traveled by,
And that has made all the difference.
The Road Not Taken – By Robert Frost
Stop all the clocks, cut off the telephone,
Prevent the dog from barking with a juicy bone,
Silence the pianos and with muffled drum
Bring out the coffin let the mourners come.
Let aeroplanes circle moaning overhead
Scribbling on the sky the message He (She) is Dead
Put crepe bows round the white necks of the public doves,
Let the traffic policeman wear black cotton gloves.
He (She) was my North, my South, my East and West,
My working week, my Sunday rest,
My noon, my midnight, my talk, my song:
I thought that love would last forever: I was wrong.
The stars are not wanted now; put out everyone;
Pack up the moon and dismantle the sun;
Pour away the ocean and sweep up the wood
For nothing now can ever come to any good.
Funeral Blues – By W.A. Auden
Remember me when I am gone away,
Gone far away into the silent land;
When you can no more hold me by the hand,
Nor I half turn to go, yet turning stay.
Remember me when no more, day by day,
You tell me of our future that you planned:
Only remember me; you understand
It will be late to counsel then or pray.
Yet if you should forget me for a while
And afterwards remember, do not grieve:
For if the darkness and corruption leave
A vestige of the thoughts that I once had,
Better by far you should forget and smile
Than that you should remember and be sad.
Remember – Christina Rossetti
When I come to the end of the road
And the sun has set for me,
I want no rites in a gloom filled room
Why cry for a soul set free!
Miss me a little, but not for long,
And not with your head bowed low.
Remember the love we once shared,
Miss me, but let me go!
For this a journey we all must take,
And each must go alone;
It's all a part of the master's plan
A step on the road to home.
When you are lonely and sick of heart
Go to the friends we know,
And bury your sorrows in doing good deeds,
Miss me, but let me go.
Miss Me, But Let Me Go – By Robyn Rancman
One night a man had a dream. He dreamed he was walking along the beach with the Lord. Across the sky flashed scenes from his life. For each scene , he noticed two sets of footprints in the sand: one belonging to him, and the other to the Lord.
When the last scene of his life flashed before him, he looked back at the footprints in the sand. He noticed that many times along the path of his life, that there was only one set of footprints. He also noticed that it happened at the very lowest and saddest times in his life.
This really bothered him, and he questioned the Lord about it. " Lord, you said that once I decided to follow you, you'd walk with me all the way. But I have noticed that during the most troublesome times of my life, there is only one set of footprints. I don't understand why, when I needed you most you would leave me".
The Lord replied " My Son, My precious child. I Love You, and would never leave you. During your times of trial and suffering, when you see only one set of footprints, it was then that I carried you".
Footprints – By Author Unknown
The famous funeral poems listed above are the most commonly read poems during a memorial service. You can also use all, or part, of the poem on a plaque or monument. It is important to cherish the fond memories we share with our friends and family. It will always be difficult to say goodbye to a loved one who has passed away, but using a funeral poem can help to express our feelings over their passing.