New to little Indiana? Subscribe for free to my RSS feed. Thanks for stopping by!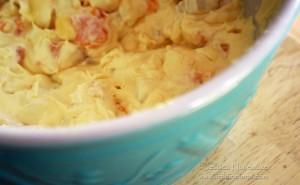 Lazy Day Salad Recipe
This recipe goes back…way back and, along with Aunt Hazel's Layered Potatoes Recipe, it always meant "holiday!"
Today, I make it for more than just special occasions. It's a fun, easy side and a great match for anyone with a sweet tooth (what are you looking at me, for?).
Lazy Day Salad is written on an 80′s style recipe card in my mother's hand. Judging from the spatters–it's obviously been part of the family for a very long time!
Lazy Day Salad Recipe
Print Family Tradition: Lazy Day Salad Recipe
Rating: 51
Prep Time: 5 minutes
Cook Time: 4 hours
Total Time: 4 hours, 5 minutes
Yield: 12 Servings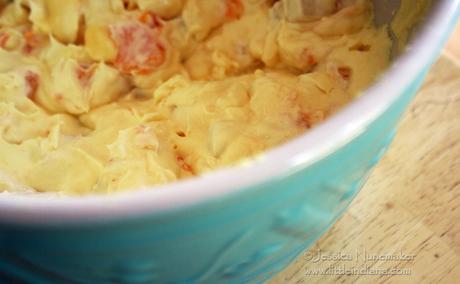 A family recipe--and a must at all family gatherings!
Ingredients
1 can Chilled Pineapple Chunks, with Juice
1 can Chilled Fruit Cocktail, Drained
1 can Chilled Mandarin Oranges, Drained
1 package Instant Vanilla Pudding Mix
1 package Instant Lemon Pudding Mix
1 9 oz Container Cool Whip
Instructions
Throw in a bowl in the order as listed above!
Stir.
Chill four hours.
Serve!
Notes
I like to use the "Very Cherry" type of Fruit Cocktail. It adds a little extra color.
Schema/Recipe SEO Data Markup by ZipList Recipe Plugin2.0http://littleindiana.com/2012/05/family-tradition-lazy-day-salad-recipe/Photos are the Property of little Indiana. Do Not Use Without Permission.
Find pictures in Indiana on my Flickr photostream or on the new little Indiana Tumblr blog.
Just don't forget to tell 'em that  little Indiana sent you!
Don't miss a moment. Subscribe to little Indiana and receive instant updates to stay on top of everything "little."
little Indiana: Where to Stay, Play, and Eat in Small Towns in Indiana. Discovering Indiana's best small towns! Now get little Indiana on your Kindle.
Targeted. Relevant. Affordable! little Indiana advertising.