Well I can't recall the last time I had a family gathering. My only son is a London policeman and leads a very hectic and stressful life, so we seldom get together. In 2014 he came with me to Colorado where we spent 2 weeks high level trekking in the Rocky Mountains and staying in  a log cabin. Then we flew to Arizona, traveled along Route 66 and spent a few days seeing the Grand Canyon. We parted at Chicago airport...that was the last time I saw him. However we do keep in touch by social media and telephone.
   So friends have come to be my 'family', and it's with a friend that I will be spending Christmas day. Don't feel sorry for us ....two lonely women ! For we'll spend the day swopping stories and telling funny tales... there will be much hilarity.
    When I was young, family gatherings took place at Christmas at my parent's home in Aberdeen. My father being English then Christmas meant a lot to him. Uncle and aunt , cousins and grandparents met for lunch, gathered around the large table ( it was only ever used that day ! ). Then on New Year's Day the family all met again at my grandparent's house. My Gran made wonderful Scotch broth...I still can't make it like her !
    After marrying we moved to the outskirts of Oxford and had a son....so family gatherings were much smaller, more intimate.....quieter - but nonetheless memorable.
     So many people are alone --- and not only at this time of the year. So spare a thought, give an invite ( thank you Adele for yours, it meant so much ).     
We are the family of mankind.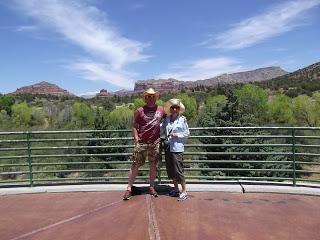 Family Gathering - Red Rocks Arizona
Song Of Mary
I , the Virgin Have traveled far to have my babe within this land. This child of God and in his image Is brought to you with trust and love. Who'll give me shelter and give me rest A feather bed to rest a miracle ?
I , the Virgin Am weary of foot, weary of mind and deep in labour To bear for you this child of mine, Blessed in wedlock, but conceived in shame. Who'll be my midwife, ease my pain ,  And wrap my babe in silks ?
I , the Virgin Am forced to lie on straw and share my bed with donkeys. This child of mine is born to suffer  For your injustices and crimes. Who'll bow down before him now and pray For his small insignificant soul ?
Kathleen Bennett....April 1971.
Email This
BlogThis!
Share to Twitter
Share to Facebook
Reactions: