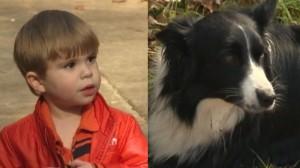 It is hard keeping up with a 2-year-old, especially one as precocious as Peyton Myrick.
"When he turned two he would just take off," said mom Carmen Myrick.
But his grandpa's dog, 'Ashapoo', is almost always nipping at the little boy's heels. And, as it turns out, it's a good thing.
"I was just shell shocked," Myrick said of hearing the news that Peyton had disappeared.
His grandpa says he turned his back for a minute as the two were preparing to search the family land in Clover, South Carolina for a Christmas tree Wednesday.
"You just never think that's going to happen to you, and it's scary. And as the night went on, four hours later, it's cold, dark. I thought to myself 'this is not going to end good.'"
Hundreds of volunteers quickly showed up to help searched the 300 acres of woods that surround the family home.
Peyton's dad, Rich, clearly remembers the moment he realized things might turn out OK.
"All of a sudden somebody said, 'Is it a black and white dog?' And everybody was like, 'yes.' I kept thinking, 'I'm not going to get my hopes up.' A few minutes later somebody came out and said, 'They've got him, Katherine's got him,' and I just remember screaming his name, taking off and running toward him, and I saw my sister holding him. At that point I knew he was going to be OK," father Rich recalled.
The little boy told his parents about his adventure.
"He mentioned he was scared, he was going to get hurt and he was cold."
He told them he took a nap in the woods.
"I think he got scared and just lay down, and took a nap and Ashapoo stayed right with him," Carmen said.
And when the time was right, Ashapoo lead rescuers right to Peyton–a quarter of a mile away behind this house.
"He was uninjured, the dog took care of him, came out when he heard nois, and took the people to Peyton. So we're very blessed," Carmen added.
"Ash was his guardian angel in fur last night," Rich said.
Call him a guardian angel, man's best friend–even a hero.
"Oh yeah, he is. If a dog can be a hero, that dog's a hero," Rich added.
The family says they plan to buy the dog a steak and they're looking into a GPS tracker for Peyton.
~ Courtesy of ABC 7
Tags: dog saves toddler, Hero Dog