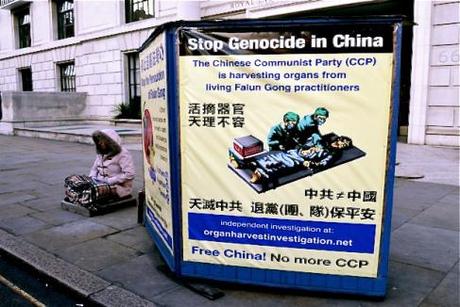 Lilach meditating across the road from the Chinese Embassy in London
The Falun Gong 24-hour peaceful protest has continued for almost 13 years outside the Chinese Embassy in London.
July will see the 13th year after the Communist Party of China (CPC) enforced the Falun Gong ban in July 2009. CPC also initiated a propaganda campaign to wipe out the practice, which claims to have 100 million followers worldwide.
Falun Gong practitioners take it in turns to sit across the road from the Embassy, meditating peacefully. A firearms officer guarding the Embassy says that a blind eye is turned to the protest and there have never been any signs of trouble.
Lilach, 40, originally from Israel, has been taking part in the protest for five years and was drawn to the practice after her life experiences left her feeling confused and "challenged."
She says the purpose of Falun Gong is similar to followers of various religions, who seek their answers and comfort from God and wish to be transported "to a better world.
Chance of a lifetime
"Life is a chance to improve ourselves before we die and go back to where we belong. It helps me to understand this world. I don't think there's anything else that can explain it for me. It's also very important that the teaching is present, as the founder is still alive," she adds.
Falun Gong – also known as Falun Dafa, – literally means "Law Wheel Practice" and was introduced in China in 1992 by the controversial Li Hongzhi through public lectures.
The practice involves meditation and slow, controlled Qigong movements, with a central focus on truthfulness, compassion, and forbearance. Its philosophy is based on a mixture of Buddhist and Taoist beliefs.
However, such a seemingly peaceful activity is shrouded in debate. The Chinese Embassy describes the practice as "an anti-society cult."
Shen Yun Performing Arts will be putting on a show at the John F. Kennedy Centre in Washington DC, presented by the Falun Dafa Association of Washington, from 21 March to 1 April.
Cancer of society
The Chinese Embassy claims: "This organisation preaches heretical fallacies that are anti-humanity and anti-science and exercises extreme mental manipulation on followers. It is a cult that seriously harms the society and violates human rights, and is a cancer in the body of the modern and civilised society."
The Embassy urges people to find out more about the practice before deciding to go and see the show.
Lilach's makeshift cushion on the edge of the pavement where she settles to meditate is positioned next to a stand with pamphlets promoting the Falun Gong cause. Graphic images claim that followers in China are 'tortured for their belief'.
Lilach comments that "people said the holocaust would never happen again, but this may be worse."
The struggle between Falun Gong practitioners and the Chinese government appears to be never ending, making it more difficult for the truth to be uncovered.