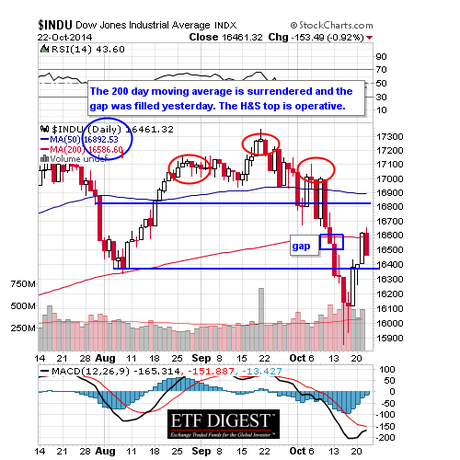 We decided to give yesterday a pass.  
Though the indexes failed to hold our strong bounce lines (well, 3 of 5 did), we can blame Canada for that one as a gunman shot up Parliament yesterday afternoon and the "terrorist attack" news sent our markets lower.  Other than that (and these things are unavoidable when you sell 500M guns to 400M people in North America), it wasn't a bad day for the markets, so we're going to wait and see what actually sticks.  Our watch levels remain:
Dow 

16,466

(weak) and 16,632 (strong).
S&P 

1,878

 (weak) and 1,903 (strong).
Nasdaq 4,280 (weak) and 4,360 (strong).
NYSE 

10,360

 (weak) and 

10,540

 (strong).  
Russell 1,104 (weak) and 

1,128

 (strong).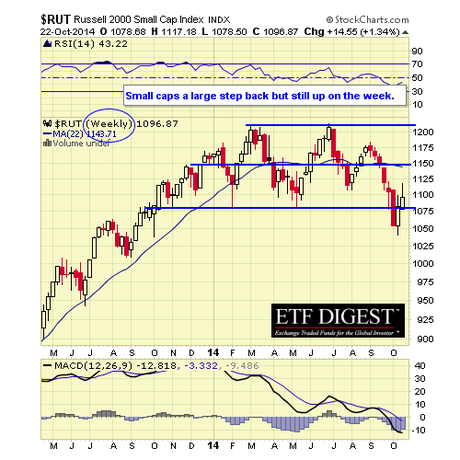 So the Dow fell almost exactly from it's strong bounce to it's weak bounce yesterday.  Aside from confirming the 5% Rule™ is firmly in charge, holding the weak bounce line is bullish – IF it holds.  The S&P and Nasdaq held their strong bounce lines (thanks to AAPL) while the NYSE stayed in it's range but the Russell was a big disappointment and failed the weak bounce – a very bad sign if they can't take it back today.  
We had a lot of fun playing the Russell Futures yesterday, starting with my too-early short call in our Live Trading Webinar on Tuesday afternoon.  At 2:36 am yesterday morning, we decided to stick with our shorts at /TF 1,113 and we caught a ride down to 1,107.50 (gain of $550 per contract) and then, at 9:59, in our Live Member Chat Room, I called another short as it re-tested 1,113.50.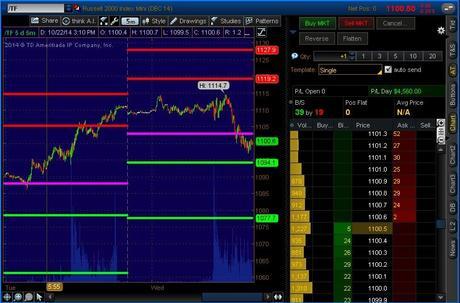 We played the Russell short all day and then got very lucky, which led to this $4,560 gain by 3pm when we finally decided to call it a day on that trade, back at 1,100.  That trade alone pays for our trips to Vegas, where we'll be having a Live Futures Trading Workshop along with many other of our top trading techniques. 
Sign up here for our $699 discount rate (ends Sunday) and join us for two days of trading lessons in Las Vegas, Nov. 9th and 10th!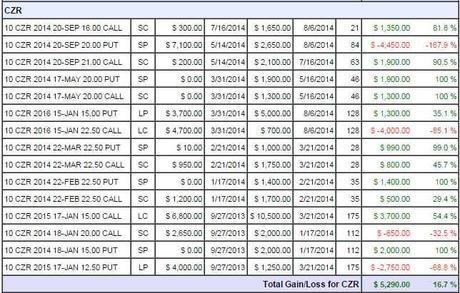 Traditionally, we pick a casino-themed trade for our Members each year that has a good chance of earning enough money to pay for our trip and this year we set up a spread in our Butterfly Portfolio before our last conference to try to pay for this one – that one has been phenomenally successful, generating $5,290 in profits.  So much so, that we already took it off the table back in August as it was miles ahead of goal.  
Speaking of Top Trading Techniques, our new Top Trades Alerts are now working, so Members should make sure they select them in their user preferences if they haven't already.  These are trades we will send out via text alert, in addition to appearing in our Basic and Premium Member Chat Rooms.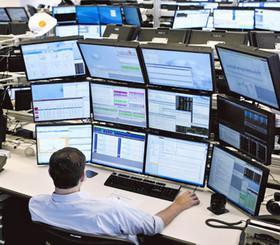 Members will notice a new "Top Trades" box on the top of our site and now we have a section where we keep track of those trades.  Our first alert went out on Monday and 4 of the first 6 stocks we identified have already taken off and our first featured trade (GSK) has already jumped 5% in 3 days, putting GSK more than 10% over our target price ($40) and right on track for our planned 26% gain.  Trade idea #2 came Tuesday and, sorry, if you are not a Top Trade Member – I can't tell you what it is but I can tell you I love that idea! 
I can tell you how we can set up another bullish trade on the Russell to help offset our bearish bets on the Nasdaq.  TNA is the 3x ultra-long Russell ETF and currently at $62 with the Russell at about 1,100 so it's not too ambitious to imagine the Russell can move up 2.5%, to 1,127.50 which, you will notice, just so happens to be our strong bounce line.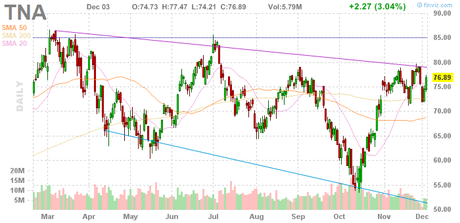 A 2.5% move up in the Russell is a 7.5% move up in TNA to $66.65 and that means we can buy the Nov $63/67 bull call spread for $1.70 and that pays $4 if the Russell goes higher – up 135% in 30 days!  As I've said many times before, this is how we rich folks take advantage of the Fed's generosity:  If they are going to be handing out FREE MONEY – you need to know where to hold out your hand, right?  
We'll add 25 of those to our Short-Term Portfolio for $4,250 and they will pay $5,750 if the Russell pops and that will give us cash to roll our SQQQ protection.  If not, well that's why we have the SQQQs in the first place!  
Tags: Butterfly Portfolio, CZR, Futures Trading Workshop, GSK, Las Vegas Seminar, Live Trading Seminar, Russell 2000, Russell Futures, TNA, Top Trades, Trade Alerts, trading profits
Do you know someone who would benefit from this information? We can send your friend a strictly confidential, one-time email telling them about this information. Your privacy and your friend's privacy is your business... no spam! Click here and tell a friend!