The Nasdaq and Russell have gone from Spitting to Vomiting Cobra patterns, with 10% drops certainly looking like they are in the cards as things play out.  The Dow, S&P and NYSE are still putting on brave faces but, since we are coming into the end of Q1, we have to assume there's a window-dressing factor to keeping up appearances.  
In our Futures Trading Seminars (and we have a big, live one coming next Tuesday, you can register for HERE), we teach our Members to short the laggards when 2 of 3 or 3 of 5 of the contracts they are watching cross.  Well, here we have a similar opportunity with the slower-moving indexes as the Nasdaq may confirm a downtrend by crossing it's 25% line at 4,125 and the Russell will back that up by failing it's 15% line at 1,150.  If so, you can short the laggard (we already shorted the Russell, of course – it was our key short all month!), most likely the Dow.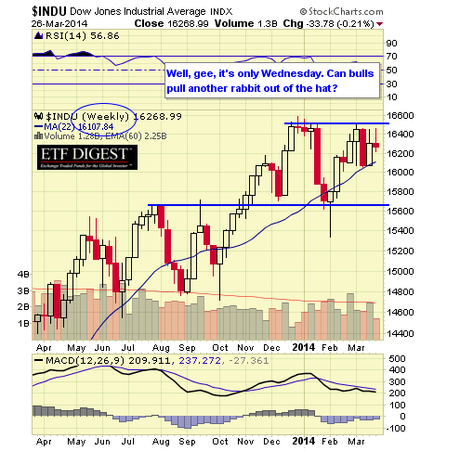 In fact, had IBM not popped 10 points in the past week, the Dow would already be 100 points lower, so it's a wonderful way to play catch-up at 16,269.  Again, our Members are already up $750 per contract shorting the Dow, as our first call of the morning in yesterday's Member Chat Room (8:34 am) was:
Durable Goods orders were not good.  Hard to blame the weather on that one but I'm sure they will.  

Dow 16,350 (/YM) is the best shorting line confirmed by /ES 1,865, /NQ 3,640 and /TF 1,180 – all still over so far.  Oil $99.65 is a no short ahead of inventories, gold $1,312, Dollar 80.19.  Siver $20.025, copper $2.9865, nat gas $4.39 and gasoline $2.89 and don't forget we expect a build in gasoline and distillates due to the ship channel closed but maybe a big draw in oil for the same reason.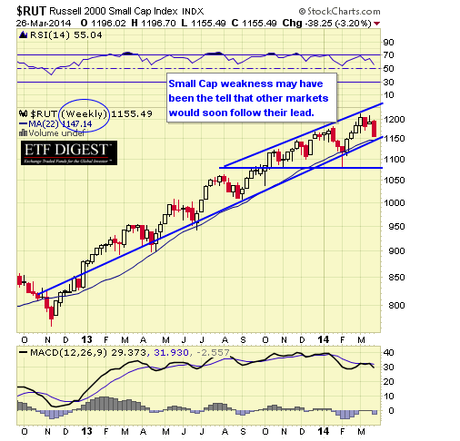 Keep in mind that the Futures don't exactly coincide with the indexes and that we took the money and ran at the day's end but, this morning, we're at 16,200 on the Dow Futures and, at $5 per point, per contract, that's a $750 per contract gain in 24 hours!  S&P Futures are at 1,845 and those pay $50 per point, per contact for a $1,000 per contract gain.  
The Nasdaq pays $20 per point, per contract and, at 3,575 this morning, that's good for a gain of $1,300 per contract and the Russell (/TF) is the one we featured as a shorting opportunity in Tuesday's Webcast and this morning, at 1,150 and $100 per point, per contract, that's a very nice $3,000 per contract winner – all in 24 hours!  
So, in our Futures trading, we're shorting the laggard and that's still the Dow (as it paid us the least) below the 15,200 line and we simply take a quick loss if it's over (usually $10-25) and we only short if it's confirmed by the S&P below 1,845 and the Russell below 1,150 and, if the Dow fails first and we get confirmation by another – we simply short the laggard.  See, not a very complicated strategy!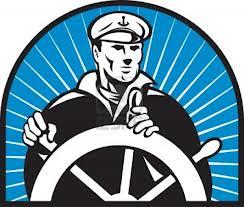 Of course we take other factors into account, like the general news-flow and the direction of the Dollar and other currencies. As you can see from yesterday's shorting note, it was the Durable Goods report that made us want to go short first thing in the morning, with me making that comment just a few minutes after it was released.  That's my main function as the Captain of the ship at PSW – I steer us in a general direction and call out trade ideas that might be useful along the way.  
IN PROGRESS