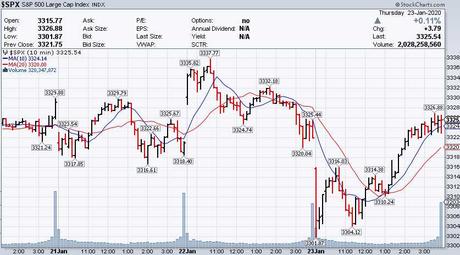 We're in danger of having a down week.
We opened on Monday at 3,321 on the S&P 500 and we closed last night at 3,325 so it won't take much for us to dip under and close the week in the red.  As you can see from the chart, if not for that silly gap up into Wednesday's open (which we shorted!), it's doubtful we'd be even close to green now.  
Speaking of shorting, our current position is 2 short Nasdaq (/NQ) contracts at an average entry of 9,271.50 and I'd be more likely to add to them if they go higher than stop out ahead of the weekend with China now "locking down" 40M of their citizens (only 2.5%) with travel restrictions on 10 cities as cases have now spread to 32 of China's 34 provinces.  The markets got a boost yesterday when the WHO decided NOT to declare a Global Emergency (yet) but that's only because the virus has, so far, been fairly contained to China – for now, I'd rather be safe than sorry with our hedges (see yesterday morning's PSW Report).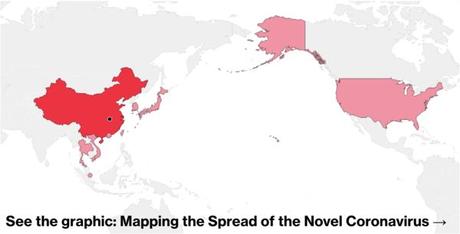 As noted by Bloomberg:  The turmoil comes as the virus stymies efforts to track infected patients. While the death toll continues to rise — and now includes someone as young as 36 — some infected patients aren't showing a fever, a symptom governments around the world have been using to screen for the pathogen.  Even Disneyland in Shanghai is closing down so it might be time to short Booking (BKNG) again – though we already missed a 5% drop.
I'm not a doom and gloom kind of person but, to put it in perspective, in a usual year, about 30M people around the World get the flu and 60,000 people die (0.2%), mostly people who are old and sick in the first place (not that that makes it better but it's understandable).  So far, out of 830 confirmed cases, 26 people are already dead (3%) but, more alarmingly, over 100 people are in critical care units in hospitals – and some of them are young people.
It's the way the Governments are scrambling that makes me think this is serious but it's a good thing that they take it seriously and jump right into measures to contain a virus.  Unfortunately, like hurricane preparation, they often pass without much incident and that makes people jaded to future alerts and complacency is the biggest problem the Government faces in these cases as you must have the people's cooperation to make containment work.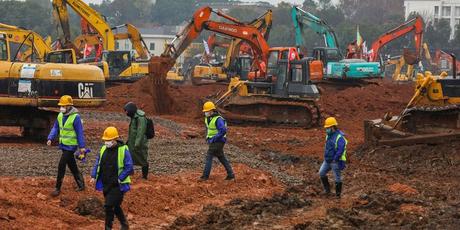 Chinese officials led by President Xi Jinping pledged "all-out" efforts to contain the outbreak this week. The government on Friday vowed to punish officials who delay virus information, with the State Council setting up an online platform to allow the public to report disclosure problems.  "This is unprecedented in China, and maybe even in the history of modern health," said Yanzhong Huang, director of the center for Global Health Studies at Seton Hall University in New Jersey, of the widening travel restrictions. "It's a tremendous legal, institutional, not to mention logistical challenge."
The image above is the construction of a 1,000 bed hospital in Wuhan, the center of the infections.  China began construction yesterday with 7,000 workers and plans to have the hospital up and running next week – that's incredible!  
On the dark side, of course, if they are building a 1,000 bed hospital in such a rush – it doesn't seem like they are very confident that this thing is contained, right?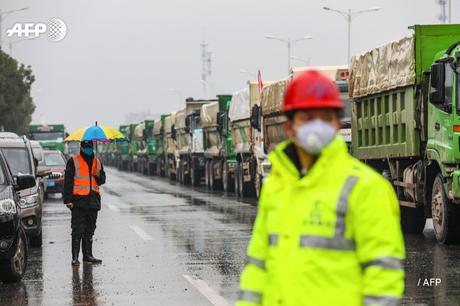 China is so cool sometimes!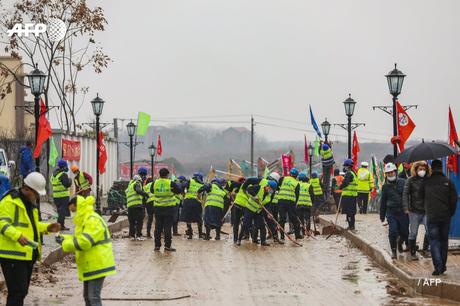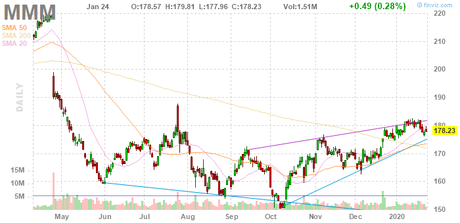 3M (MMM) makes masks, as does Johnson and Johnson (JNJ).  MMM is a better bargain at $177.74 and they should have a good quarter so the April $180 calls at $5.80 are a fair price and I'd take 1/2 off the table at $8 and put a stop on the rest at $7 but hopefully they hit $11 on a 5% move up in the stock.  
All this has been a fantastic distraction from Trump's Impeachment but that's nothing compared to next week, when Trump unveils his Mideast Distraction Peace Plan to drown out the closing arguments in his trial (the one with no evidence and no witnesses being allowed).  
These are, as the Chinese say, interesting times.  
Have a great weekend, 
- Phil
Do you know someone who would benefit from this information? We can send your friend a strictly confidential, one-time email telling them about this information. Your privacy and your friend's privacy is your business... no spam!
Click here and tell a friend!