Those 50 dmas are about 2.5% below where our indexes are and 28 companies that reported yesterday gave us negative guidance vs 9 that guided up.  As I noted yesterday, this is not an encouraging trend and certainly not a trend that says "new highs ahead".  
On the Russell, the 50 dma is 5% below it's current 1,054 and the NYSE isn't even at 10,000, down 3.5% from that level and 8.5% behind the Russell.  That's notable because the NYSE and the Russell, two broad-market indexes, usually move in tandem but, since January of this year, the Russell has gone INSANE and is now widely ahead of the much bigger NYSE.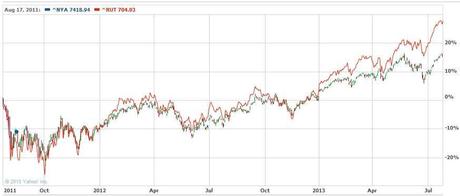 That's why the Russell, via TZA, is one of our "go to" shorts in our Income Portfolio – just in case gravity turns out to be more than just a theory…  Gravity doesn't seem to bother AMZN, who missed by a mile on Earnings (-.02 vs +.07 expected) and missed on Revenues by a little (though up 22% for the year) and had a 76% drop in Free Cash Flow DESPITE record-low borrowing costs AND they guided down for next quarter.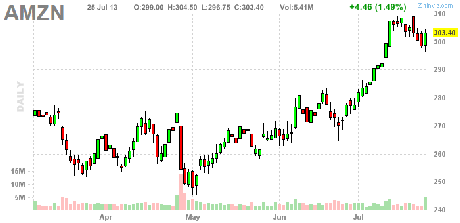 Is the stock down?  Barely
($3 of $300)
  In fact, Jefferies RAISED the price target to $350 from $300!  Don't expect any insights from me, I think it's nuts.  If all goes great, AMZN will earn about $1.25 this year, giving them a p/e of 240 and, if things go spectacularly for another year, their earnings may hit $3 a share and knock the p/e down to 100
(unless it's at $350 by then). 
Are we grading on a curve now?  What does it take to get investors to take profits these days?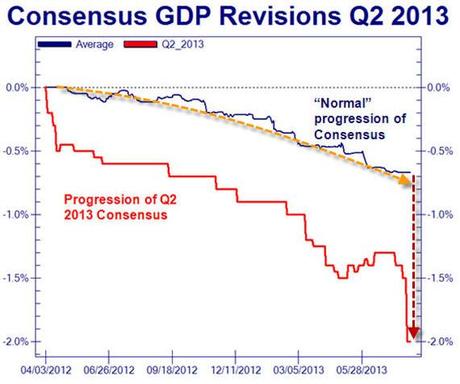 Of course, the bullish argument (which I made myself at the beginning of the year) is – where else are you going to put your money?  Commodities?  No.  Bonds?  No.  Banks? No. Emerging Markets? No. Japan? No. China? No.  Europe?  LOL, now we're just getting silly…  
…
You must login to see all of Phil's posts. To read the rest of this article now, along with Phil's live intra-day comments, live trading ideas, Phil's market calls, additional member comments, and other members-only features -
Subscribe to Phil's Stock World by clicking here
.
To signup for a free trial membership, click here.